Actions and Detail Panel
God has a house with YOUR name on it...
Sat, April 29, 2017, 10:00 AM – 1:00 PM EDT
Description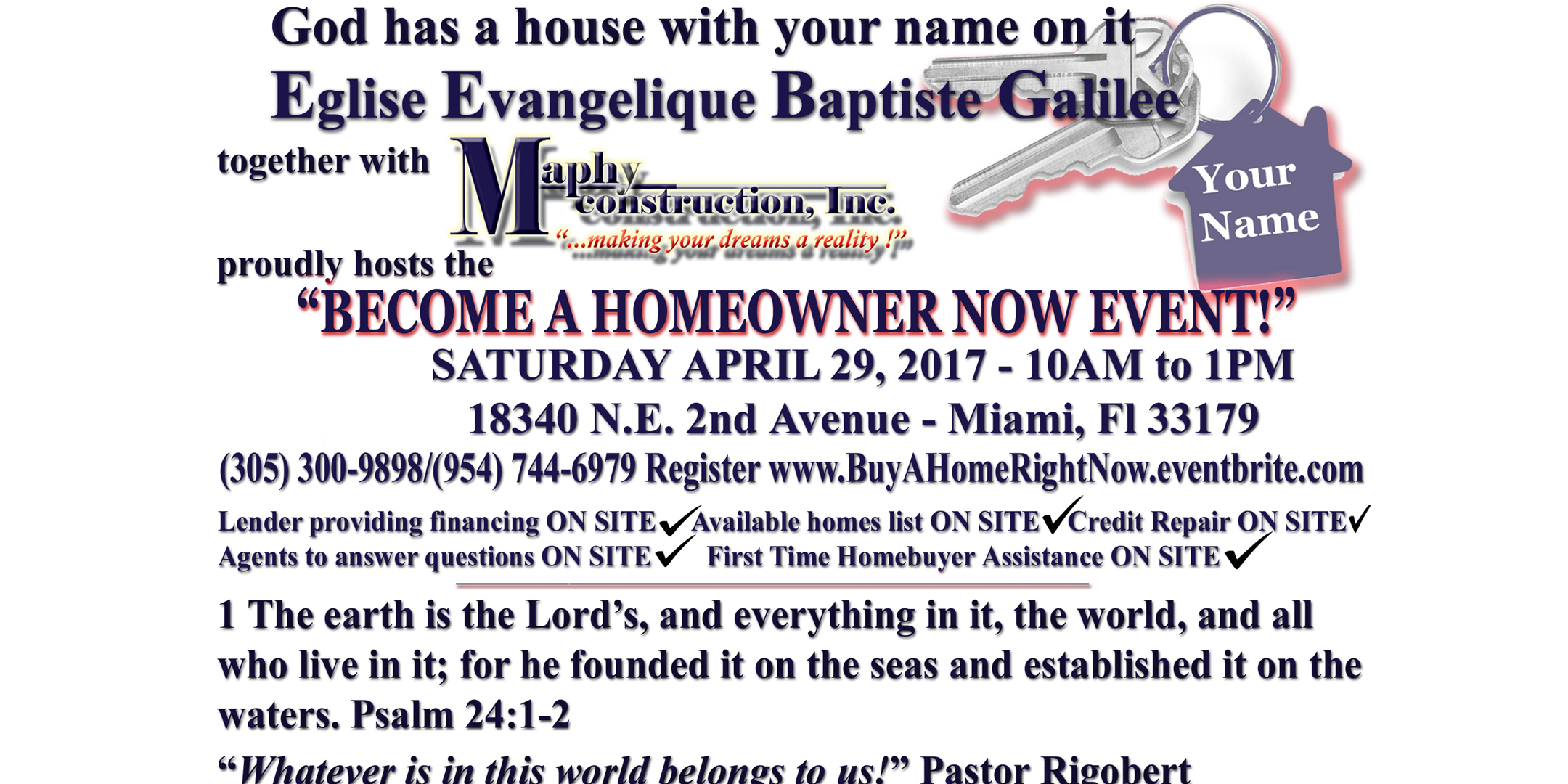 We will have a variety of organizations on site
Credit Repair
Lenders
First Time Homebuyer Program Representatives
Real Estate Agents
Become a Homeowner NOW
Please bring your
1. Last two years tax returns
2. Social Security Card
3. Photo ID
4. Last two paystubs
DO NOT BE DISCOURAGED
COME WITH WHAT YOU HAVE
YOU NEVER KNOW
BUT...
If you bring nothing not even yourself, then what do you give God to work with???
GIVE AWAYS
TONS OF INFORMATION...
1. Voucher for reimbursement for the appraisal
2.
Voucher for reimbursement for the inspection
4. Gift card for d
inner for 2
5. Flat Screen Television
YOU MUST REGISTER THRU EVENTBRITE TO BE ENTERED IN THE RAFFLE FOR A CHANCE TO WIN ONE OF THE GIVE AWAYS.
YOUR EVENTBRITE TICKET WILL BE YOUR RAFFLE TICKET.
1 The earth is the Lord's, and everything in it, the world, and all who live in it;
2 for he founded it on the seas and established it on the waters.
Psalm 24:1-2
"Whatever is in this world belongs to us!"
Date and Time
Location
Eglise Evangelique Baptiste Galilee
18340 Northeast 2nd Avenue
Senior Pastor - Leader Rigobert Leveille
Miami, FL 33179