About this Event
Goblin is an Italian progressive rock band known for their soundtrack work. They frequently collaborate with Dario Argento, most notably creating soundtracks for Profondo Rosso in 1975 and Suspiria in 1977. CD re-releases of their soundtracks have performed well, especially in Germany and Japan. Goblin returned with a series of live concerts in Europe in 2009 and in North America in 2013.
"The real Goblin" (Maurizio, Fabio, Agostino and Massimo) touring North America and showcasing their new album "Fearless" based on Dawn of the Dead
The brainchild of left handed lead guitarist and founding member Eric Hersemann, GIGAN has been challenging the mortal laws of extreme music and creativity since early 2006. Forged around the simple notion that the imagination should be art's only limit, GIGAN's style of creative delivery has simultaneously invoked reactions of amazement, disbelief, shock, awe and ultimately- respect.
The Lion's Daughter (Facebook / Twitter)
From St. Louis, MO. Seventies/Eighties horror synths with metal.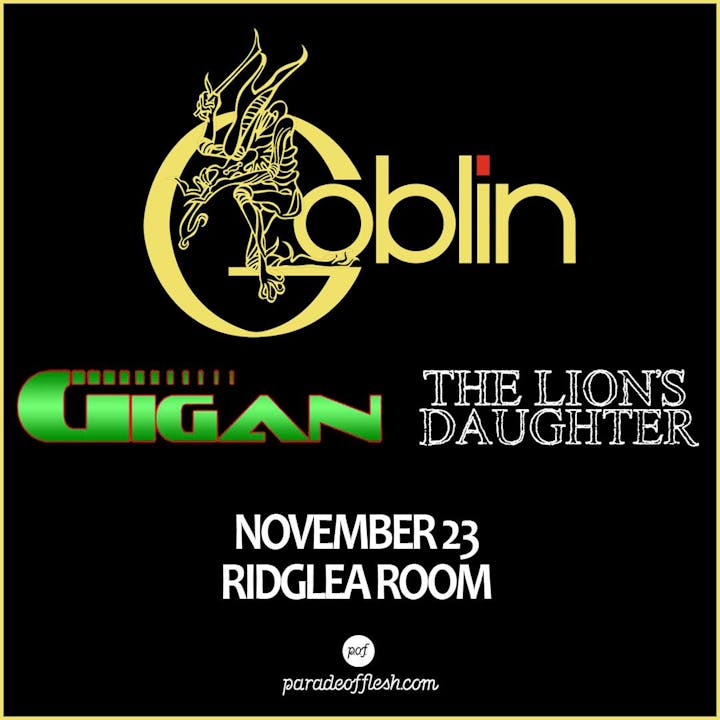 Performers
Date and Time
Location