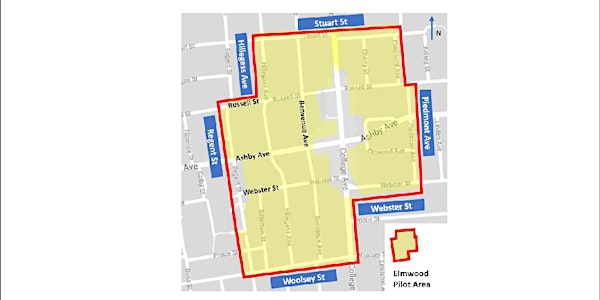 goBerkeley SmartSpace - Elmwood Community Meeting #2
The City of Berkeley seeks your input to improve parking in residential neighborhoods near the Elmwood commercial district.
About this event
What is goBerkeley SmartSpace?
goBerkeley SmartSpace is a pilot project studying ways to increase parking availability in residential neighborhoods, reduce greenhouse gas emissions from the "two-hour shuffle" (i.e., folks without a permit moving their vehicles every two hours to avoid citation for exceeding the two-hour time limit), and provide more travel options for residents, employees, and visitors in residential areas around the Elmwood and Southside/Telegraph commercial districts.
This community meeting will include a presentation summarizing feedback from the first meeting, and offer options for further consideration for the Elmwood area. Community members will have an opportunity to ask questions and provide additional feedback on the concepts.
This meeting is for people who live in, work in, or visit the Elmwood pilot area. As shown in the map above, the Elmwood pilot area includes residential parking within the boundaries of Stuart St to the north, Piedmont Ave to the east, Webster & Woolsey Sts to the south, and Regent & Hillegass Sts to the west.
Take our survey and learn more about the project at our website: https://smartspace.goberkeley.info/
**ZOOM LINK TO BE EMAILED BEFORE THE EVENT**
COMMUNICATION ACCESS INFORMATION: To request a disability-related accommodation(s) to participate in the online community meeting(s), including auxiliary aids or services, please contact the Disability Services specialist at (510) 981-6418 (V) or (510) 981-6347 (TDD) or email ADA@cityofberkeley.info at least three (3) business days before the meeting date.