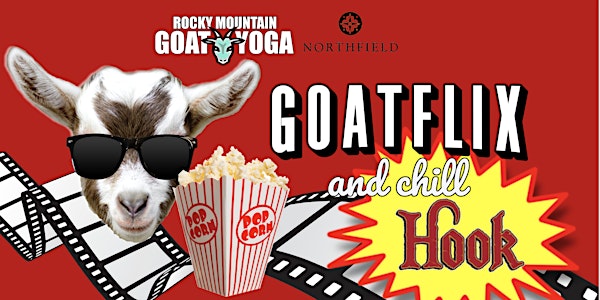 GOATFLIX & CHILL (HOOK)
INDOOR | POSITIVE VIBES | ALL AGES | ALL INCLUSIVE | THERAPEUTIC
By ROCKY MOUNTAIN GOAT YOGA
Date and time
Saturday, April 8 · 7 - 9pm MDT
Location
8246 Northfield Blvd #1410 8246 Northfield Boulevard #1410 Denver, CO 80238
Refund Policy
Contact the organizer to request a refund.
About this event
_____________________________________________________________________________________________
LOCATION:
The Shops at Northfield
8246 Northfield Boulevard, #1410,
Denver, CO, 80238
_____________________________________________________________________________________________
ABOUT GOATFLIX AND CHILL:
Have you ever wanted to just chill out with a goat on a Sunday night and watch a real good flick? Well here's your chance!
RMGY has brewed up something real special for all the goat lovers with a film obsession! Sorry, we won't be able to binge watch but we will provide some real good B rated options for all the critics out there! Whether you want to enjoy a movie with the fam or head out with the adults, either way, it's gonna be a real doozy !
How's this whole thing work??
Step 1: Buy your ticket to this ALL AGES event
Step 2: Arrive to the show on time!
Step 3: Be escorted to your seat! (Lawn chairs and blankets encouraged!!)
Step 4: Get you a goat!
Step 5: Watch a real good flick with your goat buddy!
Movie Suggestions Email: info@rockymountaingoatyoga.com
WHAT TO BRING
Closed Water Bottle
Comfortable Attire
Camera
Hair Tie (Goats Like Hair)
Smiles & Friends!
Lawn Chairs
Blankets
No Jewelry
$5 FOR GOAT SNACKS (FEEDING GOATS OUTSIDE SNACKS IS STRICTLY PROHIBITED)
Cooler w/ Snacks
RULES AND REGULATIONS:
FEEDING GOATS OUTSIDE FOOD IS STRICTLY PROHIBITED
NO REFUNDS
WE WILL UPDATE GUESTS IN THE EVENT OF WEATHER
ALL AGES
BE KIND TO THE GOATS
BE KIND TO EACH OTHER
PARKING:
The event will be hosted INDOORS inside the old Charming Charlie's in the Shops at Northfield in the winter.
8246 Northfield Boulevard, #1410, Denver, CO, 80238
During the summer months we will host outdoors on the corner of 47th and Main. You can't miss it!
About the organizer
ABOUT RMGY
Rocky Mountain Goat Yoga has been cultivating smiles and happiness with Colorado goat herds since May 2017!
Since our beginning RMGY has worked with several goat herds, rescues, ranches and farms. Not only do we strive to provide the best goat yoga events in Colorado but we also work hard to provide other unique services like Baby Goat Grams.
We pride ourselves on our sanitation controls and our safety policies that create a safe and sanitary event, every time! If you have attended our lessons, you will notice how well our farmhands are trained and how alert they need to be to make your experience perfect!
All of our goats are also trained! We work with the herds from around 3 weeks old when we start bottle feeding them. It isn't uncommon for a doe to reject one of her kids and we are happy to be their surrogates. The farmers we work with do most of the upbringing but the tricks and stunts are the result of RMGY training. These goats are truly goat yoga pros!
When humans interact with animals in this way, their brain releases a chemical called Oxytocin and reduces the production of the hormone called Cortisol. Cortisol is the stress hormone that we all produce from hard and long hours at work. Staying up late on that homework assignment or any other life related issue.
From a biological stand point, we are literally relieving stress in humans with goats.
We enjoy cultivating smiles and happiness in Colorado! We are honored that Colorado has given us a huge warm welcome and we are excited to create the goat yoga culture in this beautiful state!
Come join us at a lesson or watch one of our silly highlight videos. Either way, we hope you enjoy spreading the gift of kindness just like we do.
Much Love and Baby Goats!
~Rocky Mountain Goat Yoga