Description
What better way to spend your Saturday afternoon than with some gentle yoga in the sunshine, baby goat snuggles and sipping wine? This is a new offering and is a fundraiser for Red Wagon Goats (to learn more about why we are raising funds, please visit our Indiegogo Campaign). Participating in the campaign will ensure that by next spring, we're able to make goat yoga a regular thing! This is a 21-and-up yoga class. We hope you'll find our goats as fun and therapeutic as we do!
Please check out our main page for other dates and time.
1:45–2:00pm | Registration (we will email the exact address and a liability waiver for you to bring with you before the event)
2:00pm–3:00pm | Goat Yoga
This class will be a gentle, all-levels yoga class in the presence of baby goats! We will be in our front yard, so please consider bringing a towel for under your mat and an additional small towel if you sweat easily. You're also welcome to go mat-free if you want a little extra contact with The Mother. If you're new to yoga, we recommend form-fitting clothes that are comfortable to move around in and if you're new to goats—something you don't mind getting goat prints and a little fur on :)
The baby goats will quite likely jump on you, so this class is not recommended for anyone who is pregnant, has a heart condition, back injury, bruises easily, or any other health condition that may be aggrevated by baby goat jumps.
3:00pm–3:30pm | Wine, Snuggles, Selfies, Q&A
We'll give you treats to give the goats and you are welcome to post photos with them. Our babies are all hand-raised and love hoomans.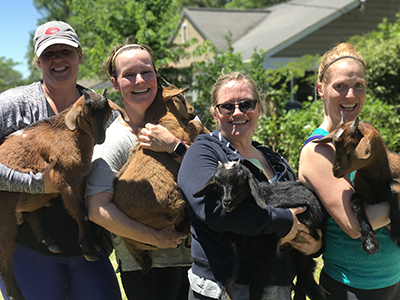 What to bring:
Sun screen, natural bug spray, water bottle

Yoga mat, a towel you don't mind getting dirty for under the mat, and a small towel if you sweat

Signed consent waiver (you'll receive an email)

An open mind an a sense of humor!

*Non-refundable. Due to the nature of outdoor events, this may be postponed due to inclement weather. In the case of postponement, you will have an option of any of our future goat yoga dates to choose from, to accomodate a broad range of availability.
**IF YOU PURCHASED YOUR GOAT YOGA SESSION THROUGH OUR INDIEGOGO CAMPAIGN, PLEASE EMAIL US AT REDWAGONGOATS@GMAIL.COM TO RESERVE YOUR SPOT**