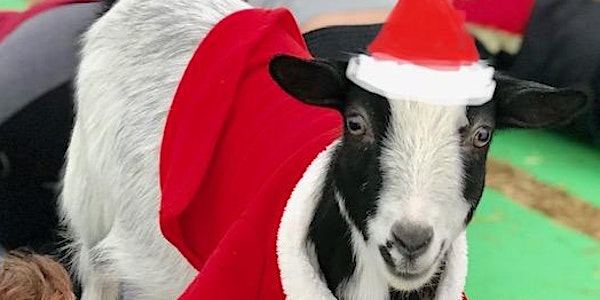 Goat Yoga Nashville- Happy Holiday's Class
Baby Goats and Goats dressed in Holiday Attire
When and where
Location
Goat Yoga Nashville 2626 York Road Nolensville, TN 37135
About this event
Greetings Y'all!!! It's the Holiday Season and what do ya know Goat Yoga Nashville's Santa Goat is ready to HOHOHO!! So come join us for a magical Goat Yoga session filled with fun, laughter, music and of course our sweet little Goats dressed in their adorable holiday attire. You don't want to miss them all dressed up in Christmas sweaters, Santa outfits, Elf costumes and much much more!! So sign up today and feel the wondrous feeling of a Christmas Baaaaaa...maste!!! www.GoatYogaNashville.com
**Yoga Mats ARE provided for your use FREE of charge but if you'd like to bring and use your own you are more than welcome.
***All ages are welcome, although, Goat Yoga may not be suitable for smaller children or children under the age of 8. They are still more than welcome to attend and participate but adults responsible for the children are required to supervise and watch younger children and ALL children at all times.
~Utimately ALL guests participate at their own risk~
~No Refunds~
~All guests are REQUIRED to sign a liability waiver before participating. If you did not buy a ticket and would like to just watch, you are more than welcome. You MUST sign a liability waiver though as well~
~For the safety of our guests and your pets, you may not under any circumstances bring your own pets. We are so sorry if this causes any inconvenience but our liability cannot cover or be responsible for your pets.
~Please bring your own water, towel, bug spray, sunscreen or anything else you may think you need etc etc. as we do not provide these for you~
~Class is held in our barn so no worries about the cold or rainy weather. Just remember to dress accordingly and then adjust to your own comfort level when you arrive.
~T-shirts, other merchandise and water bottles available for purchase onsite
**Also, please be advised that the goats hooves may be sharp at times and you may get stratches so t-shirts are recommened**
For more information go to www.goatyoganashville.com or contact us at: goatyoganashville@gmail.com