Event Information
Location
The Orchard Town Center
14644 Orchard Parkway
Suite 600
Westminster, CO 80023
Rocky Mountain Goat Yoga is always excited to bring goat yoga events and Baby Goat Grams to the Denver communities!
About this event
_____________________________________________________________________________________________
LOCATION:
Orchard Town Center
14644 Orchard Parkway, Suite 600
Westminister, CO 80023
_____________________________________________________________________________________________
ADDITIONAL MAP INSTRUCTIONS
Corner of West 1446th Avenue and Orchard Parkway (across from the Rusty Bucket). All participating guests please enter through doors on the SW corner near a watermelon mural and checkin at the RMGY checkin booth.
**SEE MAP BELOW**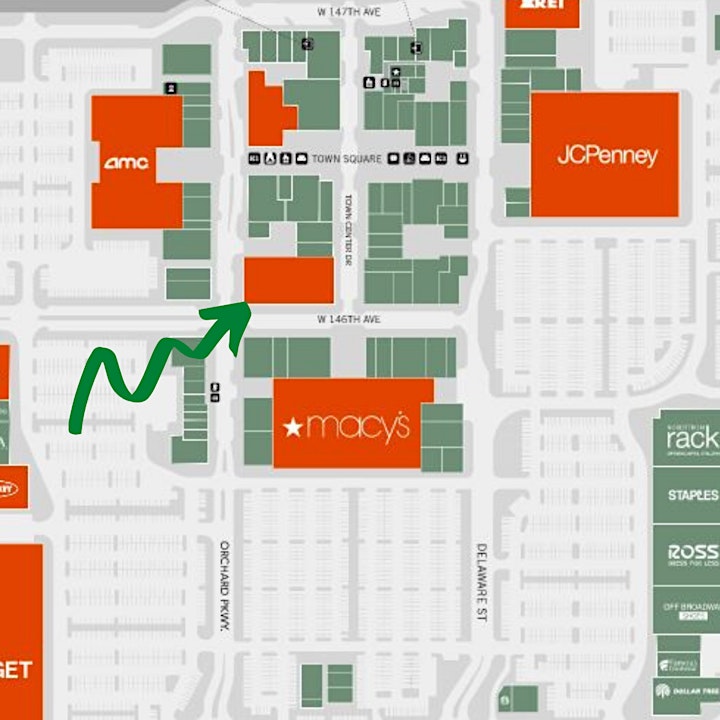 LESSON SCHEDULE:
9:00AM - 10:00AM
10:30AM - 11:30PM
12:00PM - 1:00PM
*WE WILL PUBLISH NEW LESSON TIMES ONCE THE PREVIOUS LESSON HAS REACHED OUR CAPACITY REQUIREMENTS. Thank you for understanding.
_____________________________________________________________________________________________
ABOUT INDOOR GOAT YOGA
Indoor goat yoga events have been a thing since RMGY started in 2017. That's nearly 3 years of working out all the problems and sanitation questions or concerns our clients and guests usually have! How do we keep our indoor events clean? That's easy! Allow us to explain!
We staff our events appropriately! Any goat yoga event that does not provide farmhand staffing to maintain the event is unsanitary. We understand this and take sanitation and bio security serious!
We provide our staff with good cleaning supplies! We make sure our farmhands are equipped with industry standard cleaning supplies to ensure efficiency!
All staff are trained in biosecurity and sanitation controls mandated by the health dept. We provide in house training on proper mat cleaning techniques and also provide our staff with literature.
Each staff member has signed an animal contact compendium written by the CO state health dept. This compendium is a legal binding contract between RMGY and the staff members we employ to abide by state required protocols.
We have very strict sanitation and bio security controls! We require our staff to wear nitrile gloves while keeping the areas sanitary. We also dispose of compostable materials appropriately and reuse to the waste to fertilize the land.
We sanitize all of our equipment and yoga mats with environmentally and animal safe products. We care about the earth and we need to protect the goats!
****SEE VIDEO BELOW FOR A SNEAK PEAK OF AN IDOOR EVENT!!***
GOOD VIBES ONLY AND BRING LOVE!
ABOUT RMGY
We hope you're ready for fun!! You've heard about us, read about us and probably seen us on the local news. Rocky Mountain Goat Yoga is sweeping the Rockies with the best Goat Yoga events in Colorado! This family friendly & super fun activity has been sweeping the nation. Our guests have told us over and over again that this is one the most exciting and fun activities they have ever done!
Our events proceed with a 45 minute goat yoga lesson and end with a 15min decompression for our guests & goats. The guests can pet the goats, hold the goats and just spend time loving the gift of these cute and innocent animals. This is also a great time for guests to capture their moments on camera. The guests want their friends to see their interaction on social media. This a great time to capture the moment.
Much Love and Baby Goats!
~Rocky Mountain Goat Yoga
_____________________________________________________________________________________________
REFUNDS, DISCLOSURES, TRANSFER AND RESCHEDULE POLICIES:
Refunds will be honored more than 7 days prior to the event.
Guests can reschedule their lesson time once.
If guests no show to their scheduled or rescheduled lesson time without notifying RMGY, the guest forfeits their ticket and no refund or reschedule will be offered.
Lessons may be cancelled due to capacity requirements. If lessons are cancelled, RMGY will transfer tickets to a future lesson of guests choice.
If lessons cancelled due to weather, RMGY will transfer tickets to a future lesson of the guests choice.
We are unable to refund partial orders for discount codes that were not applied during the original time of purchase.
We are unable to apply discount codes after tickets have been purchased at full price.
Event ticket pricing varies between events and locations.
Transferring Guests must pay the difference in price in addition to lesson transfer fees.
Discount Codes are limited to 5 uses per order.
Discount Codes may be restricted to specific locations.
Discount Codes do not apply to gift certificates unless stated otherwise.
Ticket Pricing may fluctuate. No refunds will be offered for a decrease in ticket cost.
_____________________________________________________________________________________________
Date and time
Location
The Orchard Town Center
14644 Orchard Parkway
Suite 600
Westminster, CO 80023