Description
(TICKETS GO ON SALE 06/25/19)


EXDO
1399 35th Street
Denver, CO 80205
---
LESSON SCHEDULE:
9:00AM - 10:00AM

10:30AM - 11:30PM

12:00PM - 1:00PM
*WE WILL PUBLISH NEW LESSON TIMES ONCE THE PREVIOUS LESSON HAS REACHED OUR CAPACITY REQUIREMENTS. Thank you for understanding.
---


FOR QUICKER CHECKIN COMPLETE OUR WAIVER
---
ABOUT RMGY
We hope you're ready for fun!! You've heard about us, read about us and probably seen us on the local news. Rocky Mountain Goat Yoga is sweeping the Rockies with the best Goat Yoga events in Colorado! This family friendly & super fun activity has been sweeping the nation. Our guests have told us over and over again that this is one the most exciting and fun activities they have ever done!
Our events proceed with a 45 minute goat yoga lesson and end with a 15min decompression for our guests & goats. The guests can pet the goats, hold the goats and just spend time loving the gift of these cute and innocent animals. This is also a great time for guests to capture their moments on camera. The guests want their friends to see there interaction on social media. This a great time to capture the moment!
Much Love and Baby Goats!

~Rocky Mountain Goat Yoga
---
ABOUT THE RHINO FARMERS MARKET:
Welcome to the Inaugural RiNo Farmers Market! We are excited for you to be part of this fun summer series. This market will showcase the heart of RiNo with local produce, hand crafts, art and music. Did we mention that our Summer Mimosa & Beer Garden will be open to grab a summer cocktail while your favorite tunes are playing with local bands and DJs!! RiNo Farmers Market is brought to you directly by EXDO Event Center, an anchor of north RiNo since 1999. We look forward to bringing a quality market to our neighborhood with the assistance of great vendors!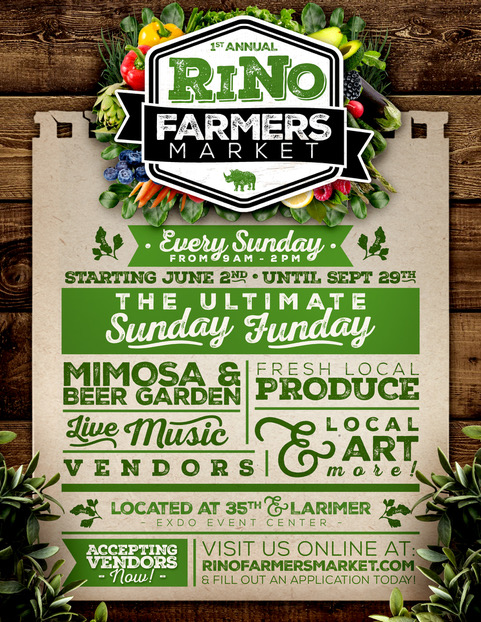 ---
REFUND AND RESCHEDULE POLICY:
Refunds will be honored more than 7 days prior to the event.
Guests can reschedule their lesson time once.
$5 Lesson Transfer Fee
If guests no show to their scheduled or rescheduled lesson time without notifying RMGY, the guest forfeits their ticket and no refund or reschedule will be offered.
Lessons may be cancelled due to capacity requirements. If lessons are cancelled, RMGY will transfer tickets to a future lesson of guests choice.
If lessons cancelled due to weather, RMGY will transfer tickets to a future lesson of the guests choice.
We are unable to refund partial orders for discount codes that were not applied during the original time of purchase.
We are unable to apply discount codes after tickets have been purchased at full price