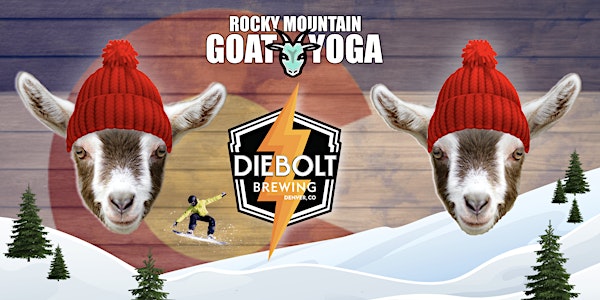 Goat Yoga - January 4th (Diebolt Brewing)
When and where
Location
Diebolt Brewing 3855 Mariposa St Denver, CO 80211
Refund Policy
Refunds up to 7 days before event
Description
Diebolt Brewing
3855 Mariposa St

Denver, CO 80211

---
$1 COUPON W EVERY TICKET PURCHASE

Carpool if you can!

Yoga Mat Rentals - $5

Good vibes only and please bring love!
---
LESSON SCHEDULE:
11:00 - 12:00pm

12:30 - 1:30pm

2:00 - 3:00pm
---
FOR FASTER CHECKIN TIME PLEASE COMPLETE OUR WAIVER
---


ABOUT RMGY
We hope you're ready for fun!! You've heard about us, read about us and probably seen us on the local news. Rocky Mountain Goat Yoga is sweeping the Rockies with the best Goat Yoga events in Colorado! This family friendly & super fun activity has been sweeping the nation. Our guests have told us over and over again that this is one the most exciting and fun activities they have ever done!
Our events proceed with a 45 minute goat yoga lesson and end with a 15min decompression for our guests & goats. The guests can pet the goats, hold the goats and just spend time loving the gift of these cute and innocent animals. This is also a great time for guests to capture their moments on camera. The guests want their friends to see there interaction on social media. This a great time to capture the moment!
Much Love and Baby Goats!
~Rocky Mountain Goat Yoga
---
ABOUT DIEBOLT BREWING

I'm sure you're wondering why we're doing this. That's why you're reading the "About Us" section, isn't it, to find out if we're crazy. There are already thousands of breweries you say, what can they do that hasn't already been done? Well, you're right: there are thousands of breweries and you know what? I hope there will be a thousand more because we won't give up until there is a craft beer in every beer drinker's hand.
But back to your original question: Why Diebolt Brewing Company, why now, how are we different? Well to answer abstractly, this business is a medium for our imagination (it's pretty vivid), a creative outlet for our ideas (we've got some good ones), and a platform for our thoughts (they're opinionated, but in a good way). We want to pursue our passions with reckless abandon, be sustainably self-sufficient, be our own boss(es); but most of all, show others that they can do the same.
A big driving force in forming this business is the good and bad experiences we've had at similar establishments. These made us want to provide a wholesome example of a well-run, responsible company that positively interacts with, and intently listens to, its customers. But most of all, we love the community neighborhood atmosphere, and quality crafted beer, so we created a fun and exciting, yet relaxing, place to combine the two.
Being a family-owned and operated microbrewery means that family and friends have played a huge role in motivating us to pursue our dreams. We want to make them proud and do right by our heritage. Brewing is in our blood from my father's father pressing grapes in his garage to our distant relatives currently making champagne in the Alsace Lorraine region of France.
It is this French ancestry and ties to historical French brewing regions that have influenced some of our beer styles. The rich cultural history of France inspired our art deco branding. It is our small town upbringing which makes us want to preserve that same sense of pride, community, and camaraderie that is slowly becoming extinct in small town USA. We want to recapture those feelings in our brewery and taproom.
Most of all though, it is the hard-working, American ingenuity and ethics with a generous investment of sweat equity that makes breweries thrive. Sweat equity is one form of equity the Wall Street insiders and big bankers don't have and it's your (the customer's) recognition of this honest hard work that fuels the growth of small businesses the world over. For that, we raise our pints to you and offer up our humble brewery and the craft beer we create as thanks!
~DIEBOLT BREWING
---
WHAT TO BRING
Closed Water Bottle or Flask
Sunscreen for Outdoor Events
Comfortable Athletic Wear (You may get dirty)
Camera
Hair Tie (Goats Like Hair)
Smiles & Friends!
---
REFUNDS, DISCLOSURES, TRANSFER AND RESCHEDULE POLICIES:
Refunds will be honored more than 7 days prior to the event.
Guests can reschedule their lesson time once.
$5 Lesson Transfer Fee
If guests no show to their scheduled or rescheduled lesson time without notifying RMGY, the guest forfeits their ticket and no refund or reschedule will be offered.
Lessons may be cancelled due to capacity requirements. If lessons are cancelled, RMGY will transfer tickets to a future lesson of guests choice.
If lessons cancelled due to weather, RMGY will transfer tickets to a future lesson of the guests choice.
We are unable to refund partial orders for discount codes that were not applied during the original time of purchase.
We are unable to apply discount codes after tickets have been purchased at full price.
Event ticket pricing varies between events and locations.
Transferring Guests must pay the difference in price in addition to lesson transfer fees.
Discount Codes are limited to 5 uses per order.
Discount Codes may be restricted to specific locations.
Discount Codes do not apply to gift certificates unless stated otherwise.
Ticket Pricing may fluctuate. No refunds will be offered for a decrease in ticket cost.