Description
Come join the herd from Into The Woods Farm and NY Goat Yoga In The Woods and their yoga instructor Christine Riccio - RYT 200 at the gorgeous Vischer Ferry General Store for a blend of gentle flow and vinyasa flow yoga in the warm sunshine. Then relax, take photos, snuggle the goats, and enjoy a complementary refreshments from our hosts at Vischer Ferry General Store while soaking up the sunshine and warm weather. Take a look around the store and grab a drink, snack, or a bite to eat. Or perhaps come early and have breakfast and coffee or tea before the event! Or stick around and enjoy a savory lunch and browse the wonderful items in the store.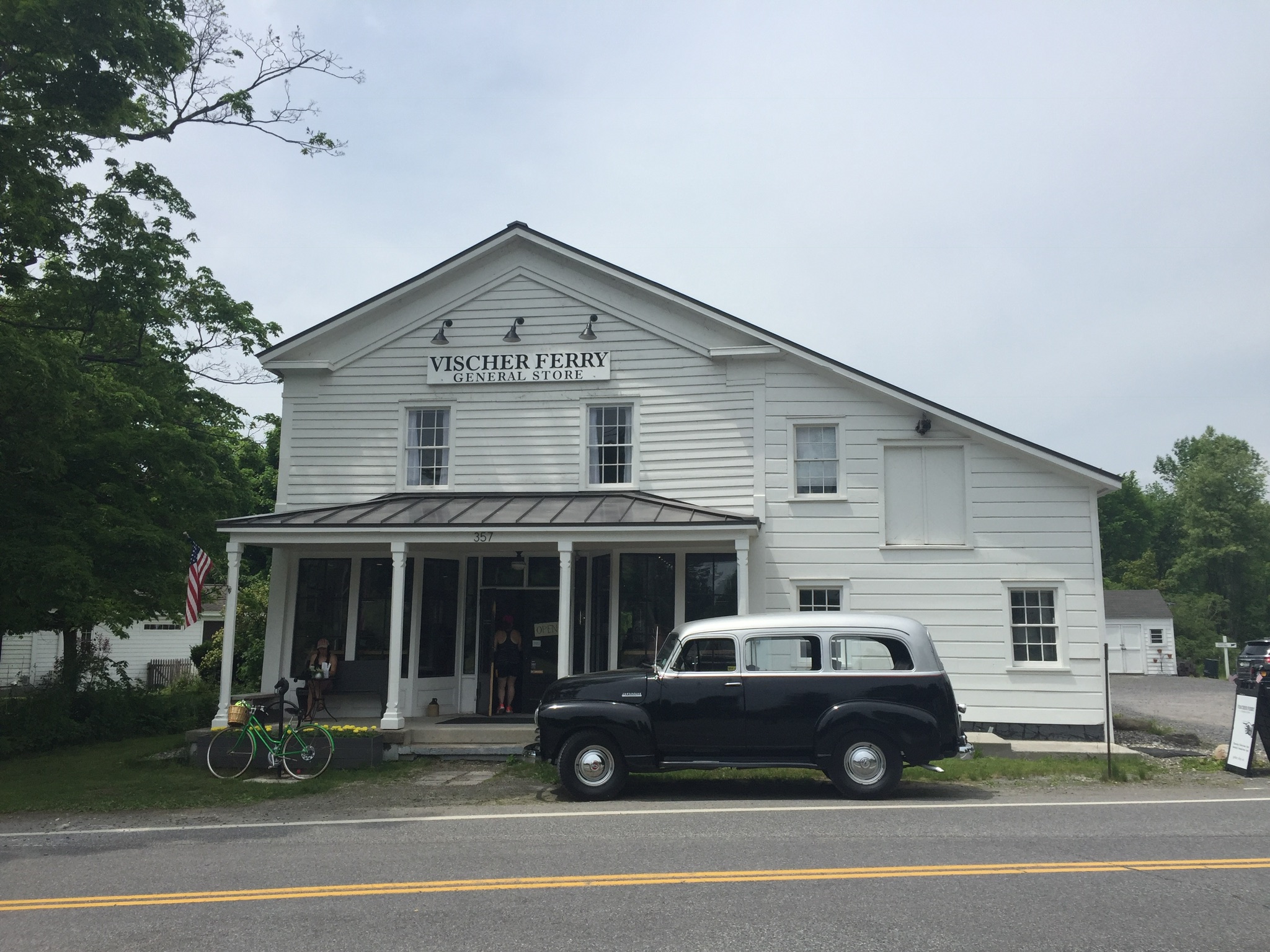 The Yoga session will last approximately 45 minutes with the goats wandering around among the guests. Goats have a calming manner about them and are sure to bring a smile to your face with their quirky antics. We ask that all guests stay on their mats for the yoga portion of the event and not chase or follow the goats to allow everyone the opportunity to have the goats near them. After yoga there will be time for goat snuggling, photos, questions and information, refreshments and interacting with the goats.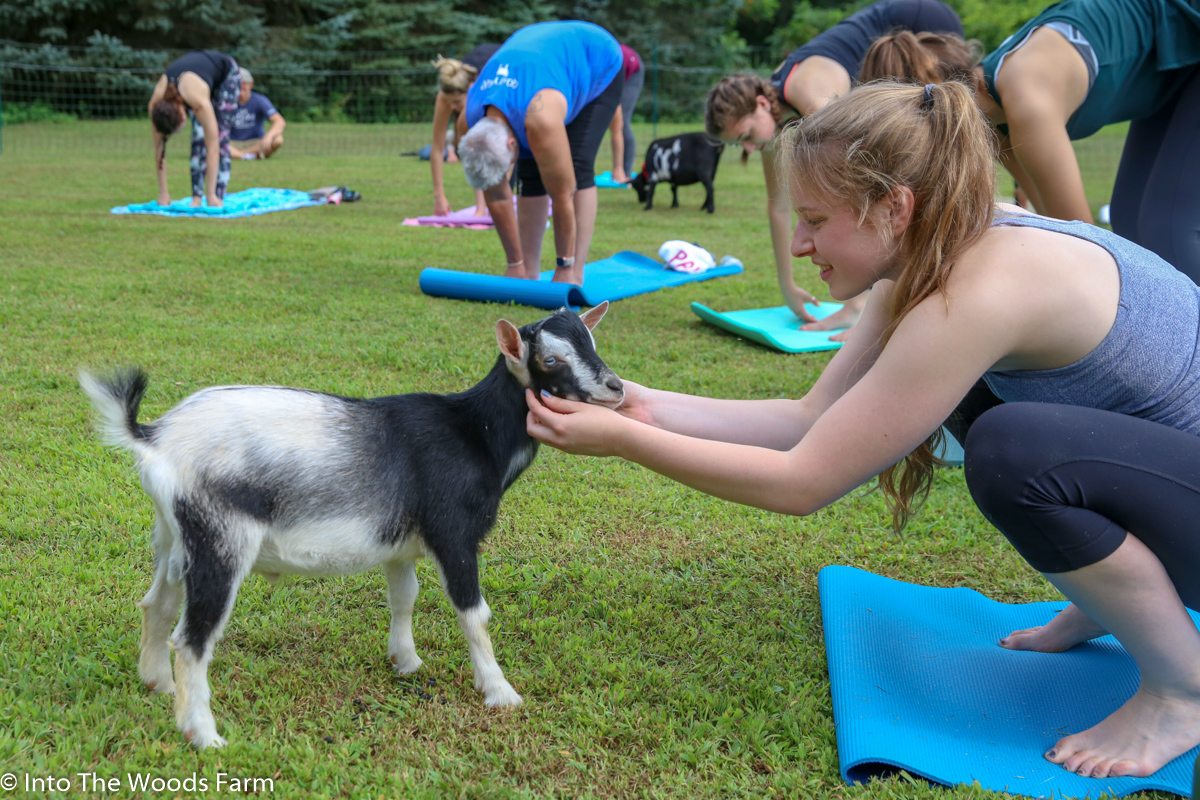 Into The Woods Farm herd has proven themselves as the perfect Goat Yoga ambassadors during their NY Goat Yoga In The Woods debut sessions and various public events with children, adults and the elderly during 2016, 2017 and 2018. All ticket sales go to filling the hay barn, feed, and maintenace and holistic care of our little herd. Our Into The Woods & Under the Sky 4H kids volunteer their time to help wrangle the herd during our events.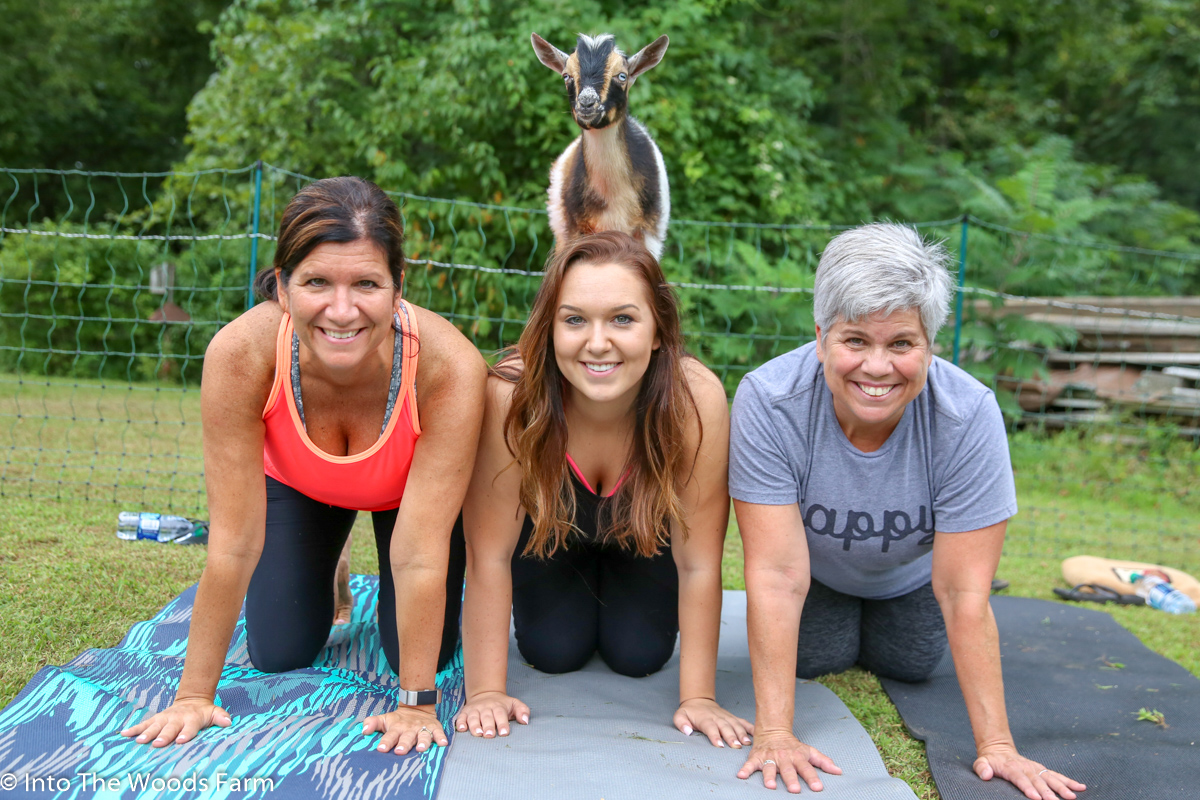 Looking forward to a fun event to share with the local community and to spread the news about our Goat Yoga in the Woods NY yoga and nature events at Into The Woods Farm .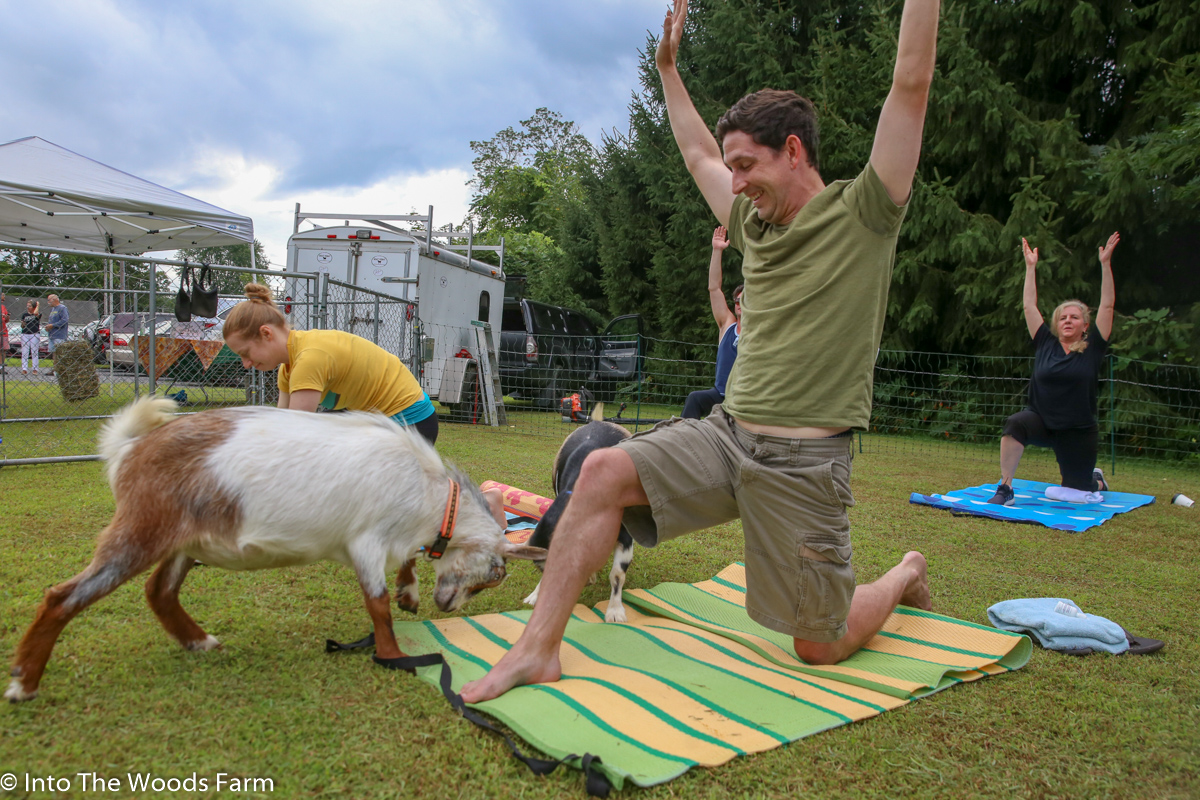 *This is a child friendly event. Children 8 years old and up are welcome to participate in the yoga event accompanied by an adult. All attending this event must have a paid admission and participate in the yoga portion of the event. Thank you for your understanding and cooperation.
---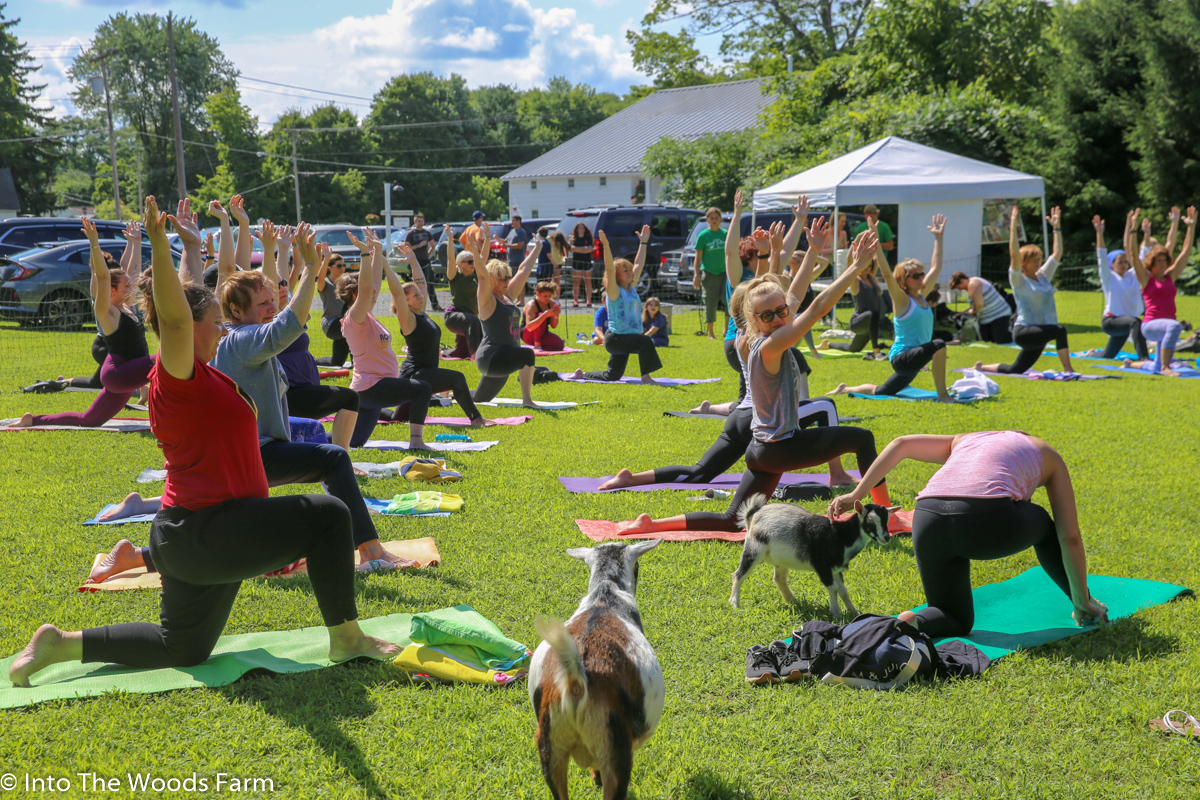 Waiver and Release of Liability Form to be signed before the event. To view press the link
FAQs
Are there ID or minimum age requirements to enter the event?
Families are welcome to attend together. Children under 8 must be accompanied by an attending adult. Children younger than 6 may not be appropriate for Goat Yoga. Seniors are welcome and we can provide a chair on request.
What can I bring into the event?
~This is an outdoors event so please come prepared with comfortable clothes.
~Please bring a large towel, yoga mat, and a water bottle.
~Be prepared for our goats to take an interest in you! They are excited to host you!
~While some may take themselves (or their yoga practice) very seriously, Goat Yoga with Into The Woods Farm is for everyone and we welcome any and all participants.
*Do I need to print out my ticket? No. Please save paper and show us confirmation on your iphone instead. Thanks.
~Only paid participants are permitted at the event during the yoga class and goat snuggling please. All are welcome to join you after the event at the Vischer Ferry General Store.
~Goats have been known to nudge, scratch, nibble, jump and step on attendees. Goats are NOT potty trained animals.
~Everyone will need to sign-in and sign a waiver before the class starts. During class, please stay on your mat and do not chase the goats - they will make their way over to see you.
~You are solely responsible for all items brought on premise.

~No other animals allowed.
---
*Is my registration fee or ticket transferrable?
*Yes if you are unable to attend you may have another individual attend in your place using your ticket for the date chosen. Be sure to have the name of purchaser and the name of attendee changed on the sign in sheet and attendee will need to sign waiver.
Refund Policy for this event is as follows: In the event of rain we will reschedule the event for another Saturday or Sunday 10-11:30 am and honor tickets for that rain date.
---
*NOTICE OF FILMING By participating in this event, you agree that you may be photographed and filmed, and you grant Into The Woods Farm the right to use, publish and copyright your picture, likeness and/or name in videos and/or photos taken during this event for use by ITWF, in perpetuity and throughout all media.
By participating in Goat Yoga, you agree to be solely responsible for any and all liability costs, damages and expenses incurred as a result of any injury or occurrence sustained from participating in Goat Yoga at Into The Woods Farm. You further agree to be held solely responsible for any and all liability costs, damages and expenses incurred by your child or attending minor as a result of his/her participation, either directly or indirectly, in Goat Yoga at Into The Woods Farm. You agree not to hold Into The Woods Farm, its employees, volunteers, instructors and/or representatives responsible in any way for any injury or occurrence whatsoever.