Sorry, the promotional code you entered has expired.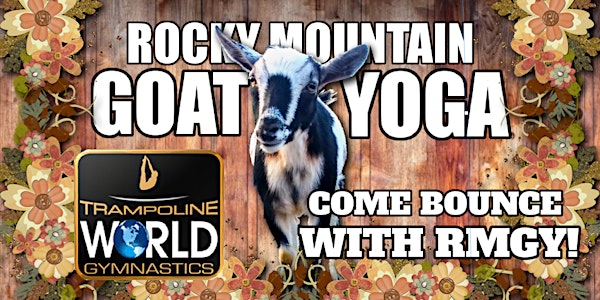 Goat Yoga - Feb 24th (Trampoline World Gymnastics)
When and where
Location
Trampoline World 780 Vondelpark Drive Colorado Springs, CO 80907
Refund Policy
Refunds up to 7 days before event
Description
Trampoline World
780 Vondelpark Dr,
Colorado Springs, CO 80907
Carpool if you can!

Yoga Mat Rentals - $5

Good vibes only and please bring love!
LESSON SCHEDULE:
9:00AM - 10:00AM

10:30AM - 11:30PM

12:00PM - 1:00PM
*WE WILL PUBLISH NEW LESSON TIMES ONCE THE PREVIOUS LESSON HAS REACHED OUR CAPACITY REQUIREMENTS. Thank you for understanding.
ABOUT RMGY
We hope you're ready for fun!! You've heard about us, read about us and probably seen us on the local news. Rocky Mountain Goat Yoga is sweeping the Rockies with the best Goat Yoga events in Colorado! This family friendly & super fun activity has been sweeping the nation. Our guests have told us over and over again that this is one the most exciting and fun activities they have ever done!
Our events proceed with a 45 minute goat yoga lesson and end with a 15min decompression for our guests & goats. The guests can pet the goats, hold the goats and just spend time loving the gift of these cute and innocent animals. This is also a great time for guests to capture their moments on camera. The guests want their friends to see there interaction on social media. This a great time to capture the moment!
Thank you to all of our supporters and guests! We LOVE you!!

~Rocky Mountain Goat Yoga
ABOUT TRAMPOLINE WORLD
Trampoline World Gymnastics facility was specifically designed as the premiere national training center for the Olympic sport of Trampoline, power tumbling, double mini trampoline and synchronized trampoline. Trampoline World has produced many national and international athletes who have also gone on to professional careers in Aerial Arts, (Cirque du Soleil), and other extremely physical theater. Also open to the public for Classes, Private Lessons, Voted Best of The Springs Birthday Parties, Field Trips, Events, Team-Building, and Open Gyms. We offer private lessons for cross-training athletes for most sports. Our facility is a favorite spot for Parkour (Freerunning). Oh yeah, and in case we forgot to mention, our trampolines just bounce higher!
REFUNDS, DISCOUNTS AND RESCHEDULE POLICY:
Refunds will be honored more than 7 days prior to the event.
Guests can reschedule their lesson time once.
$5 Lesson Transfer Fee per Ticket
If guests no show to their scheduled or rescheduled lesson time without notifying RMGY, the guest forfeits their ticket and no refund or reschedule will be offered.
Lessons may be cancelled due to capacity requirements. If lessons are cancelled, RMGY will transfer tickets to a future lesson of guests choice.
If lessons cancelled due to weather, RMGY will transfer tickets to a future lesson of the guests choice.
We are unable to refund partial orders for discount codes that were not applied during the original time of purchase.
We are unable to apply discount codes after tickets have been purcahsed at full price