1st Goat Yoga event of 2020 at the Side Stage Taproom SingleCut Beersmiths in Clifton Park, NY! Spring sunshine, goats, yoga and beer!
About this Event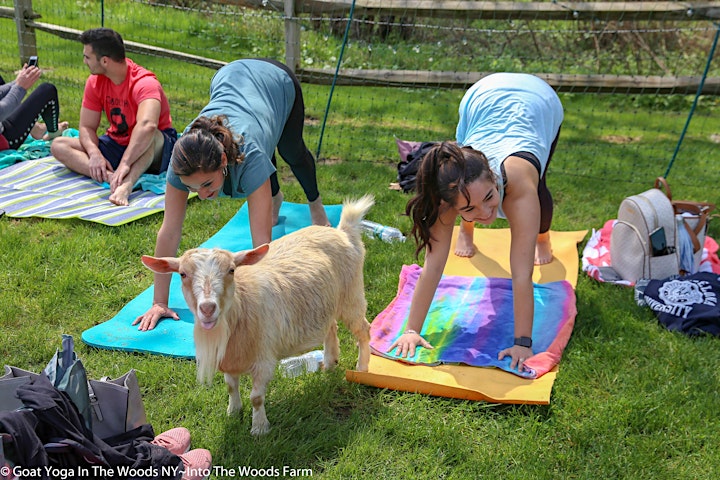 EVENT CANCELLED DUE TO CURRENT GUIDELINES. EMAILS FOR REFUND REQUESTS WENT OUT @ WEEKS AGO. THANK YOU TO THOSE THAT CHOSE TO DONATE THEIR TICKETS TO THE FARM. WE LOOK FORWARD TO PROVIDEING THIS EXPERIENCE TO YOU IN JUNE.
1st Goat Yoga event of 2020 and the Side Stage Taproom in Clifton Park, NY!
Come join the herd from Into The Woods Farm and NY Goat Yoga In The Woods and their yoga instructor Christine Riccio - RYT 500 at the Side Stage Taproom SIngleCut Brewery for a blend of gentle flow and vinyasa flow yoga in the warm spring sunshine. Then relax, take photos, snuggle the goats, and enjoy a complimentary draft beer from our hosts at Side Stage Taproom SingleCut North while soaking up the sunshine and warm weather. Take a look around the taproom and grab a drink, snack, or a bite to eat.
For venue details https://singlecut.com/side-stage-tap-room/
The Yoga session will last approximately 45 minutes with the goats wandering around among the guests. Goats have a calming manner about them and are sure to bring a smile to your face with their quirky antics. We ask that all guests stay on their mats for the yoga portion of the event and not chase or follow the goats to allow everyone the opportunity to have the goats near them. After yoga there will be time for goat snuggling, photos, questions and information, refreshments and interacting with the goats.
The yoga will be on blacktop in the parking lot so please bring an extra large towel for additional padding.
Please note when ordering *RAINDATE will be April 25th 11:00am-12:30pm
About us:
A triple threat to de-stress Goats, Yoga and Nature! Goat Yoga In The Woods NY is a great way to break from your normal mindset and reap the benefits of animal/laughter therapy and yoga! Open to yogis of every skill level, Goat Yoga In The Woods NY is not your typical yoga class but still a relaxing form of beginner level yoga that always involves smiles, laughter, giggles and of course, goats! Our Nigerian Dwarf Goat breed are just the right size to snuggle in your lap or take a nap on your mat as you move through our certified instructor, Chris Riccio's guidance. Watch your cares melt away with every goat touch and kiss. Beyond trendy, goat yoga is here to stay as many find unexpected joy in being in the moment and presence of goats.Goat yoga offers the many therapeutic benefits of animal and laughter therapy in a feel good, fun, yoga class... with adorable goats of all ages. Goat yoga allows guests to step outside of their everyday routine and remind them to not take life so seriously. See how the goats can help you connect with nature and how a soft touch from goat or two, is just the extra push you need in your practice. Anyone in the Goat Yoga area is considered a participant.Goat Yoga in The Woods NY is for everyone even if you have never done Yoga! Our 45 min-1h hour class will be taught by Christine Riccio - RYT 500 who offers a blend of gentle flow and vinyasa flow classes including the goats. CLASS MINIMUM is 10 people. After class there will be time for photos, and plenty of time for photos and interacting with the herd to see how they truly interact with you, their environment and each other. If you haven't smiled yet you will after watching their antics on their walk! Bring closed toed shoes for the walk and mingling in the runs with the goats.Into The Woods Farm herd has proven themselves as the perfect Goat Yoga ambassadors during their yoga debut sessions and various public events with children, adults and the elderly during 2016 thru 2018. From The Saratoga Winery and Vischer Ferry general Store events, to our benefit events and festivals to our more intimate Into The Woods Farm yoga and Wild Walks With The Goats, we have given many folks experiences to remember. All ticket sales go to filling the hay barn and maintenance and care of our little herd. Our Into The Woods & Under the Sky 4H kids volunteer their time to help wrangle the herd during our events. What is Yoga with Goats aka Goat Yoga?Goat Yoga in The Woods NY is about disconnecting with day to day stress, while some claiming it lowers blood pressure, helps with depression, reduces anxiety, and helps you to focus on positive and happy vibes. It really is next to impossible to stay serious when you see a goat do their little sideways hop or rear up when playing with their herdmates. It can be different things for different people. It has been described as "calm", "therapy", "zen", and just plain "happiness." However, there is one recurrent description…"unexpected." Unexpected certainly describes goats. Then add in yoga and see what happens.Goat Yoga in The Woods NY is Animal-Assisted Therapy in a natural setting with unexpectedly smart, social, and profoundly cuddly animals. It's not a cancer cure, but it is an unbelievable distraction from politics, work, stress, sickness and depression. It began in Oregon with Lainey Morse in 2016 with The Original Goat Yoga and is now recognized across the country.For more event dates and information visit intothewoodsfarmny.com