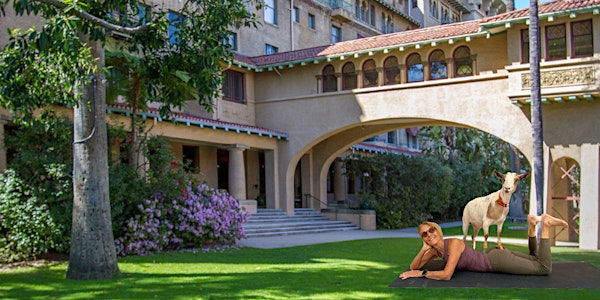 Goat Yoga at Castle Green in Pasadena 10am SOLD OUT! 11am JUST ADDED!
No kidding, you can do Goat Yoga on the majestic grounds of Castle Green.
When and where
Location
Castle Green 99 S. Raymond Avenue Pasadena, CA 91105
Refund Policy
Refunds up to 30 days before event
Eventbrite's fee is nonrefundable.
About this event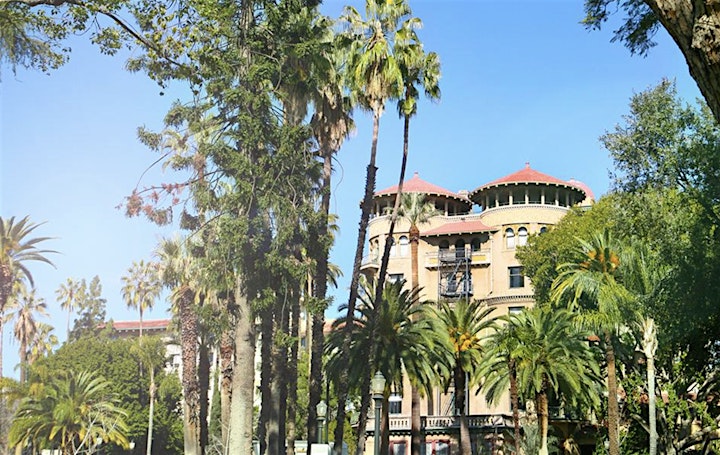 Take advantage of a rare opportunity to enter through the gates of 99 South Raymond Avenue and experience Goat Yoga on the exclusive grounds of Pasadena Historic Treasure, Castle Green.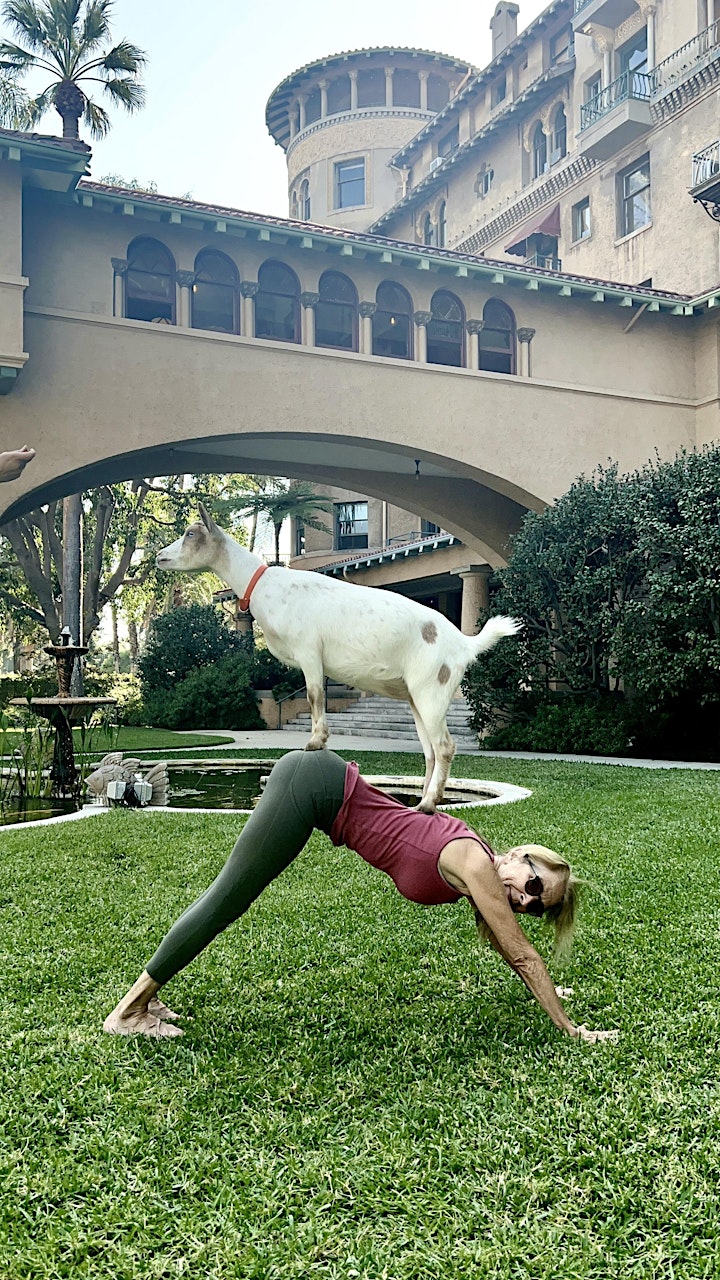 Certified yoga instructor, Tina Lenert will guide the class through a goat-friendly, all-levels practice designed to widen smiles, open hearts, deepen stretches, strengthen cores and test the balance of goats and yogis alike!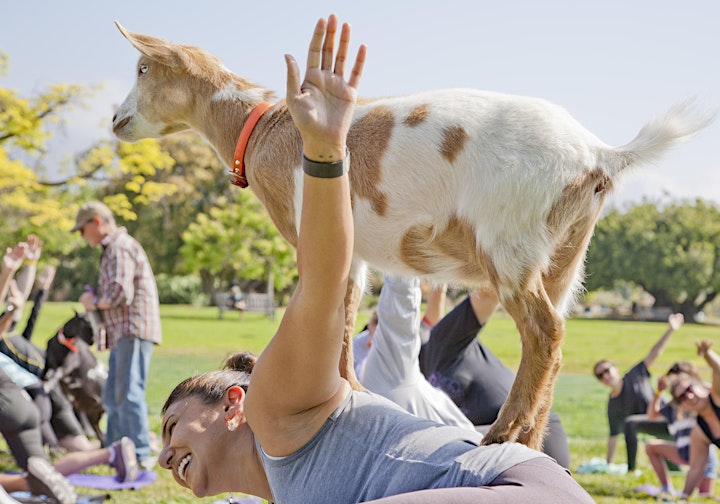 10 am session
9:45 - 10 am check-in
10 - 10:15 am meet & greet the goats
10:15 - 10:45 am class in session
10:45 - 11 am petting, playing & photo session with the goats
11am session
10:45 - 11 am check-in
11 - 11:15 am meet & greet the goats
11:15 - 11:45 am class in session
11:45 - 12 am petting, playing & photo session with the goats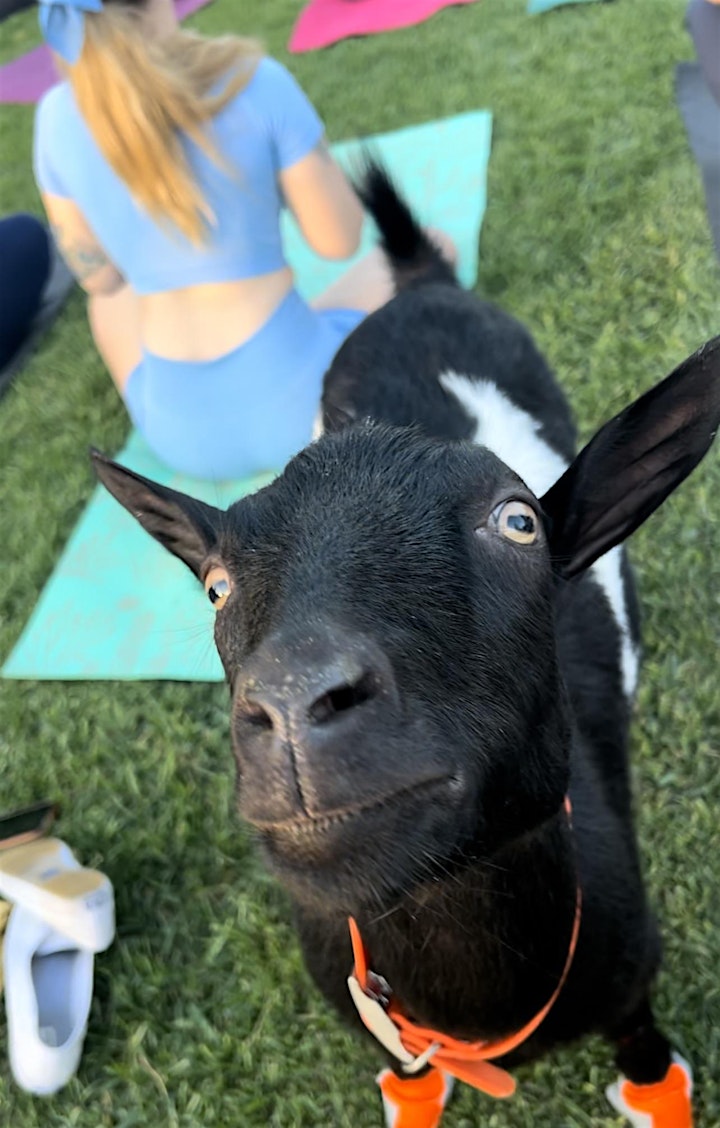 What to know before you go(at)
Please wear something that covers your back.
Remove loose jewelry before participating.
Bring drinking water to stay hydrated.
Goats are NOT potty trained, remember they are farm animals. Fortunately, they are also vegan 🌱 their "blessings" (as we refer to them) are dry, coffee bean-like, and virtually scent-free. Some even say they're good luck... If you are blessed by a goat, buy a lottery ticket 😂 tell us how much you win! All goat-related messes are cleaned up as they occur.
Goats have no boundaries! Please clear away anything you'd rather not have climbed on, nibbled on or blessed by goats!
Some of our goats fancy themselves as artists who like to carve designs into yoga mats with their bottom teeth. If you prefer not to have yours autographed by a goat, bring a towel to throw over your mat & protect it, or rent a used sanitized yoga mat from us ($5 each, see "add-ons")
By purchasing tickets to this event, you agree to defend and hold harmless Michelle Tritten in the event of any claim that arises from attending this event. There will be a release of liability for all attendees to sign before participating.
Minors must be accompanied by an adult and have a parent or legal guardian sign a waiver on their behalf before participating.
We recommend that participants weigh at least 75 lbs.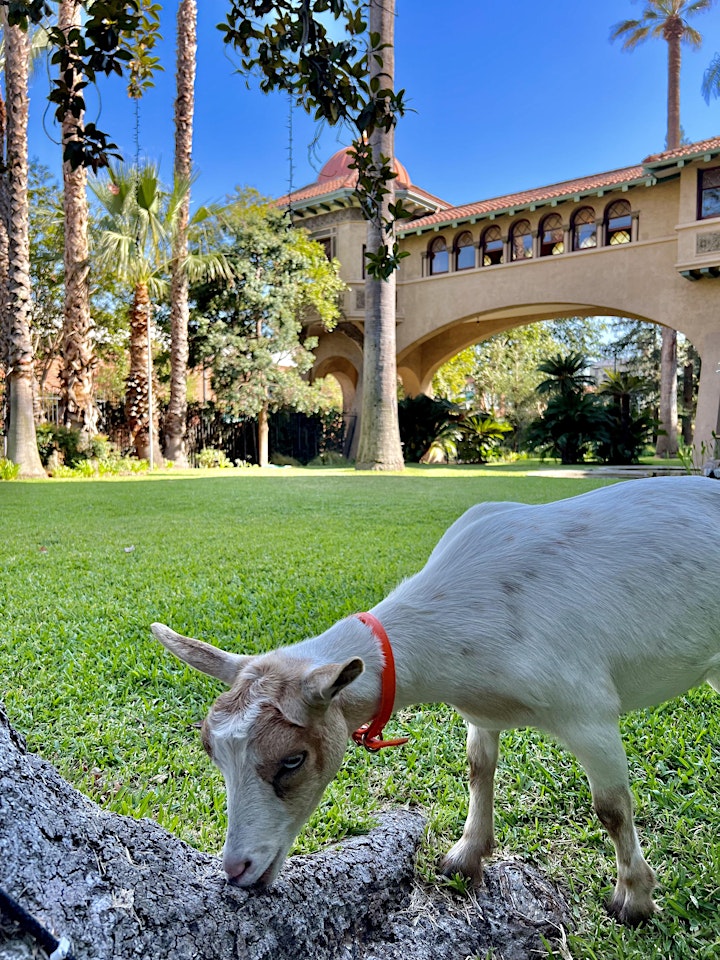 Parking information:
School House Parking Structure
33 E Green St Pasadena, CA 91105
$1 first two hours/ $2 for each hour thereafter
Del Mar Station Parking
230 S Raymond Ave Pasadena, CA 91105
$12 flat rate for the full day
This is also a metro stop!
Meter Parking
There is also metered parking in the front of the Castle on Raymond Avenue and on the surrounding streets Green Street & Dayton Street. If you choose to park at a meter, Pasadena has introduced a Parking App to make paying for metered parking easier. Download at https://www.passportparking.com/ and use Zone 6263 to park on the streets surrounding Castle Green.
The Entrance is on Raymond Ave in the middle of the block (between Green and Dayton). Look for the 99!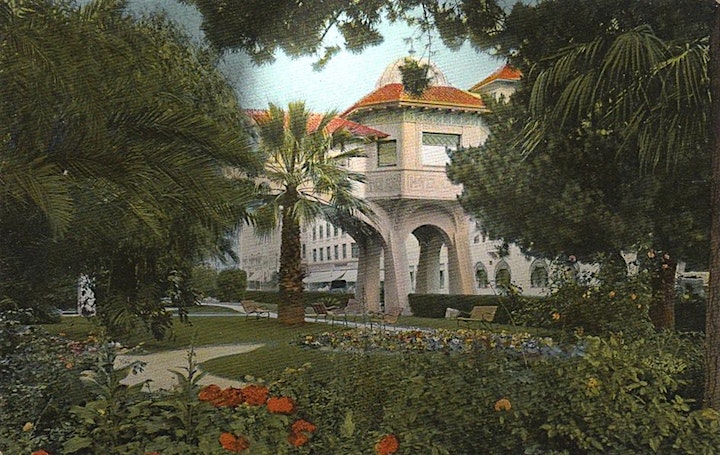 About Castle Green
The Hotel Green was originally situated across Raymond Ave. The Annex of the Hotel Green (now, the Castle Green) was completed in 1898. The (now) Castle Green was built by Colonel Green for $400,000 (approximately $15 million today!). Designed by Frederick I. Roehrig who drew upon Moorish, Spanish, and Victorian themes incorporating them into architectural elements throughout the building. The Hotel Green was the social center for East Coast elite who arrived at the train station down the street - spending their Winter season enjoying Pasadena. The invention of "horseless carriages" (cars) changed travel and made the hotel no longer a vacation hot spot. Ultimately, the hotel was divided into 52 individually owned units as it remains today. Now a Nationally Registered Historic Monument, a State Historical Monument, and a Designated Pasadena Treasure.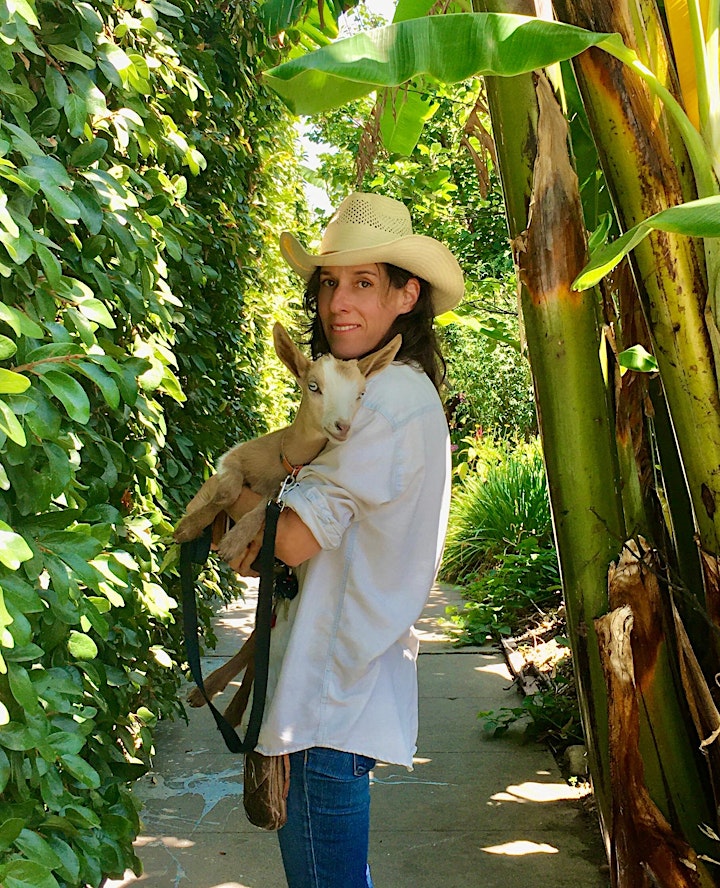 About us
Hello Critter Goats are the beloved "kids" of Michelle, the "Goat Mama" (she doesn't have the human variety of children!) She has, however, enjoyed caring for pet goats since the eighties. Over time, she has also had the opportunity to help displaced and mistreated goats find safe, happy places to call home. For Michelle, the well-being of goats always comes first. As highly intelligent, curious, and social animals, Michelle's kids enjoy traveling to goat-friendly locations to experience the world outside of their barnyard. Their sense of adventure inspires them to hop into their "barn on wheels" and go for a ride where they will arrive and thrive from interacting with diverse people, places & things. The stimulation of new sites, sounds, smells, textures, and flavors, enhances their mood, as well as those who they encounter along the way! Only the goats who wish to go on adventures attend Hello Critter events. Standing at the gate, when they are called, is their way of expressing their desire to join the fun, whether it be a yoga session, sound bath, hiking, river walk, play date, creative workshop, or a senior community/school visit. If they choose to stay behind with their stablemates, they enjoy relaxing on, under, and around a custom clubhouse built for their enrichment. Each goat (Roscoe, Floyd, Billy, Burlap, Fanny, Lil'bit, Gigi, Felix, Koko & Ivy) is a highly valued sentient being. Their individual needs are met throughout each day to ensure that they are healthy, happy, well-cared for & deeply loved. Visit our website to learn more about them. www.hellocritter.com