| COMPANION HIKES| 13+ | SAFE | THERAPEUTIC | ADVENTUROUS | MAGICAL |
About this event
ABOUT GOAT WALKABOUTS:
TOTAL LENGTH: 2 HOURS
TRAIL DIFFICULTY: EASY
MAX GROUP OF HIKERS: 11
AGE: 13+ (we offer private hikes to minors accompanied by parents)
Goat Walkabouts a brand new therapeutic concept developed by Rocky Mountain Goat Yoga in an effort to kick PTSD symptoms in the butt! We are hiking all of our Nigerian Dwarf goats in the sacred Colorado trails!
Therapy: Goat Walkabouts provides therapy support for those who struggle with PTSD symptoms. The demonstrations the goats offer on the trail are highly impactful! We offer free hikes to licensed clinicians and their clients.
Education: We currently hike with high school gym classes and military groups but we are expanding to other educational opportunities!
Animal Advocacy and Goat Companionship Awareness: Goats are wonderful companions! We want to raise awareness about the need for good goat homes! They make wonderful companions and we want others to know about it. There is an overabundance of wethers (castrated bucks) and they need parents.
PRIVATE BOOKING: booking@rockymountaingoatyoga.com
Purchase a ticket for our next Goat Walkabout and lets go on a goat hike adventure you'll never forget!!
~ Jim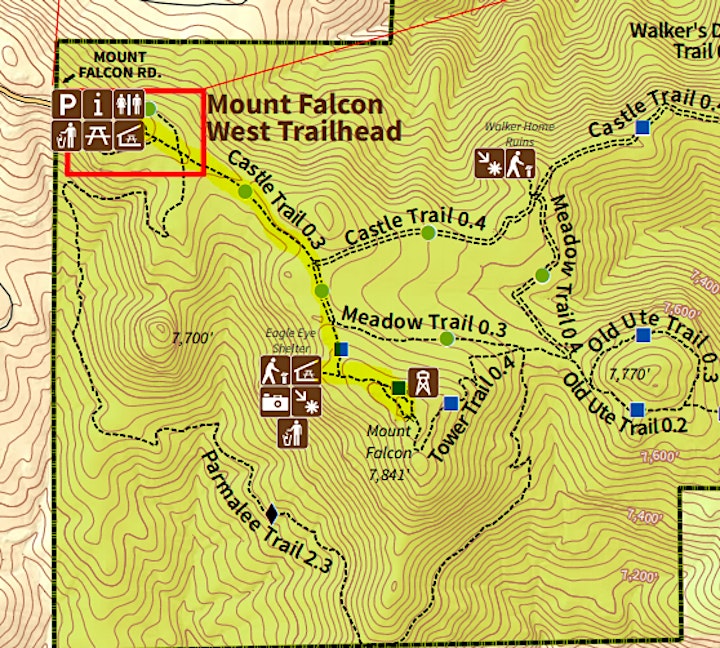 ABOUT MOUNT FALCON:
Embark on an adventure with our Nigerian Dwarf goat herds in the sacred timbers of Mount Falcon Park in Indian Hills. We start our journey on the west trailhead. There is no shortage of pine trees, breathtaking views and overlooks. The trail is even home to old castle ruins left behind and now a unique spectacle in the middle of the forest.
Join us on our hike and support Denver Colorado's only Nigerian Dwarf goat hiking service.
WHAT TO BRING
Closed Water Bottle or Flask
Hiking Boots
Backpack
Sunglasses
Camera
Picnic Blanket
Snacks & Fruit (for yourself)
WHAT WE PROVIDE:
Trained Nigerian Dwarf Goats
Defense Items (shepherds hook, bear spray, air horn)
Waste Pack w Goat Treats
Goats Water
Organizer of GOAT WALKABOUT (MOUNT FALCON)