Description
Please join us for the kick-off GOAT Salon of 2019.
Our guest is our very own Mike Monteiro. Last year Mike disappeared from Twitter to write a book about design's responsibility for causing the current garbage fire we live in. From the lack of online civility to designing addictive software to business models that covet profit without considering the impact we're having on society — he went and wrote about all that. Then he wrote about how we can (maybe) fix things. And he's ready to talk about it. Come find out if we survive another ten years! (Possible spoiler alert: he hasn't been smiling much. And he's building what looks like an ark on the roof.)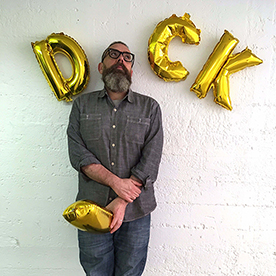 About GOAT Salon
*GOAT Salons are intimate evening talks where a special guest is interviewed for a bit and then we all have a spirited discussion.
Each salon features a special guest who will talk about something they are working on - a book, music composition, video piece, online project - or just a provocative topic they have an opinion about. Most importantly, we want you to ask questions and chime in, salon-style. It'll be thought-provoking, funny, and yes, there will be adult beverages.
We charge you money because space is limited and charging $10 keeps people from grabbing a seat and then flaking. Also, to buy beer and snacks. We don't have VC money.