Description
Spend a fun afternoon hiking Simmons Farm with your own goat in tow. Breathe in the fresh air, enjoy the views and leave with smile!
Winter is coming, there's not a whole lot we can do about it, but we can embrace it. In an effort to bring joy, excitement and something to look forward to the winter months, I will be offering weekly goat hikes. When the weather gets cold, it doesn't mean we can't get outside, get some fresh air, blow the stink off (as my mom would say) and enjoy the beauty that the winter months bring. Join us for a two hour goat hike around historic Simmons Farm, hikes will be led by Farmer Karla and her crew of adventurous, fun loving goats. Each participant will get their own goat to walk on a leash. There will be stops along the way to let the goats nibble, through the hike you will have the full attention of your farmer and you can ask all the burning questions you have ever wanted to know about Simmons Farm, farming in New England, the life of a farmer, or something else, just ask.
We will conclude our afternoon with a warm cup of hot chocolate made with the delicious milk from here on the farm!
contact us for Private Party Goat Hikes,
fun add on available for parties
fire pit and s'mores
Wine and Cheese by the fire overlooking the bay
Inquire by text 401-848-9910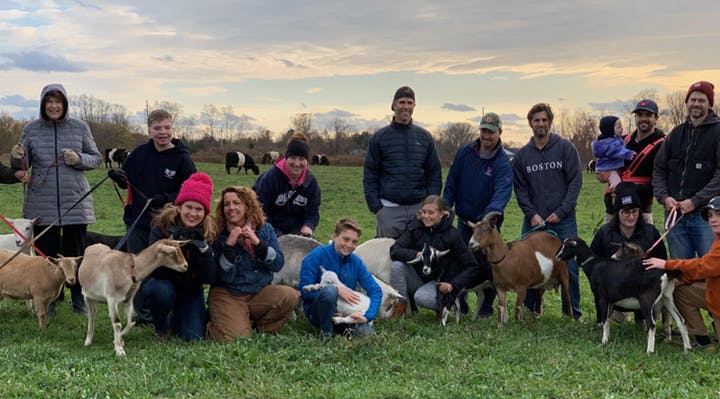 Over this 1.2 mile hike, you will see gorgeous views of Narragansett Bay from the Vista at the top of the farm, we will pass a babbling brook and meander through open pastures. We will see our pig friends, our group of belted Galloway cows, also known as the Oreo cookie cows and our funny flock of barnyard bird friends, the ducks and chickens will be there to greet you on arrival. Register today!