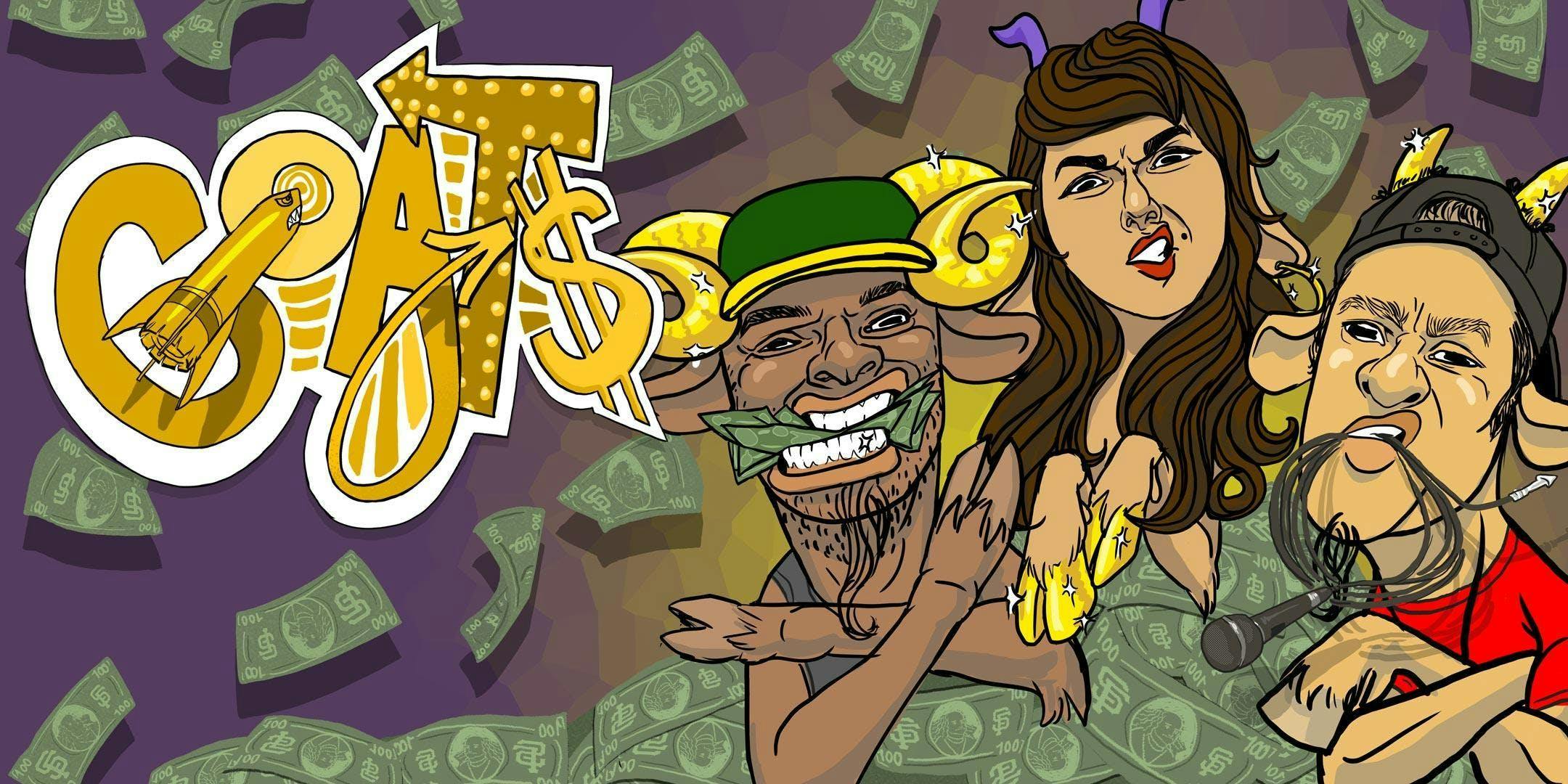 About this Event
Ever wanted to be able to say "I saw them before they blew up"? Ever crave the magic of a good venue? Then come to G.O.A.T.$, the freshest comedy showcase at one of SF's most awarded and legendary live show venues, Cafe du Nord. Cafe du Nord has got the receipts for hosting mind-blowing shows in a gorgeous, award-winning Mad Men-esque setting. It's no surprise SF Sketchfest hosts some of its best shows and after parties here as a result.
Comedians on this selective showcase have been featured on Conan, Last Comic Standing, Comedy Central, NBC, Viceland, MTV and more. We call the show G.O.A.T.$ because we're serving comics who are some of the greatest of all time, giving them extra time to shine. Hand-picked by hosts Feel Woods, Nicole Calasich and Joseph Nguyen (all featured in Comedy Central's ClusterFest showcase, formerly Comics to Watch), we know a thing or two about booking the cream.
Show begins at 8:30PM. Tickets will be $15 at the door.
Make sure to arrive early because seating is first come first served.
Awards and Press:
Cafe du Nord's reputation for hosting outstanding, intimate live shows precedes it:
"Top 40 Music Venues in America," Paste Magazine, 2007
"Top Ten Most Beautiful Music Venues" in California, California Home and Design, 2012
Nitey Award for Best Live Music Venue in SF (under 400 capacity), 2013
"Best Music Venue", California Music and Culture Association, 2012
Cafe du Nord has recently reopened in partnership with Noise Pop to critical acclaim and local artists' relief
About Cafe du Nord:
Cafe du Nord is located in the heart of SF, where gorgeous neighborhoods like The Castro, Lower Haight, and Mission District collide at Upper Market street and it's got the ambiance worthy of all three. In the subterranean level of the Swedish American Hall, which was built in 1907 and officially designated a San Francisco Historic Landmark in 2015, Café du Nord has been serving San Francisco (almost) continuously since 1907. Noise Pop has recently partnered with this phenomenal venue to curate live shows you'll talk about for years.
Cafe du Nord's dim lighting, wood wainscoting, vintage wallpaper in soft greens and grays, and speakeasy-esque bar lend it a classic, retro-chic appeal that instantly elevates a night on the town. It's a mood.
A joint that inspires the eye and comics who inspire laughs will put everyone in the mood to connect, to vibe on old San Francisco sensibilities, and engage without a screen and with colorful characters, brilliant comics, and drinks instead.
Past performers at Cafe du Nord include The Decemberists, Planet Booty, The Oh Sees, The Sklar Brothers, Scott Capurro and more.
About the Producers:
G.O.A.T.$ is produced by comedians Feel Woods, Nicole Calasich, and Joseph Nguyen, all seasoned veterans with credits in SF Sketchfest, Comedy Central ClusterFest and several years of experience producing local Bay Area shows. If you've ever seen comedy in SF or Oakland, you've probably been at one of our shows already at Milk Bar, Rite Spot, Murphy's Pub, The Hatch, Doc's Lab (R.I.P.), Neck of the Woods and more. Or maybe you've caught us performing frequently at Cobb's Comedy Club, the SF Punch Line. We've also been featured in the SFist, the SF Examiner, and more.
Frequently Asked Questions:
Has anyone famous ever performed at Cafe du Nord? - Hell yes! Cafe du Nord has hosted Neil Young, Scott Capurro, and several headliners featured at SF Sketchfest. At G.O.A.T.$, we have every intention of booking more.
What time should I arrive? - We suggest everyone arrive at 8:00pm
Is there an age limit? - Yes, 21 and up.
How's parking? - Little street parking is available. But Cafe du Nord is just a couple blocks from Church street Muni station or Castro street Muni station. We also suggest using Lyft or another ridesharing app.
Is there a dress code? - Dress to impress! We do not have a strictly enforced dress code. However, Cafe du Nord is a venue with class, we HIGHLY recommend nice attire.
What's the refund policy? - We do have a no refund policy. All ticket purchases are final. If for some reason you are unable to attend an event you purchased a ticket to, we will be glad to honor your ticket for another G.O.A.T.$ event.
In conclusion:
G.O.A.T.$ isn't an amateur-hour comedy show. It's an experience. It's the cream. It's a mood. From the timeless design and beauty of its decor, to the stunning and delicious cocktails behind the bar, to the comic luminaries on the stage, G.O.A.T.$ is a show you'll want to say you saw first!