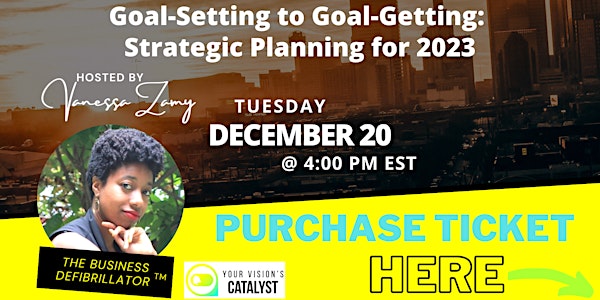 Goal-Setting to Goal-Getting: Strategic Planning for 2023
An interactive implementation workshop with Five Steps To Resourcefully Set Your Business Goals And Stay On Track in 2023
Refund Policy
Contact the organizer to request a refund.
Eventbrite's fee is nonrefundable.
About this event
1 hour 45 minutes

Mobile eTicket
Have your sales been stagnant? Are you tired of inconsistent income? You've probably tried a bunch of things, spent money here and there but with no return. Nothing seems to have landed. And that's unfortunately normal.
Contrary to popular belief, evidence suggests that resolutions, revenue targets, and marketing objectives are doing you more harm for your business.
Have you already tried these year after year, quarter after quarter with limited results?
Well then, you know what we're talking about. You're staring at the same monthly income which is not necessarily a bad income, but you know it could be better.
It's time to revive your 2023 in a new way! This interactive workshop unravels how business owners and entrepreneurs can un-stuck their income...and No, Vanessa Zamy is not talking about manifestation, mindset, or manipulation.
Vanessa Zamy will lead this interactive workshop on Tuesday, December 20 at 4 p.m. ET, to help you plan and reach new milestones, increase confidence, reduce stress, and increase clarity to reset for success in 2023 and beyond.
===Purchase your ticket now===
This is NOT a vision board workshop.
This IS a goal-setting, strategic planning workshop for you to get things done.
A vision is only helpful if you're actually taking the steps to get there. I'm speaking from experience of creating two vision boards, placing them on my dresser for many months then throwing them in the California closet dust because it was shameful to look at them. Eventually, I pulled out these boards again a year later because I was finally taking action towards making them happen. Now after a few moves over the years, they remain in a digital space.
My action came from the knowledge of the How.
So who is a Goal-Setting workshop for?
You know where you're trying to go.
You know your vision of where you would like your business and life to be in 5, 10, or 20 years.
Unfortunately, you cannot seem to understand how to get there.
You need help setting better goals.
You're tired of setting goals to only end up with uninspiring results.
You want to understand why some goals work and some do not.
For you, it's time for a goal-setting workshop. Vanessa will cover…
A step-by-step goal-setting strategy and structure, why it works, how it works, and examples
Downloadable and printable goal-setting worksheets to outline your goals and goal system simply and keep you on track
Clear and simple principles that increase goal success and performance
Ways to apply these principles to different types of goals and get inspiration for your own goals
Tips for creating routines to help you achieve goals
===RSVP Now so you can show up differently change your business and life in 2023.
You want to be a New You in 2023. Are you sure about that?
Well, change takes new habits, new standards, and new decisions. You can reset those at any time, and what better time than as you transition from one year to the next.
By the end of this workshop, small business owners will be able to:
Set more effective and efficient goals
Create predictable and sustainable goals using a proven framework
Develop habits that increase goal success and overall performance
Plus, your goal-setting worksheets with a proven goal framework, and a special cheatsheet can be used anytime in the future to help you reset and find success!
===Are you ready for a New Year?
Purchase your ticket now.
Leveraging her direct demeanor, genius strategic mind, and holistic five-phase approach, Vanessa Zamy, The Business Defibrillator, works with busy, ambitious business owners to multiply their revenue by revitalizing the business' finances, operations, and marketing. After working with Vanessa, her clients are more strategically efficient, effortlessly productive, and increasingly profitable in their business and life. When she's not being a global strategy consultant, Vanessa Zamy enjoys serving as a keynote speaker, bestselling author, and Professor sharing her proven systems, processes, and frameworks to helping storefronts, salons, and shops grow their purpose-driven business without burnout. Her background includes a Management Science and Engineering Degree from Stanford University, and strategic leadership roles at Fortune 500 companies.
Vanessa Zamy has been featured in Fast Company, NPR Marketplace, and on numerous stages. In her spare time, Vanessa enjoys sleeping, and living by her mantra: "have fun, grow money, and share", including Harry Potter, musicals, and dessert.
RSVP Now to save your spot.
Questions about the event? Email us, info@yourvisionscatalyst.com