Description
Info
Bay Area Go Players Association is excited to present a 2-day workshop with Yilun Yang, professional 7 dan. Don't miss this opportunity to learn from one of the most highly-regarded Go teachers in America.

---
Workshop Topics
In this workshop, Mr. Yang will present an algorithmic approach to the fundamental principles of go that occur in every game you play. In this way, many complex concepts are broken down into small easy-to-understand pieces. These topics will be presented as a series of lectures, game-analyses, and problem solving sections.
The workshop is open to go players of all strengths. Mr. Yang's unique interactive teaching style makes it possible for players of all levels to benefit.
A late fee of $50 will be applied to registrations after Nov. 11th.
---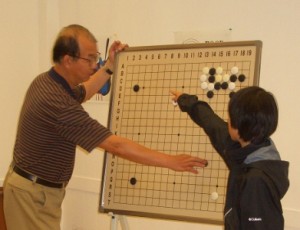 About Yilun Yang 7P
Mr. Yang is a 7 Dan professional Go player of the Chinese Go Association currently teaching Go in Los Angeles. After becoming a professional player in 1966, some of his accolades include becoming a 5-time national champion in team competitions in China and a winner of the Yuntze Cup. He is also a well-published author of Go Books such as "Fundamental Principles of Go" and "The Workshop Lectures."

---
For more information, contact:
Workshop Organizer: Jay Chan jay@bayareago.org (909) 618 8749
Workshop Organizer: Steve Burrall sburrall@comcast.net (916) 764 5313
Don't forget to check out other Bay Area Go events at http://bayareago.org!