Description
Info
Bay Area Go Players Association is excited to present a 2-day workshop with Eric Lui, professional 1 dan. Don't miss this opportuinity to learn from one of the strongest players in North America!

---
Workshop Topics
Game analysis - games played during the workshop will be reviewed.

Lecture on modern developments of the Chinese opening

Lecture on recently popular joseki

Analysis of innovative AI moves and ideas, including AlphaGo

Practical tsumego problems
Participants are encouraged to bring in recently played games for review.
---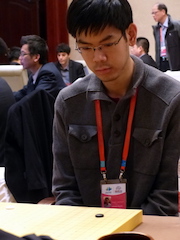 About Eric Lui 1P

Eric Lui is a 1 Dan Professional of the American Go Association. His accolades include: being one of only three players to be recognized as an honorary Redmond Mejin for winning the Redmond cup five times, representing the US at the World Amateur Go Championship twice -- placing third in 2011, and becoming an American professional 1 dan promoted in 2016.
---
A late fee of $50 will be applied to registrations after Nov. 11th.
For more information, contact:
Workshop Organizer: Jay Chan jay@bayareago.org (909) 618 8749
Workshop Organizer: Steve Burrall sburrall@comcast.net (916) 764 5313
Don't forget to check out other Bay Area Go events at http://bayareago.org!