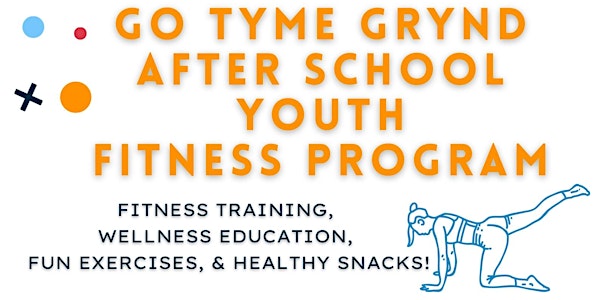 Go Tyme Grynd After School Youth Fitness Program 2022-2023
Fitness Training, Wellness Education, Fun Exercises, & Healthy Snacks!
When and where
Location
Grynd House Fitness Center 3403 Monroe Street Toledo, OH 43606
About this event
Go Tyme Grynd After School Youth Fitness program combines both fitness and education into fun group activities that will engage and inspire young people. These days, the challenges of encouraging children to incorporate exercise into their daily lives is more necessary then ever to promote good health and wellness. Therefore, we have partnered with the City of Toledo Parks & Recreation Department to provide a free opportunity for parents to ensure their children are involved in physical fitness activities when they are most vulnerable. Our program is created and lead by ISSA Certified Elite Trainer, DeAndre "Coach Poo" Gaston. The young people will gain experience of safe physical fitness & healthy nutrition habits through coaching & fun group activities. Commitment to the 10- Week program is encouraged for maximum results. In-Person registration and informational session will be held on October 29th from 1PM-4PM.
Sessions will take place at Grynd House Fitness Center (3403 Monroe St., Toledo, OH 43606)
Monday & Wednesday 4:30 PM - 6:30 PM
Start Date: November 2, 2022
End Date: January 25, 2023
Session details
1. Mandatory- Registration/Informed consent waiver must be signed/submitted by parent/guardian before participation in physical fitness activities (onsite registration available).
2. Spots- Limited spots are available. Please register in advance. If the class is full you may be added to the waiting list (you will receive a call or email if spot becomes open).
3. Snacks- Post-workout snacks will be provided (participants with special dietary needs and allergies are encouraged to bring their post-workout snack). Participants are encouraged to be well hydrated before sessions.
4. Attire- Please wear appropriate attire for activities (participants are responsible for their own sweat towels).
5. Safety- Go Tyme Grynd nor any of its sponsors will be responsible for participants outside of the program start & end time (parents must ensure their child's safety outside the specified timeframe).
We look forward to a happy healthy school year! Please visit us at GoTymeGrynd.com