Description
New Orleans Family Justice Center is proud to be an official Charity Partner of Crescent City Classic's 2018 "Run For It" Program!
Join NY Life and NOFJC for a recption at Elliott Gallery to raise awareness and funds for NOFJC's Camp HOPE program.
Learn about NOFJC's child trauma programs + Enjoy food from local restaurants including Irene's, Muriel's and Italian Barrel as well as specialty drinks from Old New Orleans Rum and Urban South Brewery.
For more info: Candice Caccioppi ccaccioppi@nofjc.org | www.nofjc.org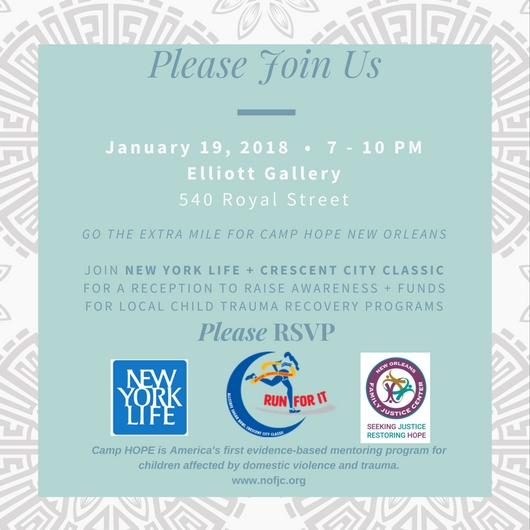 The "Run For It" Program is the Official Charity Program of the Allstate Sugar Bowl Crescent City Classic. The goal of the "Run For It" Program is to raise $1 million annually and serve the Greater New Orleans area needs. Each year, the Crescent City Fitness Foundation selects local charities to support and partner with for the 10k race, by donating 100 charity bib numbers (guaranteed race entries) to each Charity Partner for the following year's Allstate Sugar Bowl Crescent City Classic.
Official Charity Partners recruit and form teams of 100 charity runners/walkers, who can commit to raising a minimum of $200 for their charity by race day. Official Charity Runners receive various perks and incentives for joining the program, including a personal online fundraising page. All of the money raised will be donated directly to and benefit selected charity partners.