Event Information
Location
Kibbutz Mashabei Sadeh
TLV and Be'er Sheva Pick ups TBD
Description
Join us for an unforgettable Shabbat weekend in the Negev!
Weekend is exclusively for Olim and friends in their 20's and 30's
---
Itinerary subject to change
Friday, December 8th
8:00 – Bus will leave from Tel Aviv
9:30- Meet with Southern participants – Split into two groups
We will have two options for exploring on Friday.
1. A nature hike near Be'er Sheva
OR
2. A city tour of Be'er Sheva.
6:30pm- Shabbat dinner for all participants at the Kibbutz
9:00pm- Oneg Shabbat!
Saturday, December 9th
During Shabbat we will host Shabbat friendly sessions and have free time to explore the area.
Overnight Accomodations: Kibbutz Mashabei Sade (2 per room) *everything included*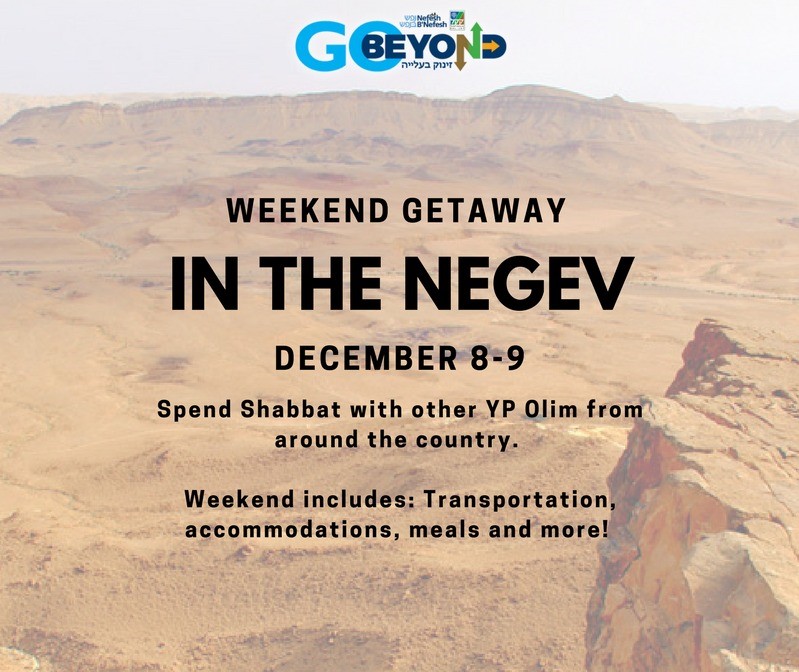 Date and Time
Location
Kibbutz Mashabei Sadeh
TLV and Be'er Sheva Pick ups TBD