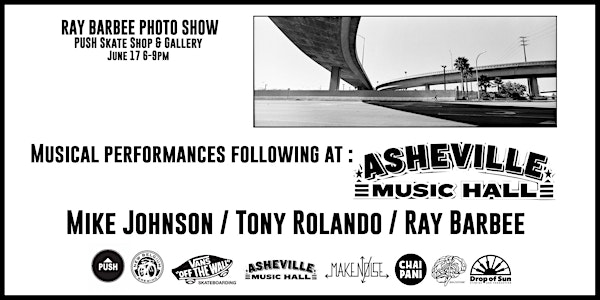 Go Skateboarding Day LIVE MUSIC ft. Mike Johnson, Tony Rolando & Ray Barbee
Foundation Asheville & Push Skate Shop
Location
Asheville Music Hall
31 Patton Avenue
Asheville, NC 28801
Event: 9PM // Tickets: $15 // ALL AGES
About this event
Event: 9PM // Tickets: $15.00
ALL AGES
We're incredibly happy and honored to announce a fun filled weekend of Foundation Asheville fundraising events planned for Go Skateboarding Day and the start to this summer.
On June 17th from 6-9pm we're gonna be blessed to have Ray Barbee with us in person here in Asheville, NC Push Skate Shop for a solo photo art show and opening art auction featuring his amazing photography and we'll also be releasing some super special Make Noise x Push Skate Shop x Brainstorm Skateboards decks featuring one of Ray's beautiful photographs and they'll also be had signed and numbered by him.
The art show will be followed by an interesting evening of live music right next door to PUSH Asheville Music Hall with doors opening at 9pm and featuring musical preferences from Mike Johnson, Tony Rolando and Ray Barbee. We'll be announcing more info on the sale of tickets for the show in the coming weeks and thanks to our generous neighbors from Asheville Music Hall all ticket sales from the show will go to benefit the FOUNDATION.
We'd like to invite everyone from here and everywhere to come celebrate National Go Skateboarding Day at the FOUNDATION the following Saturday on June 18th from 12-5pm for a Skate Jam with Vans and Ray, that'll be one for the record books. We'll have tunes being DJed by Mad Mike that day, beers flowing for anyone 21+ complements of Trey Wheeler New Belgium Brewing and food provided from the fine folks Chai Pani with funds being raised for the FOUNDATION.
This is one you won't wanna miss that will certainly create some lasting memories for years to come. We look forward to celebrating Asheville's one of a kind skateboarding/art/music scene here with you'll!!
Stay tuned for more details to come about a special Saturday night show at the Static Age-Records outdoor space, featuring Natural Blk Invention, Cam Stack, Nostalgianoid and Mad Mike.
A huge thank you goes out to Rodent for helping bring his old friend Ray Barbee here to check out the Asheville DIY scene and spend time in the mountains with our community.
Hope to see you all that weekend for all that'll be happening!!