Description
Go Reactive with Akka
Developing Microservices Using Actors and Domain-Driven Design


Intensive, 2-Day, Hands-On Akka Workshop by Vaughn Vernon
This intensive, two-day, and hands-on workshop first builds your foundation with the Actor model and Akka. This class then expands your understanding with advanced application and system design approaches, such as how to use Domain-Driven Design to build Microservices. The workshop doesn't stop there, but takes you much deeper into more advanced topics of Web applications with Akka, using Akka persistence, and how to leverage Akka Remoting and Akka Cluster. This is a hands-on workshop. Students are strongly encouraged to engage in workshop exercises and write Akka-based source code.
Day 1: Building Business Applications and Services with the Actor Model and Akka
The first day of the workshop builds your foundation with actors using Akka. You will learn all the basics about Actor model, the Akka API, using actor hierarchies, resilient systems, and how Akka helps with performance and scalability. Building on the foundation, the workshop next features vital application and system design patterns that will help you get the job done in the best way for your business. Featured are routing, modifying behavior, and the use of Domain-Driven Design and Microservices to build advanced systems and applications.
What Is Reactive Programming?
How Does the Actor Model Work?
Akka Basics and API
How Akka Actors Work Together
Developing Resilient Systems
Performance and Scalability with Actors
Dividing Up Work with Actors
Preparing Your Actor for Its Next Message
Modeling Your Business with Domain-Driven Design and Actors
Using Akka to Build Microservices
Day 2: Advanced Akka Development
The second day of the workshop expands on the topics of business applications and scalability using actors. You will learn how to use Akka with the Play Framework, how Akka Persistence with Event Sourcing and Akka Query enables you to implement with CQRS. You will also learn about the Eventuate toolkit for Akka. Finally the workshop helps you with scaling Akka using Akka Remoting and Akka Cluster.
Akka in a Web Application
Akka Persistence
Akka Query
Using Eventuate (by Red Bull Media House)
Akka Remoting
Akka Cluster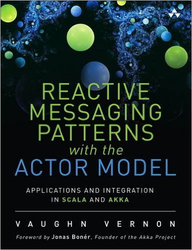 Reactive Messaging Patterns with the Actor Model: Applications and Integration in Scala and Akka
FAQs
Q: Do you accept credit card payments?
A: You may pay with your credit card by using PayPal. We do not accept direct credit card payments.
Q: I cannot pay using PayPal, how can I pay for my registration?
A: You will have to pay via an International Wire Transfer.  Please proceed.with the instructions that follow in the next question "I need to pay using an International Wire Transfer. How can I do that?".
Q: I need to pay using an International Wire Transfer. How can I do that?
A: Click the "Show Other Payment Options" link and request Pay by Check. We will send you an invoice with the international wire transfer information you need to pay for your registration. Please note that additional bank wire transfer fees will be charged to you. Additionally, please pay the invoice promptly as your registration will not be confirmed until it is paid in full.
Q: I paid with PayPal and need an invoice or receipt for my records, can you send me one?
A: Sure, we can send you an receipt after you make your payment through PayPal. Please send an email to payments@forcomprehension.com and and we will gladly send you a receipt for your records.


(The organizer of this event reserves the right to reschedule or cancel for any reason. If the event is rescheduled you may request a refund of the cost of the event registration. If a complete cancellation should be necessary you will automatically be refunded the cost of the event registration.)
Thank you to Magento for helping us bring this workshop to Barcelona!