GO LONG FOR LUKE 2015

Sunday, September 20, 2015 from 3:00 PM to 5:00 PM
Event Details
This is a great day of kids playing flag football and raising awarness for autism. Entertainment by The Echo Agency along with Riley Gems, Raffles, Food, Ices, Cotton Candy, Face Painting, Airbrush Tattoos, and so much more! This is a great day for the whole family! Everyone is welcomed to be a part of this special day!!
Thanks and Please visit us at www.golongforluke.org
In 2013, Cole Faller, Jesse Faller and Sophie Greenfield created GO LONG FOR LUKE to support Autism. Cole was inspired by his best friend, Luke Greenfield, who is autistic. Along with their parents, these kids created a truly memorable, innovative and remarkable fundraiser meant to send out a heartfelt message to their friend, Luke. And, they have also developed a strong bond extending their friendship to the rallying of their community in support of Autism.  
Please sign up to play flag football or make a donation for the 3rd annual GO LONG FOR LUKE flag football charity event!! If you have signed up already or made a donation, we truly appreciate your support! 
Any questions contact us at info@golongforluke.org  We hope you can make it!
"Luke has autism," Cole wrote.
"It's okay…Autism is just a different way of thinking…. It's fun to play with him because he is so fast. All the time he runs everywhere. I love to chase him…. Luke has a sister named Sophie and parents just like me. He has many friends also. Some kids with autism hear, see, smell and taste differently than other people. He covers his ears if someone screams. To Luke, it sounds about 10 times louder. He cannot communicate that well, so he does it through an iPad. He has a schedule too. Luke understands some things differently. That's my buddy Luke."
GO LONG FOR LUKE!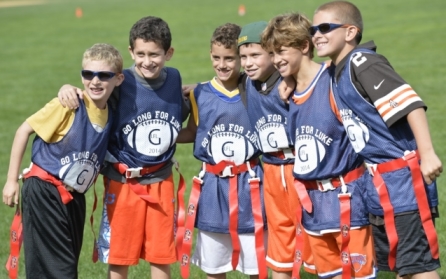 When & Where

The Park at East Hills
209 Harbor Hill Road
East Hills , New York 11576


Sunday, September 20, 2015 from 3:00 PM to 5:00 PM
Add to my calendar