Join the Young Feminist Leaders Council for a communal conversation featuring FP's 2018 anthology Go Home! — Tuesday, December 7 @ 5pm EST
About this event
What does 'home' mean to us as feminists? How do we create 'home' in a world that is so often uninhabitable to us and to our people? What homes are we mourning? What homes are we building?
Join the Young Feminist Leaders Council for a communal conversation on Tuesday, December 7 at 5pm EST, featuring Feminist Press's 2018 anthology Go Home! , edited by Rowan Hisayo Buchanan in collaboration with the Asian American Writers' Workshop. The YFLC will be reading from the anthology and facilitating a discussion on home and belonging.
"Language allows for many homes, and perhaps the writers—and readers of the anthology too—will succeed in returning home, or finding a home, through these words." —NPR.org
It is our hope that this virtual conversation and reading can be a temporary home for all attendees— a space to bring our feminist frames and varied experiences together in order to inhabit the more beautiful world we all know is possible, a home we are collectively building. Our Zoom conversation will be moderated by YFLC member emet ezell and will feature the reading of selected passages from the book, including a special reading from Go Home! contributor and Taiwanese-American writer Esmé Weijun Wang.
emet ezell is committed to prioritizing transformation over transaction. they are a facilitator, a writer, a community organizer, and the co-editor of The Barnacle Goose, a radical literary magazine dedicated to blessing that which doesn't quite yet exist. they invest their time in strengthening the individual and communal muscles of accountability at Ta'amod: Stand Up and within the activist community. when they reincarnate, emet hopes to become a bird.
Esmé Weijun Wang is a novelist and essayist. She is the author of the New York Times-bestselling essay collection, The Collected Schizophrenias (2019), and a debut novel, The Border of Paradise, which was called a Best Book of 2016 by NPR. She was named by Granta as one of the "Best of Young American Novelists" in 2017 and won the Whiting Award in 2018. Born in the Midwest to Taiwanese parents, she is the founder of The Unexpected Shape Community for ambitious writers living with illness and disability. She can be found at esmewang.com and on Twitter @esmewang.
About the book:
"Go home!" is always a slur, but often also an impossibility; this collection explores the words' personal and political dimensions.
Edited by Rowan Hisayo Buchanan
Foreword by Viet Thanh Nguyen
Asian diasporic writers imagine "home" in the twenty-first century through an array of fiction, memoir, and poetry. Both urgent and meditative, this anthology moves beyond the model-minority myth and showcases the singular intimacies of individuals figuring out what it means to belong.
Go Home! is published in collaboration with the Asian American Writers' Workshop. Established in 1991, AAWW is a national not-for-profit arts organization devoted to the creating, publishing, developing and disseminating of creative writing by Asian Americans through a New York events series and online editorial initiatives.
We invite you to purchase the book from your favorite local or AAPI-owned bookstore. Some of our favorites include:
Looking for more ways to support the AAPI writing community? We encourage you to make a donation to Asian American Writers' Workshop!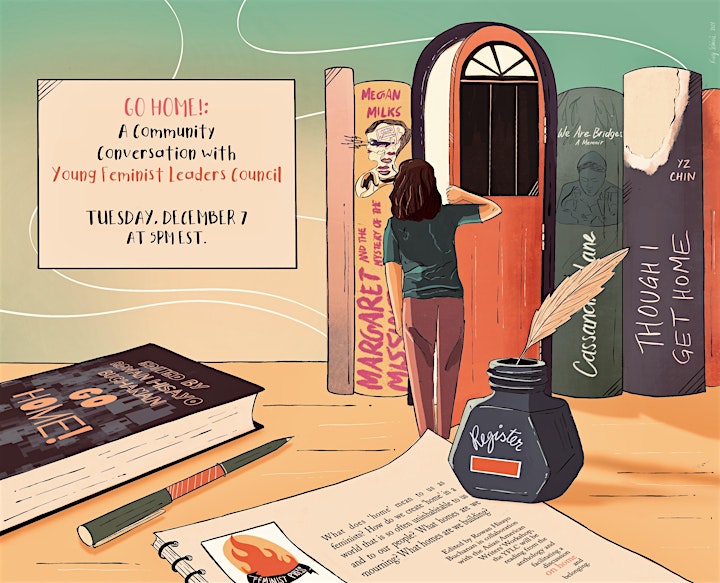 Organizer of Go Home!: A Community Conversation with Young Feminist Leaders Council