GO DJ R.A.P. MC

Monday, August 27, 2012 from 6:00 PM to 11:00 PM
Event Details

                  About the Event
HOUSTON'S GO DJ'S PREPARE TO JUMPSTART SLUGGISH TEXAS MUSIC MARKET WITH R.A.P. (REGIONAL ARTIST PREPARATION) EVENT ON AUGUST 27TH
GETTING TEXAS BACK ON TRACK: AN A-Z IS THE TOPIC
Houston, TX ~ Over the years the state of Texas has contributed a wealth of Hip Hop and R&B household names to the music industry. Labels like Rap-A-Lot and Swishahouse once dominated the independent southern Hip Hop landscape. The city of Houston alone has brought us legends like Destiny's Child, Geto Boys and UGK. Then came the next wave of successes and artists like Lil Flip, Slim Thug, Mike Jones, Paul Wall and Chamillionaire kept the momentum of the Texas music market going. But then what? What are this generation's ranks of wannabes doing, or not doing, about keeping Texas on the musical map? Unquestionably, the Texas music hay days are behind us, leaving us all to wonder, how do we get them back? In an attempt to answer that question and offer guidance and direction to the latest crop of up-and-coming Texas music artists, Houston's Go DJ's have gathered together with a group of music industry veterans to present R.A.P. (Regional Artist Preparation), an evening of informative panels, Q&A's and artist showcases, hoping to jump start the current sluggish Texas music market. Taking place on Monday, August 27th at renowned Roxy nightclub (5351 W. Alabama @ Rice) beginning at 7PM, the Go DJ's, along with a selection of A&R's, program directors and celebrity guests will educate and interact with the event's registrants, with a view towards giving them a better understanding of launching and maintaining a successful music career in today's marketplace.
Topics for the evening will include music production, the duties of a good manager and how to go about finding one, how to generate relationships with DJ's, everything you need to know about radio, effective artist promotion, and the ever important return on investment (ROI), all laid bare by people with a proven track record of success in their field. Registrants will have one on one access to names like Go DJ Hi C, Go DJ's J Que, GT and Michael '5000' Watts from 97.9 The Box, regional reps from labels like Interscope and Atlantic, artists like Dorrough and Lil O and a host of surprise celebrity guests, each sharing their knowledge and expertise. Artist showcase performances will take place throughout the evening. The theme of the evening is 'getting Texas back on track: an A-Z." For more information, kindly visit http://rap.eventbrite.com/
Media is encouraged to attend.
WHO: Houston's Go DJ's
WHAT: R.A.P. (Regional Artist Preparation) event. An evening of informative panels, Q&A's and artist showcases
WHEN: Monday, August 27th  beginning at 7PM prompt (doors at 6PM)
WHERE: Roxy nightclub (5351 W. Alabama @ Rice)
WHY: Getting the Texas music market back on track with guidance and education from a host of successful music industry professionals
SPONSORSHIP PACKAGES
BENEFITS OF SPONSORSHIP
Your sponsorship will enable us to carry out our mission that we otherwise would be unable to complete. With an eye towards the future, we believe that Education is the tool for making informative decisions to live in health and peace with your neighbors and community.
By becoming a sponsor, your company:
·         Displays a strong message that you play or your organization plays an active role in supporting Texas music scene.
·         Shows your concern to support the new developing of new Texas urban talent.
·         Implements leadership and instituting a new beginning and the capability to make a tremendous difference in urban music on a national level.
 CALL 832.443.9466 FOR MORE INFO.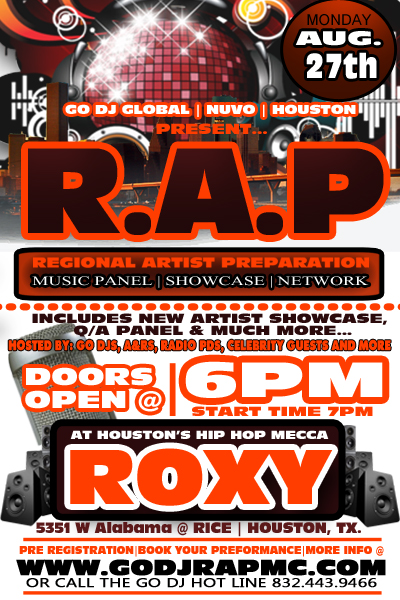 When & Where

5351 W ALABAMA

Houston, TX 77056


Monday, August 27, 2012 from 6:00 PM to 11:00 PM
Add to my calendar