Description
GNAWA music is an incredible, immersive form of trancendental African Islamic music that took form from the traditional slave culture in Morocco.
Every month on Wednesdays, Bunna Cafe brings this form of "Moroccan Blues", to Bushwick.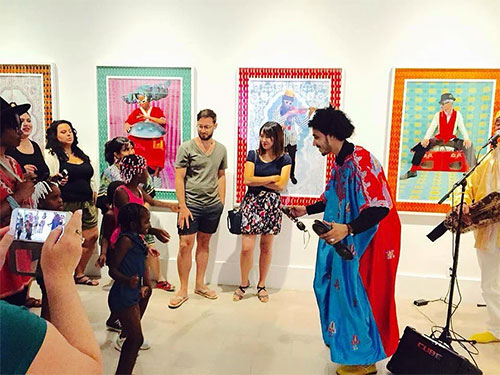 Samir Langus and his crew will get you on your feet and stomping the ground in no time.
This is a one of a kind transcendental music experience not to be missed!
Starts at 8. Free show with dinner or drink purchase. Everything is e-s-h-i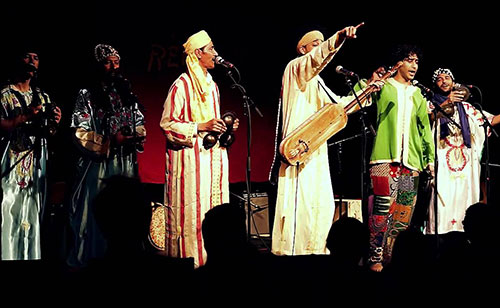 -----------------------------
SamiR LanGus was born and raised in the city of Agadir, Morocco. Music has always been a part of the constant variety of street sounds of his city, from merchants to entertainers and calls to prayer. Langus began learning Gnawa, a traditional, spiritual trance music, when he was 8 years old from the Gnawa masters of Morocco.
Gnawa music is the ritual trance music of Morocco's black communities, originally descended from slaves and soldiers once brought to Morocco from Northern Mali and Mauritania. Often called "The Moroccan Blues", gnawa music has a raw, hypnotic power that's fascinated outsiders as diverse as writer/composer Paul Bowles, jazz giant Randy Weston and rock god Jimi Hendrix. The music is utterly singular, played on an array of unique instruments — from the lute-like sintir that the band leader uses to call the tune, to the metalqarqaba castinets with which the kouyos (chorus) keep time and pound out clattering, hypnotic rhythms.
Langus makes great use of this traditional repertoire, and adds his own, contemporary spin with additional jazz instrumentation. Taken as a whole, this exciting new artist fuses a centuries old North African tradition with the pulse and attitude of New York City now.
In the summer of 2014 Samir founded Innov Gnawa, a young musical collective dedicated to exploring Morocco's venerable gnawa music tradition in the heart of New York City. The group draws on the considerable talents and expertise of Hassan Ben Jaafer, a Maâlem, or master gnawa musician, originally from Fes, Morocco. Under the guidance of Ben Jaafer, Innov has delved deep into the roots and rituals of gnawa music, and made a big splash in NYC, playing some of the city's most prestigious rooms including Lincoln Center, Music Hall of Williamsburg, Brooklyn Bowl and the storied backroom of Brooklyn's Barbès.