Event Information
Refund Policy
Refunds up to 1 day before event
Description
GMIC São Paulo 2017 will explore the various aspects of the Digital Technology.
GMIC São Paulo 2017 is a premier opportunity to expand your company's reach and solidify its position in Latin America.
In GMIC São Paulo you can promote your brand, connect with leading developers, learn about new trends and innovation, and network with international media. GMIC São Paulo 2017 will build on last year's success, with more participation from digital marketing companies and startups from Brazil and abroad.
Join us as we gather industry leaders, experts and developers to add to this conversation. We will explore the role innovation plays in not just bridging industries but also geographies.
Pass & Prices: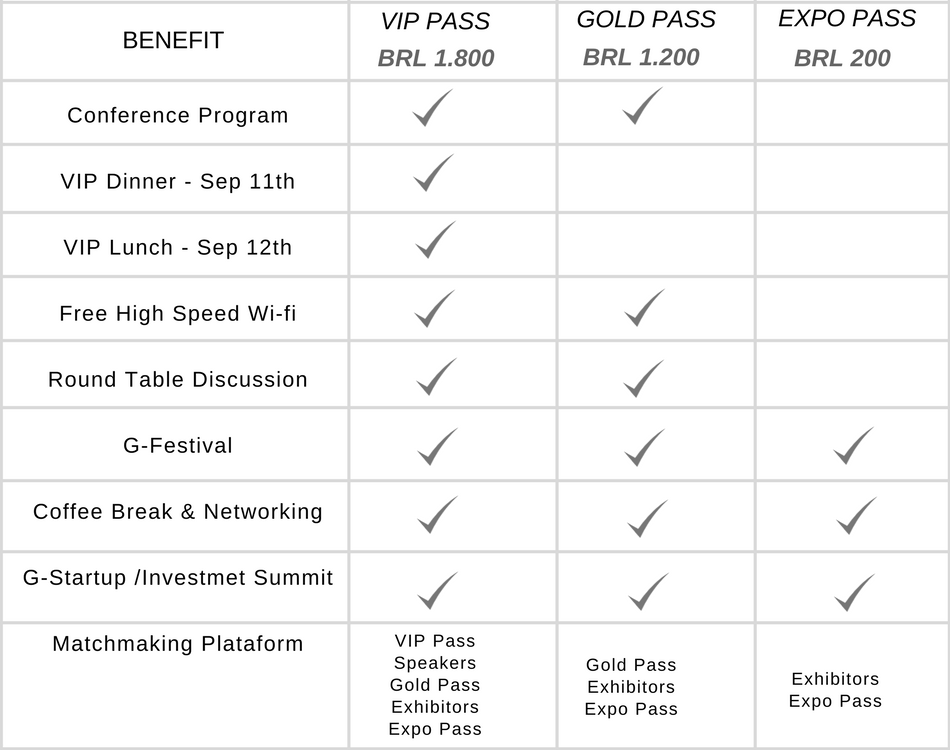 Who should visit?
Everyone who want to network and update with the latest technologies in the mobile and internet industry.
App's - Large corporations - Internet companies - Marketing Agencies - Government and associations - Investor and VC's - Consultancy - Tech companies in general.
What Will We Cover at GMIC São Paulo 2017?
Look forward to an array of talks from over 70 international speakers, networking opportunities & chance to learn more about the tech ecosystem in South America, develop local partnerships & build connections with brilliant minds from the technology industry.
Conference Tracks:

Find Your Perfect Match
Meet face to face and schedule meeting with industry experts and potential business partners to find your perfect business match with our specialized matchmaking tools.
Pitch &Match is an event matchmaking tool. We want you to get the best results from your GMIC São Paulo 2017 visit! That's why we provide this tool for free for GMIC São Paulo attendees!
Click here if you want to know more
Exhibition Area
See what's on and find new inspiration and future business partners as region state-of-the-art companies exhibit their business in the most prestigious mobile event in South America.
G-Festival
Sponsored by:

Prepare for an unforgettable night at the GMIC São Paulo 2017 official party, G-festival, taking place at the September 12th at the GMIC event on WTC.
G-festival is a open door party and all GMIC attendees are welcome!
VIP Dinner - September 11th - (access with VIP Pass)
Sponsored by:



By invitation only, the GMIC VIP Dinner is an intimate event that gathers the leading executives from the top 100 internet companies in South America, government authorities, speakers, vendors and market influencers, from South America Mobile and internet ecossystem.
G-Startup Competition
G-Startup at GMIC Sao Paulo is happening on September 12, 2017. The first place winner will receive a free trip to Silicon Valley to compete in the G-Startup Worldwide Global Finals for a $250,000 investment. Regional Winner receive $5,000 Ad credits from Facebook's FbStart program.
Date and Time
Location
Refund Policy
Refunds up to 1 day before event