GMIC - Exhibition Registration

Monday, October 21, 2013 at 8:00 AM

-

Wednesday, October 23, 2013 at 6:00 PM (PDT)
Event Details

Get your product or service in front of an expected 10,000 mobile executives, entrepreneurs, venture capitalists, and developers from 60+ countries.
This is a unique opportunity in Silicon Valley to globalize your product/service, to expand sales channels, and to seek international and domestic business opportunities.
A brief overview of who is attending GMIC:
Company Function 27% app and game development, 11% advertising/marketing, 9% investment, 7% distribution/monetization
Attendee Job Function 31% software/app development, 24% business development, 11% marketing/advertising, 8% operations management.
Attendee Job Level 42% C-Level, 20% specialist/technical, 17% executive or senior management, 15% manager.
Attendees with technical experience 58%
Click here for more details on GMIC.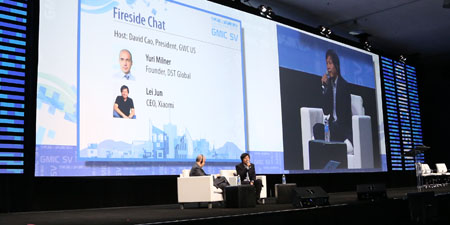 GMIC is Silicon Valley's largest mobile conference and expo drawing 10,000+ mobile executives, developers, entrepreneurs and investors from 60+ countries, hosted Oct 21-23 in San Francisco.
With the theme 'Everywhere. Everything. Everyone.', Mobile is no longer a technology contained in a smartphone or tablet. It has grown into a global innovation movement that affects how everyone interacts with everything, everywhere. The mobile experience, now augmented by emerging cloud and big data services, is being extended to cars, houses and even our clothes, therefore making them  intelligent, connected devices that have an intimate understanding of the user.
GMIC encompasses the mobile industry through these 9 tracks: 
·   Thought Leader - Keynotes, fireside chats and panels from over 100 visionaries and executives representing the world's leading mobile, internet, cloud and big data companies that are redefining the future of the industry and the world. Speakers include Executives from Facebook, Qualcomm, LinkedIn, AT&T, Xiaomi, Ubuntu, Tencent, Intel, SAP.
·   Global Game Stars hosted by Pocket Gamer - Global Game Stars will draw the speakers and thought leaders in the mobile games space today, from both east and west and unite them in focused sessions to provide valuable insight on the industry today and the where it is heading.
·   Appspace & appAttack - Developer focused, technical content around the mobile ecosystem and including a competition of the latest and great apps from around the world 
·   G-Startup - Startup focused panels and keynotes from successful founders and investors plus 20 startups from around the world competing for prizes and a chance to pitch on the Main Stage 
·   DevTool Box - A track dedicated to helping developers maximize the discoverability and availability of their app or service, track their progress and ultimately, make more money through new monetization methods 
· m-Health - The state of the art of Mobile Health technology and business and opportunities to make them better
· m-Education - How to shape the future of education and proliferation of accessible and quality education to seven billion persons. Featuring Andrew Ng, Founder, Coursera.
· m-Marketing hosted by MMA -  The Mobile Marketing track is focused on the potential of mobile marketing to transform businesses and influence the path to purchase
· m-Next - Explore new and disruptive technologies such as connected devices, wearables, big data analytics and cloud in the context of retail, connected lifestyle and more with our signature global blend
The exclusive content offered through these tracks cover the full spectrum of the mobile ecosystem making GMIC the preeminent platform to promote mobile technology and initiatives globally.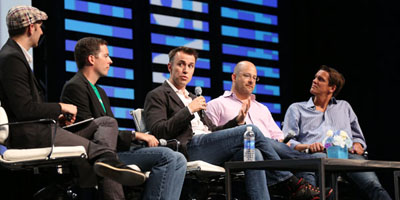 This Year's  Speakers Include:
Vaughan Smith, VP of Mobile, Facebook
Glenn Lurie, President, AT&T
Rob Chandhok, President, Qualcomm
Joff Redfern, VP of Mobile, LinkedIn
Mark Shuttleworth, Founder, Ubuntu & Canonical
Dave Roberts, CEO, PopCap Games
Akira Morikawa, CEO, Line
Alexander Ljung, CEO, Soundcloud
Anthony Reynolds, COO, SAP
Clarence So, CSO, Salesforce
Dave McClure, Managing Partner, 500 Startups
David Helgason, CEO, Unity Technologies
David Roberts, CEO, Popcap Games (SVP, EA)
Gary Clayton, Chief Creative Officer, Nuance Communications
Jeff Clavier, Managing Partner, SoftTech VC
Lei Jun, CEO, Xiaomi
Marc Dillon, Co-Founder, Jolla
Matt McMahon, VP, Fox Digital Entertainment
Neil Trevett, VP, Nvidia
Niccolo de Masi, CEO, Glu Mobile
Phil Libin, CEO, Evernote
Robert Scoble, Startup Liaison Officer, Rackspace
Tim Chang, Managing Director, Mayfield Fund

Highlights of GMIC: 
·   Keynotes, fireside chats and panels from over 100 speakers representing the world's best mobile companies. 
·   High Level Participants including 10,000 execs, developers, entrepreneurs and investors from 60+ countries
·   VIP Welcome Reception for speakers, sponsors, and VIP pass holders
·   Media coverage from Techcrunch, CNN, WSJ, PCMagazine, Bloomberg, Reuters, Venturebeat, AllThingsD, TheNextWeb, and many more
·   Get maximum visibility and exposure to GMIC participants through a GMIC sponsorship or exhibition booth
Hotel
The only thing to make GMIC a better networking event is staying at Hilton, where most our travelling guests call home for a few nights, and you'll find yourself within walking distance to all GMIC events. We also have a special event rate. Reserve your room now.
Please visit  http://sv.thegmic.com for more information. 
**Tickets and exhibition booth are non-refundable. 
Have questions about GMIC - Exhibition Registration?
Contact GMIC
When & Where
747 Howard St
San Francisco, 94103


Monday, October 21, 2013 at 8:00 AM

-

Wednesday, October 23, 2013 at 6:00 PM (PDT)
Add to my calendar
Organizer
GMIC hosts mobile executives, entrepreneurs, developers, and investors from around the globe and across platforms to build partnerships, to learn from industry thought leaders, to better understand mobile technology trends, and to shed light on how mobile is positively changing the world.