Description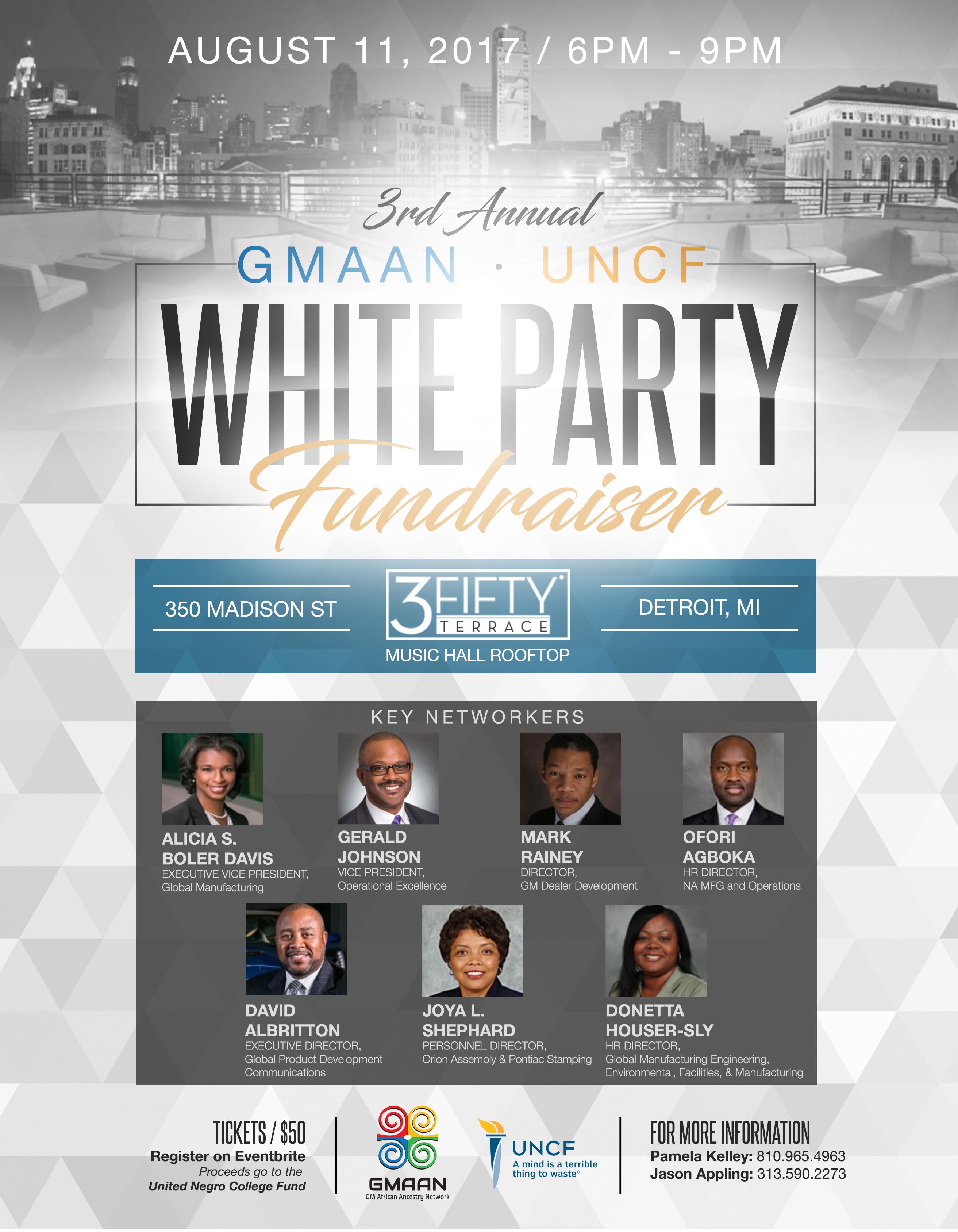 GMAAN's Mission Statement
To be a resource leveraged by GM to provide a competitive advantage in attracting, developing and retaining African Ancestry employees while engaging our communities to drive GM business priorities/performance.
GMAAN: 3rd Annual UNCF White Party Fundraiser
As Community Outreach is one of GMAAN's major focus areas, a partnership has been created with UNCF to ensure General Motors is the top automotive contributor for the last 20 years. On Friday, Augusts 11th from 6pm-9pm there will be a celebration in efforts to fundraise for the UNCF at the Music Hall's rooftop called 350 Terrace. Make sure you have on your best white attire as GMAAN invites out all its constituency in the name of philanthropy. There will be food, spirits, dancing, and great networking with our GMAAN Leadership "Key Netwokers" listed below:
2017 Key Networkers
Alicia S Boler Davis (Executive Vice President, Global Manufacturing)

Gerald Johnson (Vice President, Operational Excellence)

David Albritton (Executive Director, Global Product Development Communications)

Ofori Agboka (HR Director, NA MFG and Operations

Donetta Houser-Sly (HR Director, Global Manufacturing Engineering, Environments, Facilities, & Manufacturing Learning

Joya L. Shepard (Personnel Director, Orion Assembly & Pontiac Stamping)

Mark Rainey (Director, GM Dealer Development)
Attire: All White Cocktail or Business Casual
UNCF's Mission Statement
UNCF's mission is to build a robust and nationally-recognized pipeline of under-represented students who, because of UNCF support, become highly-qualified college graduates and to ensure that our network of member institutions is a respected model of best practice in moving students to and through college.
UNCF's Impact
100 Million+ In scholarships awarded to students by UNCF every year

10,000 scholarships awarded to students via 400 UNCF scholarship programs

25 Millions+ Raised by the Campaign for Emergency Student Aid (CESA) from more than 10,000 donors

8000+ Students graduate annually from UNCF-member colleges and universities

86% Of every dollar raised goes to student support and scholarships

4.5 Billion Amount contributed to UNCF to date

430,000 Students with college degrees, thanks to UNCF

70% Graduation rate for UNCF scholarship recipients is 11 percentage points higher than the national average for all students at four-year colleges
Learn more about the UNCF...http://www.uncf.org/