Gluten-Free Thanksgiving: FREE Demo & Tasting with Cucina Aurora
Description

Gluten-Free Thanksgiving: FREE Demo & Tasting with Cucina Aurora
Presented by The Trustees
Join us at The KITCHEN at the Boston Public Market as we host Dawn Hunt of Cucina Aurora, a signature line of hand infused olive oils, authentic risottos and savory dips. Just in time for the holiday season, Dawn will demonstrate how to add a gluten-free twist to traditional Thanksgiving and holiday dishes! Using seasonal ingredients sourced from the Boston Public Market, Dawn will demonstrate how easy it can be to eat local over the holidays! Dawn will demonstrate the steps of making the dish and will provide small samples for each food item for attendees to try.
This event is FREE and open to all. Please reserve a ticket so we know how many to expect!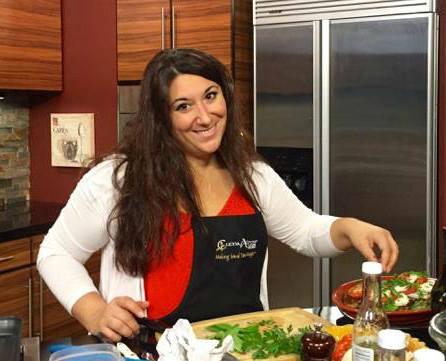 About Dawn Hunt and Cucina Aurora
Owner of the popular gourmet food company, Cucina Aurora Kitchen Witch, and regular personality featured on WMUR NH Channel 9 Cooks Corner, Dawn Hunt brings a bit of Magic to the Kitchen! With her signature line of hand infused olive oils, authentic risottos and savory dips she has been Making Meal Time Magic for years in New England and all over the East Coast. Since being voted one of the top 100 cooks on TV's Master Chef in 2013 she has been growing Cucina Aurora and showing people how easy it is to cook Gluten Free and still use seasonal fresh local foods. Her mission is to bring people together around great food through mindful cooking. When love and positive energy are the first ingredients that is when the real magic of cooking begins!
About The Trustees and The KITCHEN
As one of the largest owners of agricultural land and the premier steward of the cultural and natural landscape of Massachusetts, The Trustees extends its leadership to transform the local food system by connecting residents and visitors back to the land and sharing the Commonwealth's collective agrarian heritage through innovative retail and educational experiences at the Boston Public Market in the heart of downtown Boston.
The KITCHEN is a community gathering place, managed by The Trustees, that is restoring the craft of seasonal cooking in Massachusetts, New England, and beyond through hands-on classes and educational experiences that celebrate the farmers and artisans of this region. Partnered with the Boston Public Market, The KITCHEN embraces a whole-food approach to eating and promotes cooking as an essential cornerstone of a sustainable food system.
Join The Trustees and receive 20%-50% off all classes, workshops, and events at The KITCHEN and all Trustees properties.