An evening of Gluten Free Charcuterie, Wine Tasting and Community!
About this event
A fun collaboration of women owned businesses coming together for a fun filled evening of artisan cheeses, local ingredients, beautifully curated wine and community at Grippy Tannins Wine Shop & Tasting Lounge in Portland, Maine.
Annie Lampen of The Gathering Board Maine- Join Annie, Owner and Creator of The Gathering Board Maine, for a live workshop as you create the perfect Gluten Free cheese platter. In the class, you will learn the basics of cheese selection, some cutting techniques, and board layout. We will also cover some intermediate skills -- that just may include that beautiful salami rose!
Annie will guide you step by step as you create your own 8" cheese plate; is perfect for 1-2 people. We will offer pairing suggestions, share tips and tricks, as well as guidance on how to take the most Instagram-worthy photos of your platters!
Kaitlin Gee of Mrs.GeeFreeLiving - Gluten Free Wellness Consultant and Coach, will discuss with Annie tips & tricks building a Gluten Free Charcuterie board with Maine Crisp Crackers (which are deliciously Gluten Free).
Lindsey Murray owner of Grippy Tannins- Lindsey owns a beautiful wine shop and tasting lounge in Portland, Maine - she will curate a tasting flight of 4 wines and share emerging winemakers that keep you curious and wanting to taste more!
Thank you to a Sponsor of the event, Maine Crisp! Maine Crips aren't your everyday crackers. These delectable crisps are meticulously handcrafted from simple, natural ingredients inspired by the coast-to-coast culinary adventures (and obsessions!) of the founders. Made from naturally gluten-free buckwheat, studded with a special mix of organic seeds, berries, and nuts, they're awesomely crispy, chewy and nutty.
A portion of the ticket sales will be donated to Full Plates, Full Potential, End Child Hunger in Maine.
Ticket Includes:
8" inch palm leaf plate with Artisanal Cheeses, Charcuterie and all additional accompaniments for creating a perfect plate with Maine Crisp Crackers!
Reusable cheese knife
4 - 1/2 glasses of a curated wine flight tasting
Recipe Card for inspo DIY GF Charcuterie at home
A fun evening out enjoying a Gluten Free Event!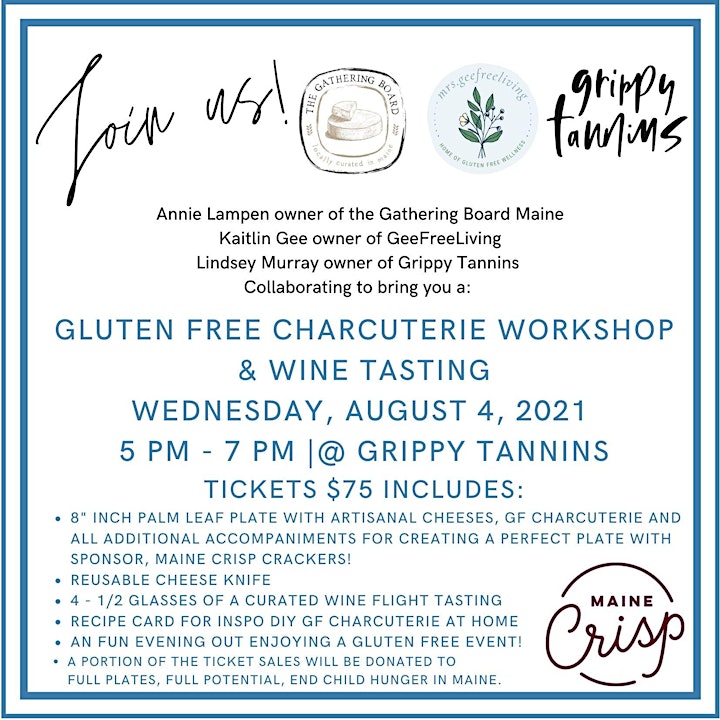 Organizer of Gluten Free Charcuterie Workshop & Wine Tasting