Description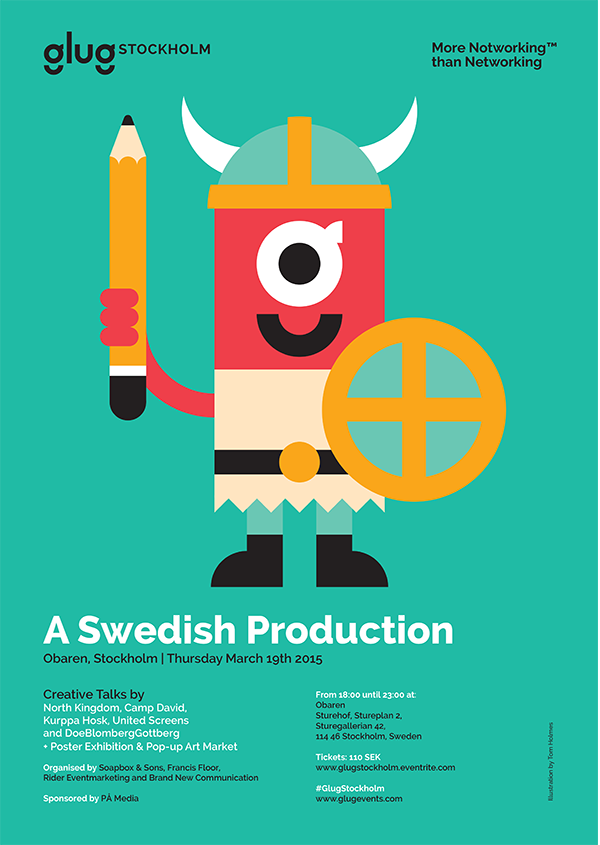 Hello Gluggers,
Soapbox & Sons, Francis Floor, Rider and Brand New Communication present the launch of #GlugStockholm, the first in a series of engaging, energetic and inspiring evening events of talks and pop-up shops in a friendly after work atmosphere at Obaren, central Stockholm.
We are kicking off with the theme of 'A Swedish Production' and speakers include North Kingdom, Kurppa Hosk and Camp David, plus DoeBlombergGottberg and United Screens – What a line-up!
Talks: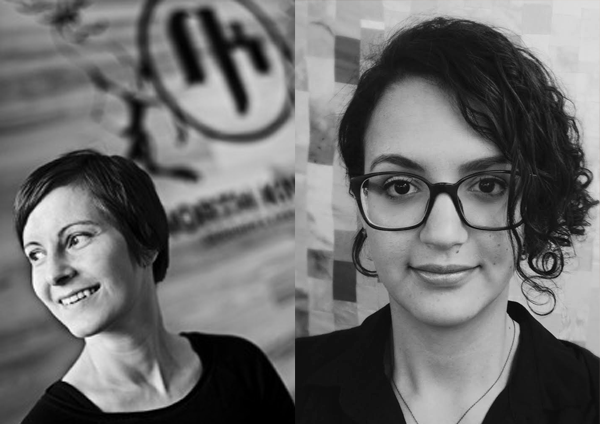 Sonja Lakner & Ana Martins / North Kingdom
www.northkingdom.com
Sonja Lakner, strategic conscience and teamleader, North Kingdom.
Having grown up in the Austrian Alps, Sonja has always felt that the best view was from the top of the mountain, seeing the bigger picture.
After studies in Vienna and London and gaining some work experience there for clients like Levi's, Nintendo, Apple and Mini, North Kingdom called her to Sweden.
And that's where she has spent the last 7 years. As a "strategic conscience" of the company working closely with clients like adidas, Coca- Cola, Lego and Google in most of North Kingdom's projects, making sure we don't forget to think about the strategic and user view point in our projects.
In her role as team leader Sonja is also responsible for making sure that North Kingdom's team stays best in class and nurtures a mindset of passion, perfection and innovation.
Ana Martins is a User Experience designer at North Kingdom. For the past five years, she has been working with great mix of projects: Through intranet portals for engineers and educational game for toddlers, Ana has learned to love the challenge of diversity and to conquer them.
Her ultimate role is to guide the team into making something that doesn't just look crazy stunning and groundbreaking, but that is relevant to whatever users will interact with it.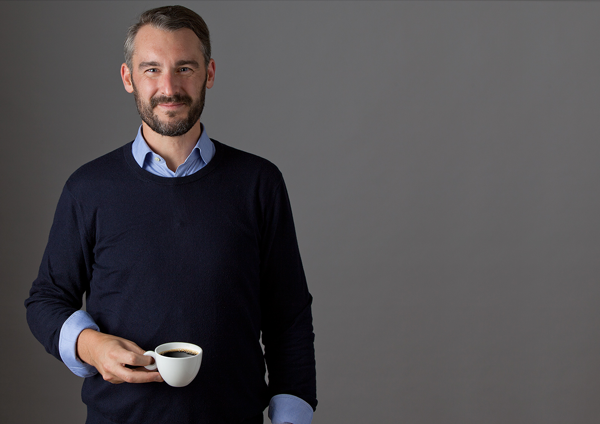 Måns Jacobsson Hosk / Kurppa Hosk
www.kurppahosk.com

Måns is co-founder of Kurppa Hosk and works as CEO and Brand Strategist. His passion is to help businesses and brands benefit from the world's ongoing cultural, technological and societal shifts. He strongly believes that the tool for doing so is a human-centric brand approach that combines business thinking with art and technology.

Before founding Kurppa Hosk, Måns worked as a creative and a brand strategist for some of Scandinavia's (and the world's) leading brands such as Arla, Pfizer, Scania, Absolut Vodka, P&G, Unilever, Burger King, Warner Music and Norwegian Air Shuttle.

Måns speaks regularly at events all over the world about design as a tool for creating attractive brand experiences. He also holds a position on the advisory board of his alma mater Berghs School of Communication – recently appointed the world's best communication school.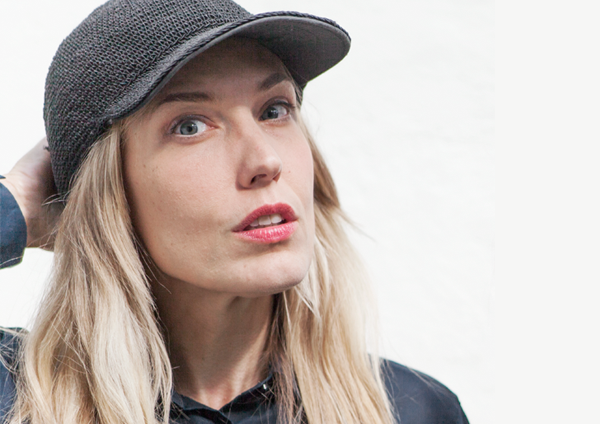 Åsa Riton / Camp David
www.campdavidfilm.com
www.asariton.com

Åsa's aim in life is to merge art and film. Her visual language is experimental and unique, pushing the boundaries of the conventional, bringing it into a world of her own. Her second aim in life is world domination of course.

Åsa comes from a strong artistic background, with degrees from both Central St Martins and The Danish Film School. Her work has been shown at the Gothenburg International Film Festival, Helsinki Short Film Festival, Kulturhuset Stockholm and The London Institute of Contemporary Arts.

When she's not filming David Lynch, The Knife or Henrik Vibskov, Åsa directs commercials, music videos and documentaries.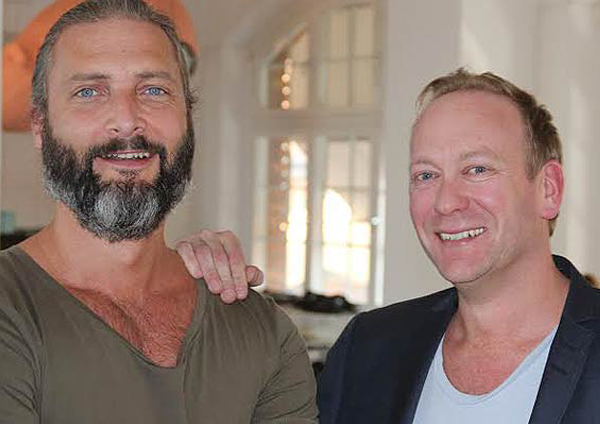 Fredrik Blomberg & Tommy Gottberg / DoeBlombergGottberg
www.doeblomberggottberg.com
We welcome the creators of Experiment Ensam to share their story of how this very successful campaign came to be.
About Experiment Ensam: Bob Dylan:
Do we have more fun together with others? In Experiment Ensam gambling company PAF investigates the role of community to human enjoyment and well-being. One of Sweden's, perhaps even the world's, biggest Bob Dylan fans saw his idol perform at an arena gig – all alone. How did Fredrik find the experiment? Did he experience complete euphoria or a feeling of emptiness creeping in when there was no one to share the experience with?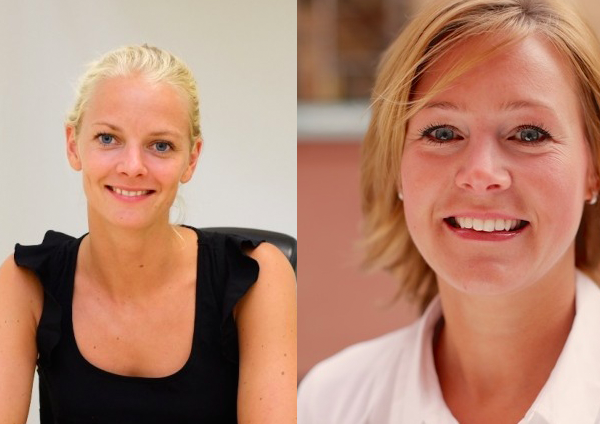 Jenny Ericsson and Nicolin Lillhage / United Screens
www.unitedscreens.se
Founded by Stina Honkama, the former Head of Google and Youtube in Sweden, United Screens is now the biggest nordic Youtube network. Their programs include Big Steve from Sweden, Regular Ordinary Swedish Meal Time and Tumba Ping Pong Crew. We welcome two of their Youtube experts to share the stage and tell us all about it.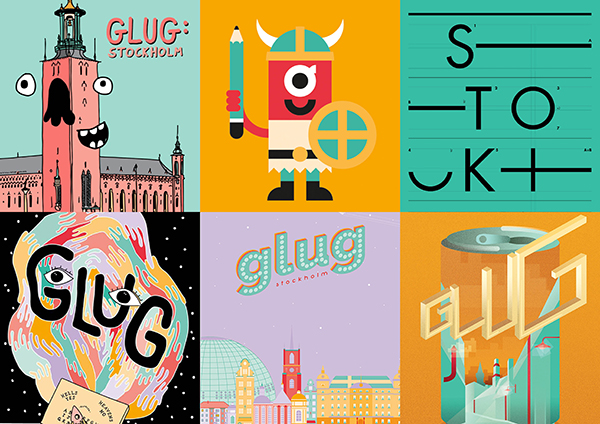 Exhibition:
This is the first Glug in Scandinavia, so we would like to start it with a WOOP and a WHAM, so we have also invited international artists to take part in an exhibition in conjunction with the event. Exhibitors: Tom Holmes (Competition WINNER), Murray Somerville, Nick Chaffe, Chris Flack, Eddy Davis, Ben the Illustrator, Paper Planes, Tom Cocks, Nikita Dudson, Matylda Mcilvenny, Mali Sagmoen, James Oconnell and Nathan Bolton.
Sponsor: PÅ Media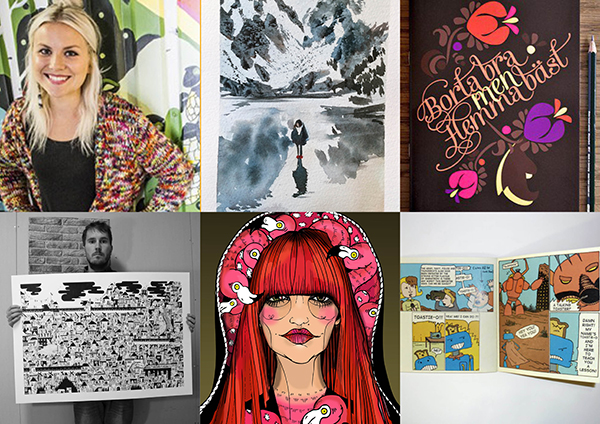 Pop-up Art Market:
Artists: Jessica Eriksson, Dano Marr, Oskar Palmback, Sabina Wroblewski Gustrin, Murray Somerville and Hello Von.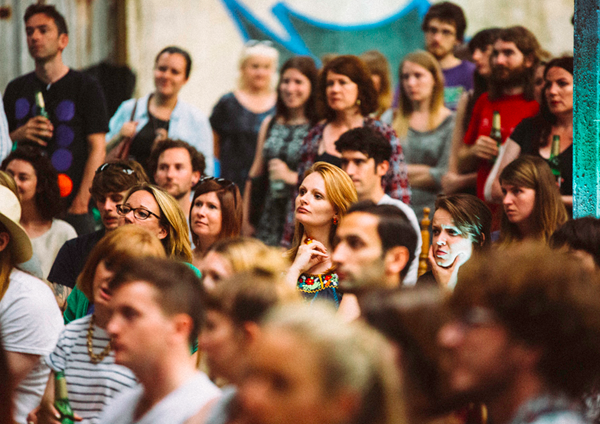 Glug – More Notworking™ than Networking
www.glugevents.com

Glug is a series of events for the design and creative community. Our showcase event is held in London but there are now 10 other events around the world.

Based around a series of talks and informal networking, Glug has become one of the most exciting, credible and well attended creative events around.

Established in 2006, it's an eclectic mix of people from all creative walks of life; from digital design, illustration, advertising, cutting edge creative technology through to fashion and architecture.

Glug started five years ago as a handful of mates talking shop in an East London pub. Six years later it's now a regular global event with over 10,000 signed-up members on MeetUp.

Over this time we've had great talks, film preview, live art, installations and exhibitions from the likes of Airside, Anthony Burrill, Baiyon, Dixon Baxi, I Love Dust, Jason Bruges Studio, Mainframe, Marc Kremers, Noma Bar and Why Not Associates. Alongside these regular Glugs, we've also run events in conjunction with Arts & Business, D&AD, DAHRA, GameCity and Pick Me Up.

More Notworking than Networking™

Please note: Refunds will only be processed if the event is cancelled or moved to another date.

(From left: Jenny Theolin, Clara Nordlander Wiberg, Johan Theolin and Emma Egnell)
About the organisers:
Jenny Theolin of Soapbox & Sons, who after 14 years living and working in London moved to Stockholm with the ambition to break down international borders and bridge creative gaps.

Together with Clara Nordlander Wiberg, owner of newly founded production company, shop and gallery Francis Floor, her brother Johan Theolin, MD and partner at Rider Eventmarketing, and Emma Egnell, founder of Brand New Communication, they aim to launch #GlugStockholm with a bang.
Links:

Soapbox & Sons
Soapbox on Twitter
Soapbox on Facebook

Francis Floor
Francis Floor on Instagram
Francis Floor on Facebook

Rider Eventmarketing
Rider on Facebook

Brand New Communication
Brand New on Facebook
Glug
Glug on Twitter
Glug on Facebook
Glug on Instagram
Glug – Notworking™
London, Beijing, Birmingham, Brighton, Edinburgh, Oxford, Leeds, Auckland, Stockholm & NYC.
See you at the bar!