Description
Greater Love Tabernacle (GLT) turns 30! Join us November 15-17 to celebrate 30 years of ministry and impact in the community through song, comedy, inspiring words, and more! In the last three decades, GLT has grown and experienced some changes too. Bishop William E. Dickerson, II and Lady Luella Dickerson, along with the GLT Family invite you and your family to Homecoming. You'll see friends and members from years ago and make new ones too! You don't want to miss the Meet & Greet on Saturday, November 16th, 3:00 - 5:00 PM. We'll have gift bags for registered attendees. The Homecoming choir will take us back with songs from each decade, with the original choir directors. Get ready to laugh, reminisce, and see photos from over the years. Registration is FREE. All are welcome!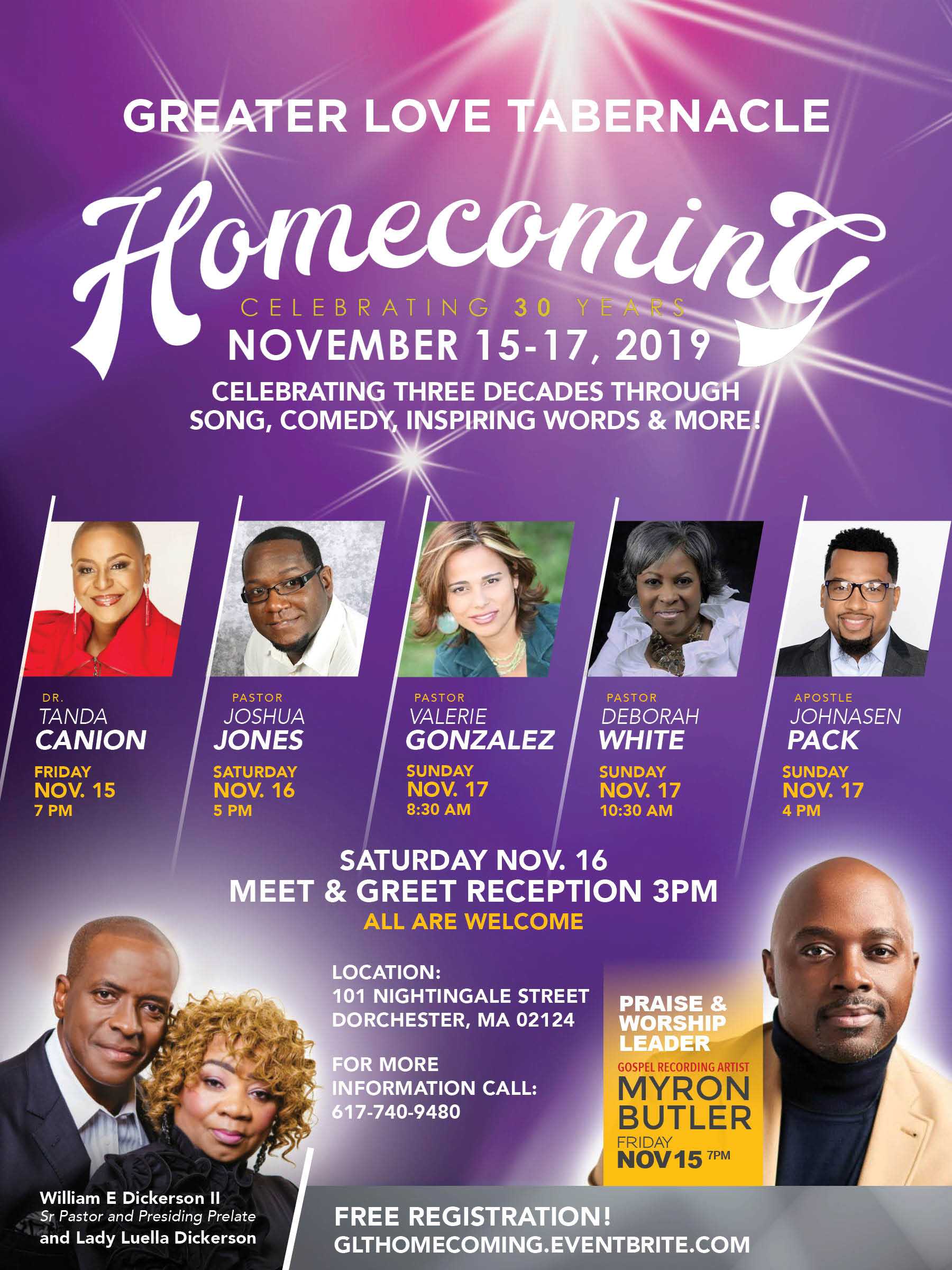 GLT Homecoming Weekend Schedule
Friday, November 15th, 7:00 PM "Opening Night"
Join us the opening night of Homecoming! Gospel recording artist Myron Butler will be leading Praise & Worship, and Dr. Tanda Canion from Atlanta, GA will be our guest preacher. Dr. Canion is known to be an innovative creative thinker, writer, author, and entrepreneur mentor. She is a seasoned Elder and Evangelist who is known for her transparency and candid delivery of God's Word. It won't be a typical worship experience, we promise!
Saturday, November 16th, 3:00 - 5:00 PM "Meet & Greet" Reception
See familiar faces! Meet past and current members! Reconnect with past and see current members, choir members, ministry volunteers, ministers, and more! All are welcome to this reception. Refreshments will be served.

Saturday, November 16th, 5:00 PM "Worship & Celebration"
Pastor Joshua Jones is going to help us continue the celebration! Pastor Jones is visiting us with inspirational words from the Union Grove House of Prayer Church of God in Christ in Moultrie, Georgia.
Sunday, November 17h, 8:30 AM "Early Morning Worship Encounter"
Come ready for worship, word, and fellowship as Homecoming continues! Pastor Valerie Gonzalez of Vida Church in Woonsocket, Rhode Island will be ministering.
Sunday, November 17th, 10:30 AM "Morning Worship Encounter"
Join us for morning worship during Homecoming with Pastor DeBorah White, Columbus SC of RHEMA Christian Center in Columbia, South Carolina will be ministering.

Sunday, November 17th, 4:00 PM "Worship & Celebration"
We're closing out on a high note of celebration and praise for three decades of ministry! Apostle Johnasen Pack of Bridge Builders International Church in Arlington, Texas.
Interested in participating in the GLT Homecoming Reunion Choir or Praise Dance Team? We're calling all past and present members from these departments to participate in rehearsals leading up to Homecoming. To get involved, call the church office.
Pastor and Lady Dickerson look forward to seeing you there!
Please call the church office with questions at 617-740-9480.