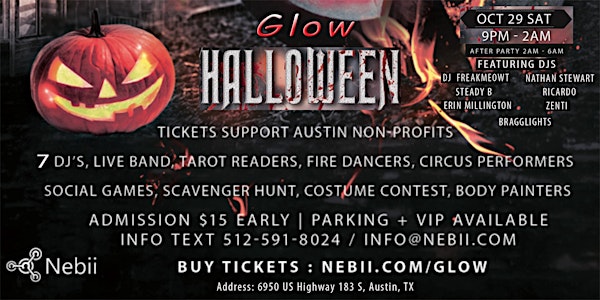 Glow! Halloween Rave Main Event
Join us! New to Austin, Nebii Events, LuxeArt Agency, Cake Social and several large named Austin Promoters for one of the most epic events
When and where
Location
Monarca Ballroom / Salon Monarca 6950 US 183 Highway Austin, TX 78719
Refund Policy
Contact the organizer to request a refund.
Eventbrite's fee is nonrefundable.
About this event
Join us! New to Austin, Nebii Events, LuxeArt Agency, Cake Social and several large named Austin Promoters for one of the most epic events of the year.
Save $5 off your ticket price by sharing this event on social media, ( email info@nebii.com for more info) . A portion of ticket sales will be going to help Austin Pets Alive! ( Which Supports Austin Pet Adoption ) Plus other Non Profits. It's a Halloween Costume event, Glow Party Rave Themed.
Proof of Last Year's Event Video for Main Party 'Glow' - https://youtu.be/srQOXz1YZ2E
Event Address - 6950 S Hwy 183, Austin, TX, US, 78744 - Monarca Ballroom
DJs:
Headliner - DJ Freakmeowt Listen to her music https://soundcloud.com/freakmeowt/
Zenti
Bragglights - Deep House and Techno - https://soundcloud.com/bragglights/deep-house-techno-club-mix
Erin Millington Listen to her music https://soundcloud.com/erinmillington
Nathan Stewart
Steady B - www.soundcloud.com/djsteadyb
Ricardo Sandoval + More
Fire Dancers + Professional Live Performers
Two Food Trucks! ( TWERKY LEGA and Taco Boss )
Guests will be handed glow sticks and glow accessories. We will have fire dancers, spooky themed food items, DJ dance party, scavenger hunt, Tarot Card Reader, prize giveaways, professional photographers, circus performers, social ice breaker games so you can meet people at the event easily, great music and more. So secure your spot early. Share with your friends and get a discount on your ticket if they buy. Just email us for more info.
VIP Bottle and other VIP Services Available! Email vip@nebii.com for the full menu of options.
Security provided by Austin Local ( Maximus Security ) which specializes in providing high security for events. ** Please note, outside liquor is not allowed. Weapons not allowed. Sharable snacks are allowed.
Your Ticket includes: 8 DJ's, A band, Light Halloween Themed Snacks, Youtube famous West China Tea Service Company providing Tea ceremony pourers, fire dancers, 2-3 professional photographers available, photo booth, Videographer, Gogo dancers, L.E.D. dancers, Body Painter, Face Painterhemp sponsor, tarot readers and Psychic Mediums, black lights, fog machine, body painters, glow sticks and glow accessories will be included with your ticket. Bring a costume but if you don't have one it's ok, just grab a glow stick we'll provide you and join us.
Drinks available, 2 tea stations for hydration, red bull, Cash plus possible electronic payment accepted at the bar.
Questions? Email info@nebii.com
Looking for the after party Saturday night? We have 2 we are hosting TWO after party events immediately after 'Glow' Join us
After Party 1 - At Salon Monarca Remain there - Amazing DJ line up and new visuals. Nebii.com/SalonAfterParty
After Party 2 - Private Mansion Downtown
Disclaimer : Oct 22nd-Oct 30th no refunds will be given due to we have to order and prep lots of supplies.
Sponsors:
West China Tea - We are excited to be featuring Gong Fu tea by West China Tea, Austin's premier tea house and importers of Chinese tea and tea ware. This engaging style of tea service provides space for connection over high quality tea. Youtube instructional video about tea service. https://youtu.be/6hn9Uw4Lqk8
Website: https://westchinatea.com
Instagram: @westchinatea
Facebook: West China tea house
Nebii.com - A social connection application that helps people manage their online followers, invite them to events, and automatically introduces people based on mutually beneficial skills and interests. Sign up today email info@nebii.com
AustinVisuals.com - A 3D Animation and Custom Graphics Advertising Production Company based in Austin, been in business since 2007.
LuxeArt Agency - Luxeartcollective provides art and vibes from your local Artists in the Austin community as well as different elements for sensory entertainment.
Cake Social - CAKE is an Austin luxury experience and party planning concierge service for connecting you to the hottest and coolest spots
Photo Booth
** Discount Tickets - Save $2.5 off your tickets by sharing this event link to your Facebook and Instagram followers telling them how excited you are to attending this event. Email us a screen shot to redeem after you purchase your ticket at full price. Group discount tickets available.
Ticket Pricing Info :
(Discounts for parties of 4 or more, Save up to $5 when sharing on social media and emailing post to info@nebii.com )
$15 - First 75 - ( Refer a friend, we venmo you $5, share to 2 social media platforms, we venmo you $5)
$20 - Attendees 51-75
$30 - Attendees 76-100
$35 - Attendees 101 - 150
$45 - Attendees 151 - 200
$50 - Attendees 200-300
$65 - Attendees 300-500+
$85 - Starting Oct 24th ( The week of the event )
$100 - At the Door
** $10 Parking if you get your parking pass early pre-pay online by emailing info@nebii.com. Or $20 cash the day of the event.
VIP parking ( park right up front ) $50. Email for link for vip parking vip@nebii.com
We are offering a party bus that can pickup people before the event and drop them off as the party ends. $40+tax. Contact info@nebii.com for more details.
VIP and Bottle Service Available email vip@nebii.com - General questions email info@nebii.com
LIMITED VIP Upgrades Available.
Bottle service
Exclusive invitations
Meet and Greet with artist
Schedule: Nebii.com/HalloweenGlowParty Oct 29th, Salon Monarca
Line Up - Schedule Updated 10/27/22
9pm-10pm DJ Nathan Stewart (Outdoor Main Stage) - Erin Millington ( Indoor Main Stage )
Stage 2 DJ Lefty )
10pm - Ricardo Sandoval (Outdoor Main Stage)
11pm- Theater Dance Performance ( Outdoor Main Stage )
11:10pm - DJ Freakmeowt **Headliner** Plays ( Outdoor Main Stage ) Ricardo Sandoval ( Indoor Main Stage)
11:45-12 - Fire Dancer - Body Painting Artists
Midnight - ZENTI X ORIJINS ( Outdoor Main Stage ) DJ Steady B ( Indoor Stage ) GoGo Dancers
12:30-12:45 - GoGo + Fire Dancer
1am DJ Bragglights Plays (Indoor Main Stage) - GoGo Dancers
1:30am-1:45 Best costume contest ceremony, Raffle Prizes awarded
1:45am-2:00 Music and Dancing resumes! Gogo + LED Dancers
After Party 1 at Salon Monarca Nebii.com/SalonAfterParty
2am Main Glow Event Continues at Salon ( After Party Tickets Needed for 2am-6am Buy them HERE )
Salon After Party Line Up Below Get Tickets Nebii.com/SalonAfterParty 2am-6am
Alejandro Dozal - 2am-4am ZENTI X ORIJINS (Outdoor Stage) - Alejandro Dozal DJ Plays until 330 am ( Indoor stage ) Residual Trip Plays 3am-6am
2:40am -- Separate After Party 2 ! Happening at Downtown Private Mansion Underground Downtown Austin : Nebii.com/AfterParty ( Limited spots Avail, get tickets early https://Nebii.com/AfterParty ) Featuring DJ Chewrocka
2:45am-3:30am Millhouse Open
3:30am-6am DJ ChewRocka
For a complete list of other parties Nebii is Hosting Halloween Weekend related to this event Nebii.com/Saints and Nebii.com/FantasyParty and Nebii.com/Afterparty Nebii.com/SalonAfterParty