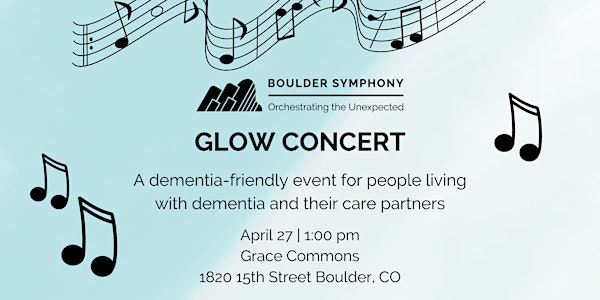 GLOW Concert
This concert presented by the Boulder Symphony is in connection with the Alzheimer's Association.
Date and time
Thursday, April 27 · 1 - 3pm MDT
Location
Grace Commons Concert Hall 1820 15th Street Boulder, CO 80302
About this event
Boulder Symphony presents the GLOW Project: A dementia-friendly event for people living with dementia and their care partners.
Bringing together individuals with neurodegenerative diseases, sensory disorders, and cognitive and physical disabilities, along with their families and caregivers for a community-building, heart-filling concert experience.
This project includes a nontraditional concert series highlighting dementia-friendly music for individuals with cognitive and physical disabilities. Proudly, this project is in collaboration with the Alzheimer's Association.
This concert series features music performed by a Boulder Symphony chamber ensemble and is made possible with the help of Leah Quiller, Board Certified Music Therapist.
About the organizer
Boulder Symphony's mission is 'To connect with and profoundly affect the human spirit.' Founded in 2009, Boulder Symphony is dedicated to making symphonic music more accessible and relevant to people of all ages and backgrounds by introducing gifted new composers and musicians, adventurous world premiers, and by focusing on educational outreach and interactive programs for youth. Committed to consistent innovation, the Boulder Symphony embraces music's transformative joy of discovery.