Join us for this 35 minute interactive bike tour while riding on glowing bicycles.
About this event
Join us for this interactive bike tour while riding on bicycles that glow in the dark. Perfect for individuals, couples, families, groups, birthdays, anniversaries and more!
We stop at 3 different Hilton Head Island landmarks along the way for photos, music and dancing! Create great memories with this rare and exciting island experience.
Social Distance: We ride six feet apart, have facemasks, face shields, gloves and helmets available. We clean and sanitize our bikes and equipment after each use.
Cost: $45. Must be 12 or older. (For riders under 12 years old, we have small bikes, please contact us to order at 843-684-3118.) ALL riders/guardians must sign liability waivers before riding.
TOUR TIMES: 8pm, 9pm,10pm ,11pm. Beach ride, Full Moon Ride (Check availability, may not be available during turtle season).
Call for additional info 843.684.3118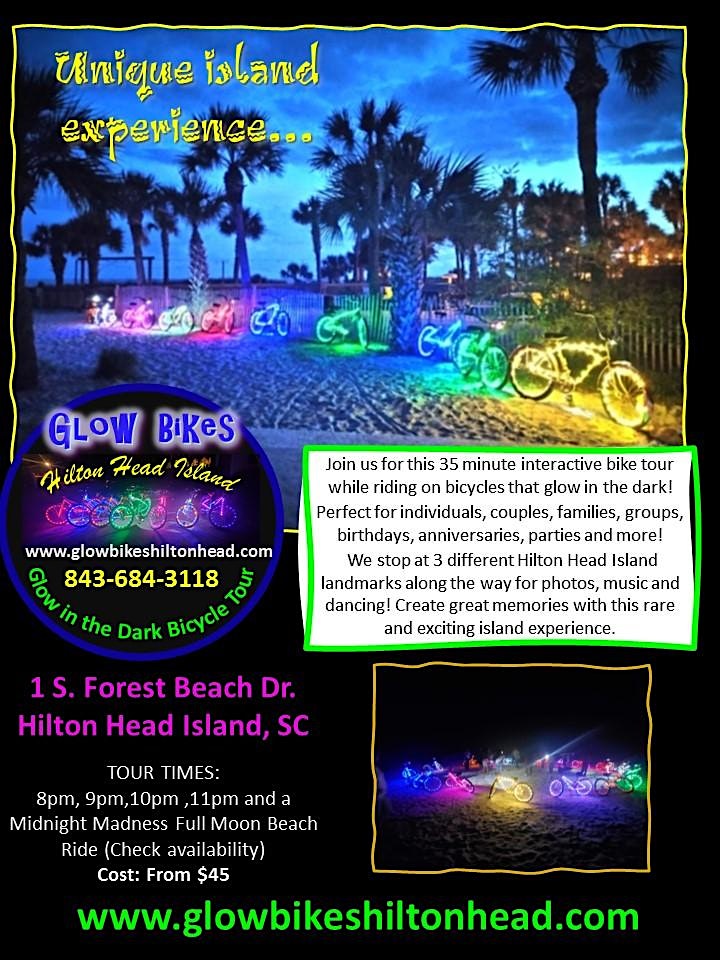 Waiver***By purchasing a bicycle rental or tour, you agree to waive and release any and all rights and claims for damages against Glow Bikes Hilton Head, LLC, any and all employees, sponsors, officials and volunteers and their heirs, representatives, successors, and assigns, for any and all injuries suffered during your bicycle ride. You verify that you are physically fit and have sufficiently trained for the completion of this event and physical condition verified by a licensed medical doctor.