Glow 2012

Saturday, July 21, 2012 from 11:00 AM to 5:00 PM (EDT)
Event Details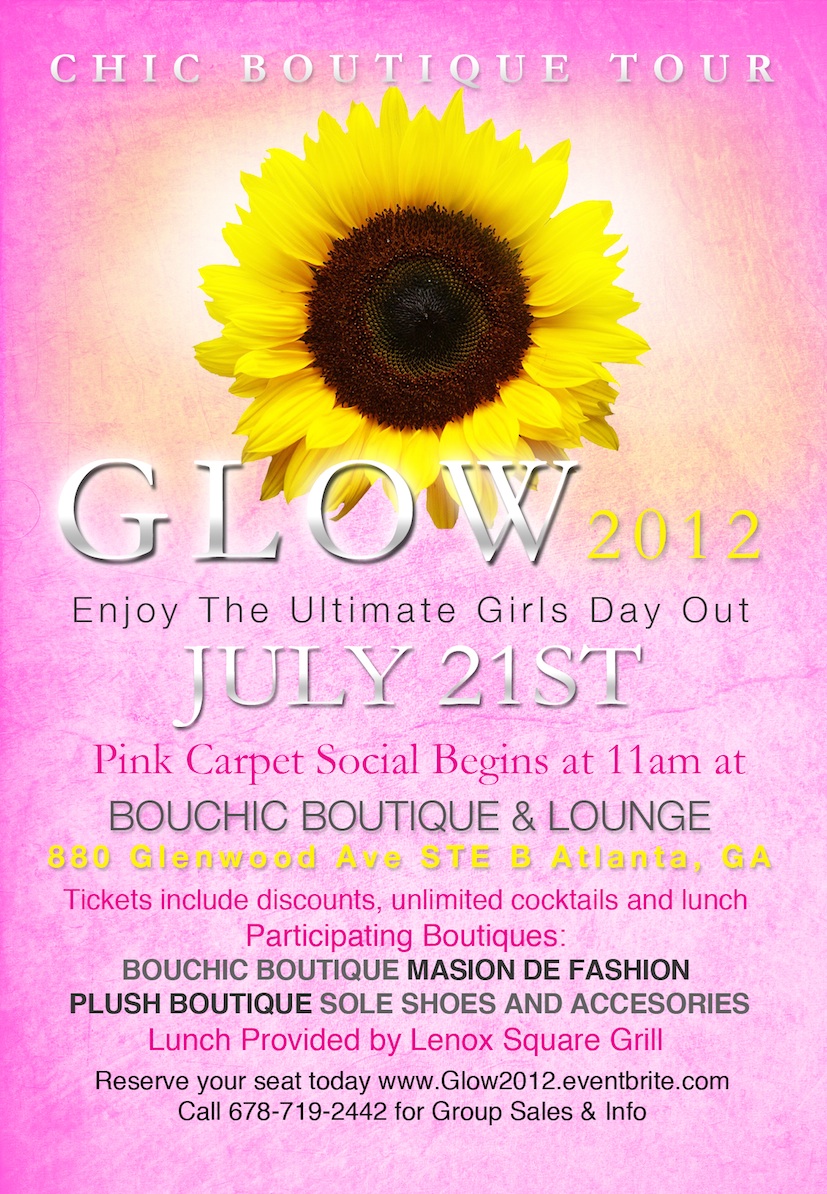 You don't have to be a celebrity to shop like one – and that's exactly
what Chic Boutique Tour will be proving on July 21, 2012. Beginning with a pink
carpet entrance at Bouchic Boutique & Lounge at 11 a.m., the Chic Boutique Tour
will take Atlanta's fashionistas to 4 of the cities trendiest boutiques where they will
indulge in exclusive discounts and treats.
The tour taking place this July will feature the most eclectic and exclusive boutiques
from Atlanta's most popular neighborhoods. Shoppers will visit Bouchic Boutique &
Lounge, Maison de Fashion, Plush Boutique, and Sole Shoes &
Accessories – all offering discounts and deals only available to Chic Boutique Tour
shoppers. Lunch will be served at the popular Lenox Square Grill in Buckhead.
"Chic Boutique Tour is about offering an incredible experience where shoppers can
pamper themselves while meeting new people and exploring the city," said
Rosalynn Wilson, founder of Chic Boutique Tour. "We want to make each Chic
Boutique Tour more diverse and special than the last."
July's Chic Boutique Tour will include several luxury sponsors including Hpnotiq
Harmonie, FashionAde.com and SoRen Tea. The tour is perfect for mothers and
daughters, gathering longtime friends and even making new ones. Every Chic
Boutique Tour is a 21+ event. Most recently, Chic Boutique Tour showed their love
of the Atlanta fashion scene through participating in the 2012 Redbull Soapbox Race
where they raced in a Pink High Heel Stiletto.
The July tour will be an all day pampering experience, lasting approximately 5 hours
– including lunch and cocktails. Each boutique delivers the unique opportunity for
shoppers to discover beautiful clothes and accessories at a discounted price to make
the rest of Atlanta green with envy.