Gloucester County EMS / Rowan University EMS Clinical Education Symposium
Event Information
Location
Chamberlain Student Center / Eynon Ballroom
Rowan University
201 Mullica Hill Rd
Glassboro, NJ 08028
Description
Be sure to register for each date that you plan on attending.
Welcome to the Gloucester County EMS / Rowan University EMS Clinical Education Symposium! We are excited to be providing these three days worth of high quality, evidence based, clinical EMS education absolutely for free, for the 6th straight year!
The presentation agenda will be posted in the near future. Until then, the basic outline schedule is below:
7:30am-8am: Registration / Breakfast / Welcome Message
8am-Noon: Morning Presentations
Noon-1pm: Lunch
1pm-5pm: Afternoon Presentations
Each day is worth 8 elective CEUs. Each day has been approved as in its entirity, therefore half-day credit cannot be issued.
Check out our new location, still on Rowan University's main campus, but for 2018 we have moved to the much more comfortable Enynon Ballroom located in the Chamberlain Student Center.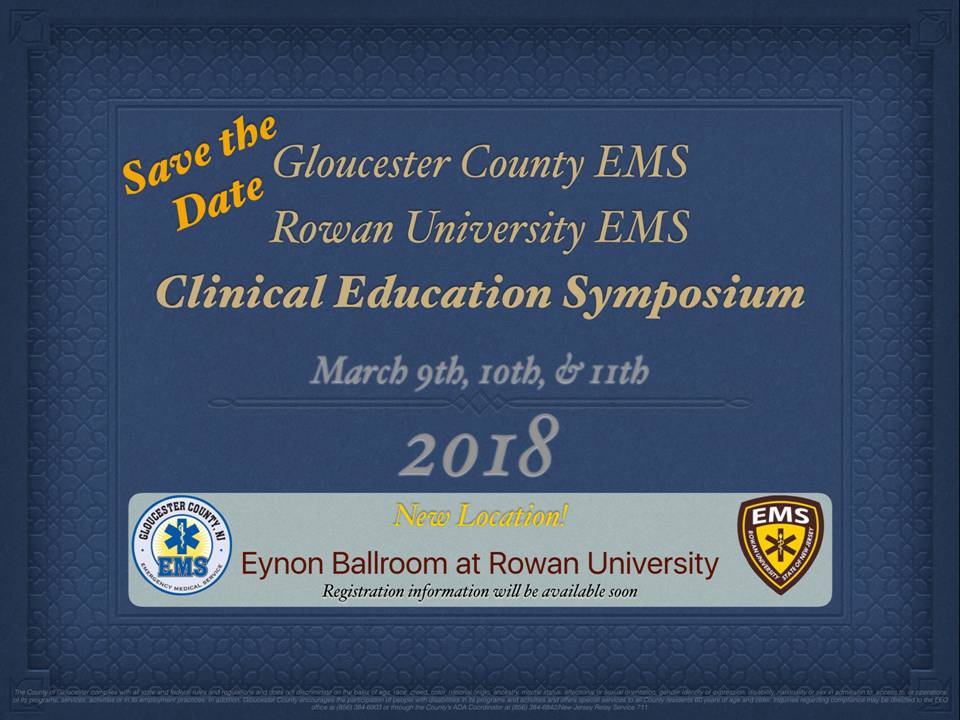 The goal of the Symposium's continuing education program is to ensure pre-hospital personnel maintain an adequate level of current clinical knowledge and proficiency to provide outstanding care to EMS patients. The NJ office of EMS has awarded 8 CEUs (per session) for this event. By attending I understand that I must attended and participate in the complete program. I am aware that I cannot report the CEUs if I did not attend and participate in the entire program.
Date and Time
Location
Chamberlain Student Center / Eynon Ballroom
Rowan University
201 Mullica Hill Rd
Glassboro, NJ 08028