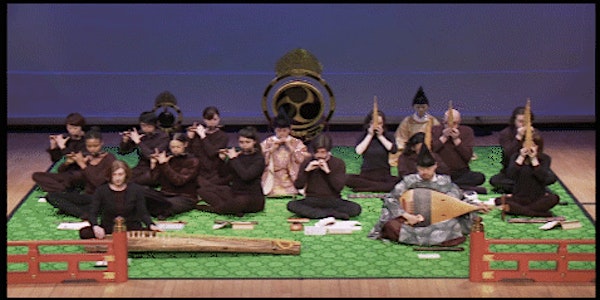 Glories of Japanese Music Heritage XIV
Location
Miller Theatre at Columbia University
2960 Broadway
New York, NY 10027
Description
The IMJS: Japanese Cultural Heritage Initiatives at Columbia University celebrates the cultures of Heian and Heisei Eras with a concert presenting music Lady Murasaki describes in her 11th-century novel, The Tale of Genji, in collaboration with the current exhibition at the Metropolitan Museum of Art, The Tale of Genji: A Japanese Classic Illustrated, and the now-ending Heisei Era with the sung waka poetry by the retiring Emperor and Empress from their January 2019 last New Year Poetry Celebration.
Featuring renowned musicians from Japan and New York, including Mayumi Miyata (shō), Hitomi Nakamura (hichiriki), Takeshi Sasamoto (ryūteki), Yoko Reikano Kimura (koto & voice), James Nyoraku Schlefer (shakuhachi), Hikaru Tamaki (cello), and the Columbia Gagaku Instrumental Ensemble of New York.
Free and open to the public, but registration is required.

PROGRAM
Part I. Gagaku: Sacred Soundscapes Reborn
Hyōjō no netori (Prelude Mode Centering on the note of E)
Etenraku (Music of the Divine Heavens)
Part II. Music from Lady Murasaki's 11th-Century Novel The Tale of Genji
Saibara: Ise no umi (The Sea at Ise)
Ichikotsuchō no netori (Prelude Mode Centering on the note of D)
Shunnōden Juha (Spring Song of the Bush Warbler)
Koma-Ichikotsuchō no ko-netori (Prelude Mode Centering on the note of E)
Kochō (Butterflies)
Part III. The Music Heritage Lives On
Kengyō Yoshizawa II, Chidori no kyoku (Plovers' Song) (1855)
Marty Regan, Frolicking with Birds (2011)
Utakai Hajime Poems by the Present/Retiring Emperor and Empress (2019)