Description
Join us to honor the life of Gloria Madonia, who passed in the summer of 2018 after an intense battle with stage three pancreatic cancer. A beloved resident of East Islip for over 50 years, an employee at the front desk of the East Islip Public Library for nearly 30 years, Gloria made her community a brighter place to live. On August 4th, two days before her 81st birthday, we will come together to continue her legacy in the East Islip community. This 5K Fun Run/Walk is perfect for families and all ages.
Proceeds from the race will go to the Lustgarten Foundation, the largest private funder of pancreatic cancer research.
FAQs
What time should we get to the race?
The race kicks off at 8:30am, but registration will open at 8:00am - you'll need to drop by the table to check in to get your shirt!
Will this race be timed?
This 5K is not an official measured 5K course and will not be professionally timed.
Can I register for the race on-site?
You are welcome to register on-site for $35 (cash-only), but we can't guarantee we will have any t-shirts remaining.
I can't attend the race but I want to support! What should I do?
There is a "donation only" option on the registration page where you can support the Lustgarden Foundation.
What if it rains on the day of the race?

There is no rain date currently scheduled, so we plan to race rain or shine. If there is thunder or lightning we will change plans according to safety best practices.
I've never run/walked a 5k and I'm nervous ... tell me about the course!
This flat, fast course takes runners and walkers down Montauk Highway and through the East Islip Community, beginning at and ending at the East Islip Public Library.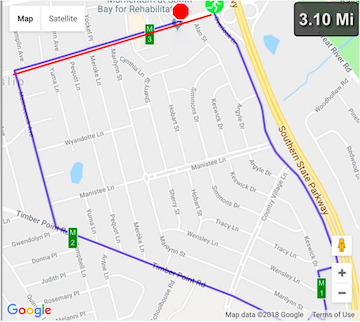 How can I contact the race organizer with any questions?
Please contact TeamGloria5K@gmail.com with any questions.