Description
GLOBEDOCS invites you to a special screening of THE B-SIDE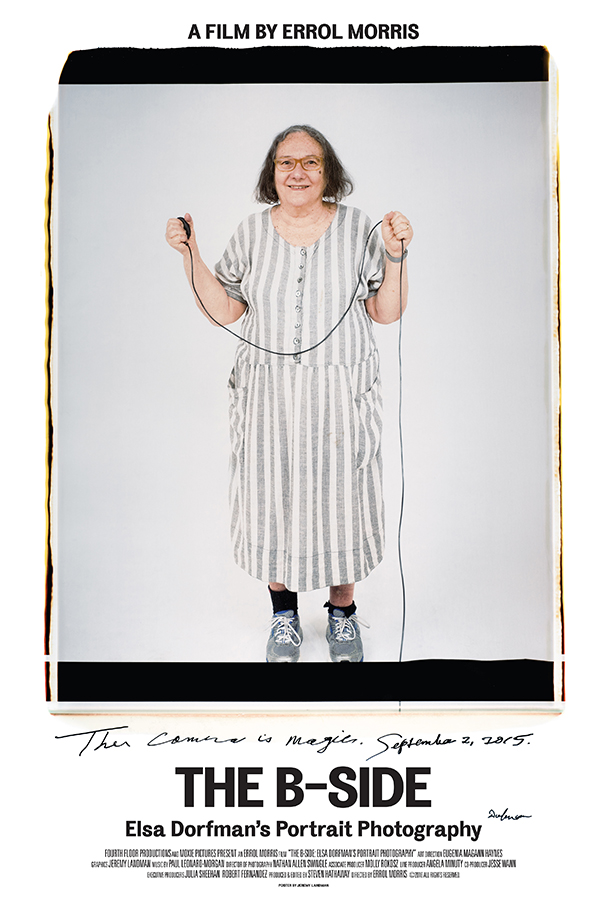 DATE: Wednesday, May 31, 2017

TIME: Registration opens up at 6:30pm | Screening begins at 7:00pm
LOCATION: Coolidge Corner Theatre | 290 Harvard St. | Brookline, MA
Portrait photographer Elsa Dorfman found her medium in
1980: the larger-than-life Polaroid Land 20x24 camera. For the next thirty-five years she captured the "surfaces" of those who visited her Cambridge, Massachusetts studio: families, Beat poets, rock stars, and Harvard notables. As pictures begin to fade and her retirement looms, Dorfman gives Errol Morris an inside tour of her backyard archive.
Following the screening there will be a Q&A with Director Errol Morris and Elsa Dorfman.
Want to support the future of documentary filmmaking in Boston? Please consider making a voluntary donation to the Boston Globe Documentary Film Fund. This fund, a part of the Boston Globe Foundation, a nonprofit 501(c)(3), will be used to give an annual award to a documentary filmmaker to continue producing high-quality work that engages and enlightens the public.
Suggested levels:
$0 - I just want to see a good movie
$5 - I'm a starving artist myself but want to contribute something
$10 - Lights, camera, action!
$20 - I want to help build the future of documentary filmmaking in Boston
SPACE IS LIMITED. YOU CAN REGISTER 2 PEOPLE FOR THIS EVENT.
Registrations will be accepted in the order they are received and based on availability.
Seating will be first come first served and is not guarenteed.
*By registering for this event you will be automatically subscribed to GlobeDocs relevant e-newsletters. You may unsubscribe at any time.
PRESENTED BY