Description
GLOBEDOCS invites you to a special screening of 'ROLL RED ROLL'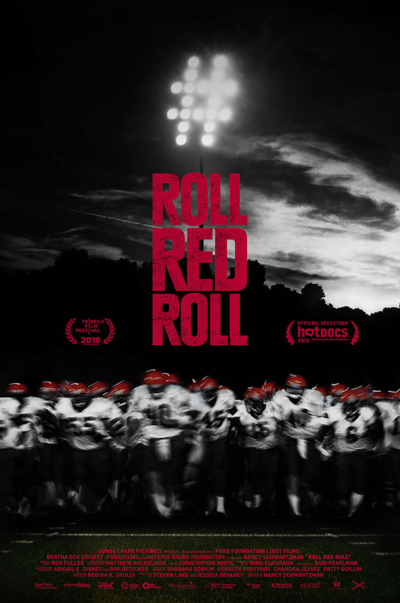 DATE: Wednesday, September 12
TIME: Registration opens up at 6:30pm | Screening begins at 7:00pm
LOCATION: Kendall Square Cinema | 355 Binney St. | Cambridge, MA
When social media, "boys will be boys," and vigilante justice collide, Steubenville, Ohio will never be the same. The true-crime documentary thriller, "Roll Red Roll," from director Nancy Schwartzman, explores the explosive aftermath of a teenage sexual assault. Crime blogger, Alex Goddard, pieces together evidence she found on social media and a football town is split down the middle. A pre-cursor to the #MeToo movement, the case had global implications.
Join us for an exclusive pre-release screening. Following the film, there will be a discussion with Director Nancy Schwartzman, moderated by Jenn Abelson, an investigative reporter for the Boston Globe Spotlight Team and co-author of the book, "I Have The Right To: A High School Survivor's Story of Sexual Assult, Justice and Hope."
About Nancy Schwartzman:
Nancy Schwartzman is a documentary film director, producer, and media strategist who uses storytelling and technology to create safer communities for women and girls. ROLL RED ROLL goes beyond the headlines of the notorious Steubenville, Ohio high school sexual assault case to uncover the social-media fueled "boys will be boys" culture that let it happen. ROLL RED ROLL premiered this April at the Tribeca Film Festival, and Hot Docs, and is currently playing at over 20 festivals, and will have a robust impact campaign. She is the recent winner of the Adrienne Shelly Foundation's Excellence in Filmmaking Award. ROLL RED ROLL is her feature film debut. Her first film, THE LINE, a short documentary examining consent was used by the White House for a campaign around sexuality, and her follow-up film XOXOSMS, was on PBS/POV and BBC exploring love between two teenagers, bridged by technology.
A globally recognized human rights activist, Nancy serves on Vice President Biden's Advisory Council for Violence Against Women. Nancy is a tech founder, and created the White House award-winning mobile app Circle of 6 designed to reduce sexual violence among America's youth and college students. Circle of 6 is used by over 350,000 people in 36 countries. The app is now open source and being adapted for women journalists working in Mexico. She has presented her work at the White House, the United Nations, TEDxSheffield, Good Pitch, DOCNYC and more.
Want to support the future of documentary filmmaking in Boston? Please consider making a voluntary donation to the Boston Globe Documentary Film Fund. This fund, a part of the Boston Globe Foundation, a nonprofit 501(c)(3), will be used to give an annual award to a documentary filmmaker to continue producing high-quality work that engages and enlightens the public.
Suggested levels:
$0 - I just want to see a good movie
$5 - I'm a starving artist myself but want to contribute something
$10 - Lights, camera, action!
$20 - I want to help build the future of documentary filmmaking in Boston
SPACE IS LIMITED. YOU CAN REGISTER 2 PEOPLE FOR THIS EVENT.
Registrations will be accepted in the order they are received and based on availability.
Seating will be first come first served and is not guaranteed.
By providing us with your email address as part of your registration, you will also be added to our Events and Weekender newsletter lists. You may opt out of these lists at any time by clicking the unsubscribe links provided in the newsletters. View our
privacy policy
.
PRESENTED BY