Description
GLOBEDOCS invites you to a special screening of MANKILLER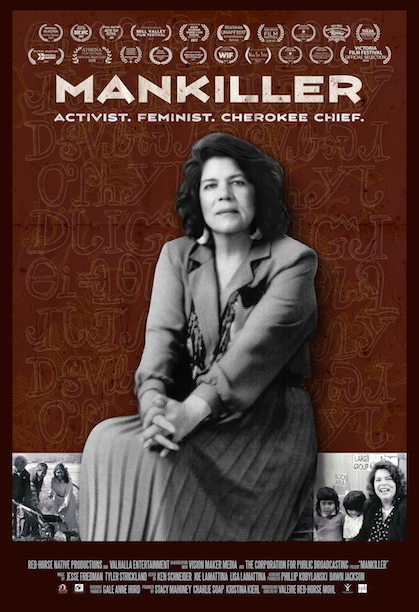 DATE: Monday, January 29

TIME: Registration opens up at 6:30pm | Screening begins at 7:00pm
LOCATION: Kendall Square Cinema | 355 Binney Street | Cambridge, MA
This is the story of an American hero. One who stands tall amongst the likes of Robert Kennedy, Harriet Tubman and Martin Luther King, Jr. Someone who humbly defied the odds and overcame insurmountable obstacles to fight injustice and gave a voice to the voiceless. And yet few people know her name. This is the story of an American legend, Wilma Mankiller, who overcame rampant sexism and personal challenges to emerge as the Cherokee Nation's first woman Principal Chief in 1985. MANKILLER examines the legacy of the formidable Wilma Mankiller and reunites the documentary team of Gale Anne Hurd and Valerie Red-Horse Mohl for their third and most powerful film. MANKILLER reminds audiences of the true meaning of servant leadership and serves as a wake-up call to take action for positive change.
Following the screening, there will be a panel discussion and an audience Q&A with Executive Producer, Gale Anne Hurd, moderated by The Boston Globe's Janice Page.
MANKILLER won 'Best Documentary Feature' at the Tulsa American Film Festival and the Jury Award for 'Best Documentary' at the Rome International Film Festival.
Want to support the future of documentary filmmaking in Boston? Please consider making a voluntary donation to the Boston Globe Documentary Film Fund. This fund, a part of the Boston Globe Foundation, a nonprofit 501(c)(3), will be used to give an annual award to a documentary filmmaker to continue producing high-quality work that engages and enlightens the public.
Suggested levels:
$0 - I just want to see a good movie
$5 - I'm a starving artist myself but want to contribute something
$10 - Lights, camera, action!
$20 - I want to help build the future of documentary filmmaking in Boston
SPACE IS LIMITED. YOU CAN REGISTER 2 PEOPLE FOR THIS EVENT.
Registrations will be accepted in the order they are received and based on availability.
Seating will be first come first served and is not guarenteed.
By providing us with your email address as part of your registration, you will also be added to our Events and Weekender newsletter lists. You may opt out of these lists at any time by clicking the unsubscribe links provided in the newsletters. View our
privacy policy
.
PRESENTED BY