Description
GLOBEDOCS invites you to a special screening of IT'S CRIMINAL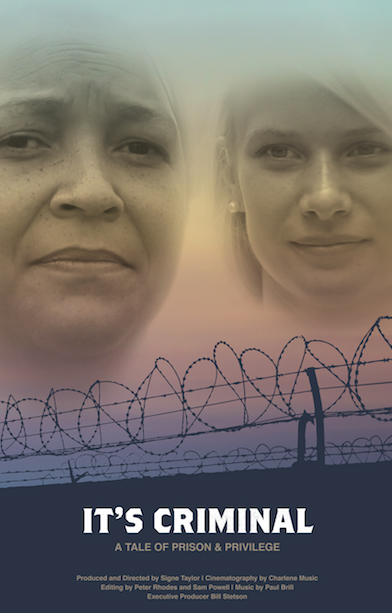 DATE: Monday, March 5

TIME: Registration opens up at 6:30pm | Screening begins at 7:00pm
LOCATION: Coolidge Corner Theatre | 290 Harvard St. | Brookline, MA
It's Criminal highlights the economic and social inequities that divide the United States and offers a vision of how separated communities can learn to speak to each other. Poignant and personal, the 80-minute feature documentary shares the life-changing journeys of incarcerated women and Dartmouth College students working together to write and perform an original play that explores the often painful and troubled paths that landed the women behind bars and also shares some of their fragile visions for the future.
It's a transformational movie that delves into privilege, poverty and injustice and asks viewers to think about who is in prison and why. In addition to exploring disparities, It's Criminal also captures how the students and prisoners struggle and ultimately succeed in overcoming their fears and prejudices to form hard won bonds of friendship, showing that empathy is a powerful force that can help bridge the divide.
Following the film, there will be a Q&A Producer & Director, Signe Taylor, moderated by The Boston Globe's Janice Page.
Want to support the future of documentary filmmaking in Boston? Please consider making a voluntary donation to the Boston Globe Documentary Film Fund. This fund, a part of the Boston Globe Foundation, a nonprofit 501(c)(3), will be used to give an annual award to a documentary filmmaker to continue producing high-quality work that engages and enlightens the public.
Suggested levels:
$0 - I just want to see a good movie
$5 - I'm a starving artist myself but want to contribute something
$10 - Lights, camera, action!
$20 - I want to help build the future of documentary filmmaking in Boston
SPACE IS LIMITED. YOU CAN REGISTER 2 PEOPLE FOR THIS EVENT.
Registrations will be accepted in the order they are received and based on availability.
Seating will be first come first served and is not guarenteed.
By providing us with your email address as part of your registration, you will also be added to our Events and Weekender newsletter lists. You may opt out of these lists at any time by clicking the unsubscribe links provided in the newsletters. View our
privacy policy
.
PRESENTED BY