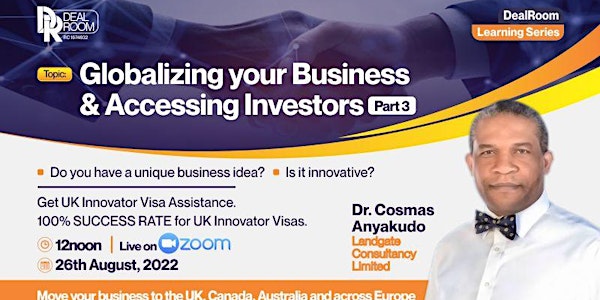 Globalizing Your Business and accessing Investors- Part 3
THE QUICKEST ROUTE TO SETTLEMENT IN THE UK IS THROUGH THE INNOVATOR VISA
About this event
The DealRoom Learning Series 14.0 is here:
Japa is real in Nigeria today
🖍️We continue a series around establishing your business outside of Nigeria and accessing global investors, especially for Business owners, Startups, and those facing challenges such as Age barriers, cost of schooling, and ease of accessing Visas and Permanent residences.
You do not look for a job, you set up yours!! Faster processing time – 3 months • Low cost compared to other visas • NO initial investment • No qualifications, or age limit!
This learning series session will focus specifically on the UK Startup Innovator Visa with details on starting and or relocating your business to the UK hassle free with your family. It's cheaper, easier, and Faster
Date: Friday, 26th August 2022.
Time: 12pm to 2pm
Learning Highlights:
📌Procedures, Processes, and Requirements for Starting Businesses in the UK via the Startup Innovator Visa
THE QUICKEST ROUTE TO SETTLEMENT IN THE UK IS THROUGH THE INNOVATOR VISA
📌FREE CONSULTATION service in the first instance*
Its free register here: https://bit.ly/DealRoomLearningSeries14
You can't afford to miss this.
See you in the DealRoom