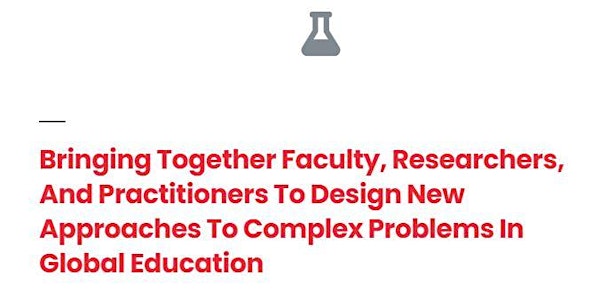 GlobalEd Lab: Reimagining Intercultural Pedagogies
In this GlobalEd Lab, participants will challenge the foundations of intercultural communication and re-imagine new directions for the field
Refund Policy
Refunds up to 1 day before event
Eventbrite's fee is nonrefundable.
About this event
Join us in the inaugural GlobalEd Lab as we re-examine the foundations of intercultural communication and pedagogy. We'll look at some popular models and critique their origins and implications, while looking together at new theories and possibilities for the field.
Guest Speakers/Trainers:
Tuesday, November 15
12:00 – 1:00 Eastern Time
Mini-Training with Andrea E. Thomas, Center for Intercultural Learning, Mentorship, Assessment, and Research (CILMAR), Purdue University
Andrea Thomas, EdD, is a senior intercultural learning specialist at CILMAR. Her responsibilities include co-administering the Virtual Experiential Intercultural Learning (VEIL) Grant and Collaborative Online International Learning (COIL) Grant program, and consulting with faculty who are planning virtual exchanges or COIL courses. Previously, Andrea was the Senior International Officer (SIO) at the State University of New York (SUNY) Farmingdale State College and a Fellow for the Association of International Educators Administrators (AIEA) in 2019. In 2022, she became a United Nations Global Diplomacy Fellow. Andrea earned a Doctorate at the University of Southern California (USC), Rossier School of Education where she studied Global Education Leadership and Administration with rotations in Hong Kong, Finland and Qatar.
Thursday, November 17
8:30 - 9:30 am Eastern time
Mini-Training with Nadine Binder, Institute for Developing Across Differences
"Evidence-based Design for Intercultural Learning Programs"
Nadine Binder (PhD) is a coach, consultant, and trainer specialized in intercultural competence, diversity, equity, inclusion, and belonging, personal leadership, self-management, well-being and mental health awareness, experiential learning, and evidence-based learning design. She is a Partner at the Institute for Developing Across Differences where she focuses on community and learning program development. She received her PhD in Psychology for her research on evidence-based design and assessment of intercultural learning interventions in higher education.
Thursday, December 812:00 – 1:00 pm Eastern time
Mini-Training with Tara Harvey, True North Intercultural
Tara Harvey, Ph.D. is a highly-regarded specialist in intercultural teaching and learning in higher education. She brings to her work broad experience in international education—including international student services, study abroad, and language learning—and a deep understanding of the intercultural development process. In 2016, Tara founded True North Intercultural LLC to provide high-quality professional development to higher education faculty, staff, and institutions to help them better navigate cultural differences and facilitate students' intercultural learning (at home and abroad).
More about the Lab
Many intercultural communication theories emerged after World War II as methods for Westerners to "communicate" with the "other." Derived from 1940s and 1950s anthropology, Cold War intercultural communication — led by founders such as Edward T. Hall and Ruth Benedict — focused on identifying "cultural patterns" of major countries and "civilizations." This behavioral approach carried over to major paradigms in international and global education, such as culture shock, cultural adaptation, and cultural agility. While useful for navigating cultures, these theories did not prioritize dialogue, listening, and deeper forms of intercultural communication and understanding.
More recent theories of intercultural praxis and cultural humility, as well as new thinking around intercultural development, attempt to go beyond "adaptation" or "competence" toward dialogue and reflective listening. Similarly, the World Council on Intercultural and Global Competence is a fairly new effort to form working groups and networks around cutting edge, equitable approaches to the field.
In this Lab, we'll review these theories and "crowdsource" other theories and methodologies that may be more equitable and beneficial to global development. We'll also form research projects, practical projects, and program ideas related to new approaches to intercultural communication and pedagogy. You'll also hear from leading thinkers in the field.
GlobalEd Labs are new virtual spaces for collaborative design and problem solving in global and international education. Our Labs will bring together faculty leaders, experts, community members, researchers, and practitioners in a human-centered design format to tackle approaches to experiential learning, diversity, inclusion, community engagement, and research. GlobalEd Labs connect people and ideas together in a four stage process: Inquiry, Intercultural Design, Framing/Stakeholder Engagement, and Implementation.
Labs are a mixture of asynchronous problem-solving, synchronous community design meetings, individual and group consultations, and research collaboration. Each Lab usually lasts for 3 or 4 months and participation in lab events and working groups is flexible. Join a lab today -- all who are interested in the topic are encouraged to participate and collaborate!
CostEach Lab has a one-time individual participant fee of $25 which covers lab fees and costs for the duration of the lab (typically 3-4 months). When you sign up for the Eventbrite kick-off event, your ticket covers all additional lab events and opportunities including access to other concurrent labs and lab events.
Lab fees are discounted 50% for GlobalEd Basic Account and Matching Account members and are free for Pro and Premium Members.