Description
Are you ready for a special after work networking event with other women?
Not just another event where women just chat and exchange contact details. But an INSPIRING and EMPOWERING evening with a DIFFERENT networking style and a platform to connect, start (business) cooperations and support each other.
Knowing the challenges of both employees and the self-employed from various industries and countries, we are offering a unique opportunity to learn from each other and combine it with easy to implement content while nibbling on snacks and enjoying drinks.
Leave your workplace, your stress and your industry-boundaries behind and join us on 29th March 2019 at Moxy Frankfurt for our first Global Woman Club Frankfurt After Work Mastermind Evening Event. As an introductory offer, when you buy a ticket, you may bring a guest for free. (We will be in touch for their name and contact details).
Over snacks and drinks we will be hearing best practices and dos and don't's from successful businesswomen, who will share their experience in a panel of experts discussion. As a bonus, you will get a special one-hour training session on how to own your "stage". You will be able to practise and implement what you've learned immediately.
Our aim for the evening is to:
Unite, educate and empower

Learn from both worlds (corporate and entrepreneur)

Stand -out, empower, support

Create awareness for female behaviour in a workplace environment

Learn how to become the next generation leader

networking opportunity to connect in a relaxed atmosphere in a non-office-like set-up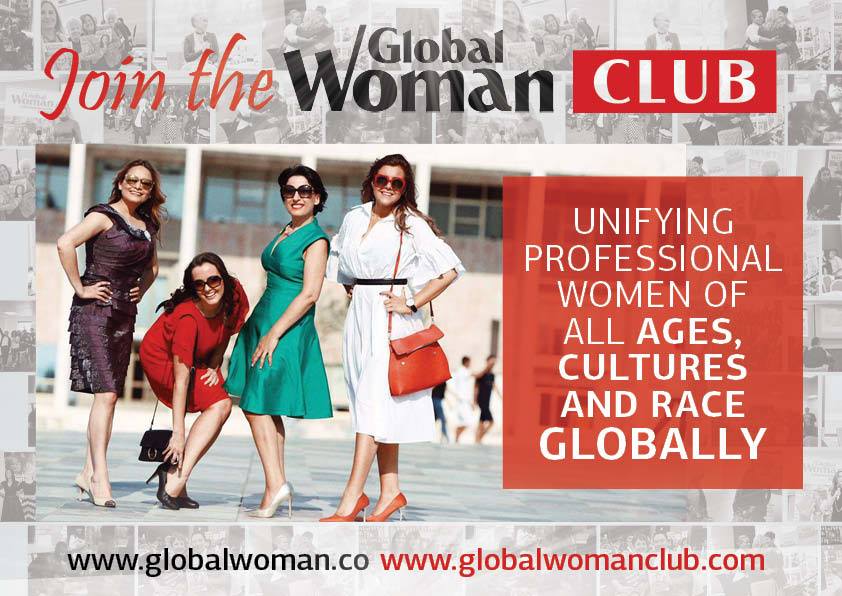 What is Global Woman Club?
Empowering Women Locally – Connecting Women Globally
Global Woman Club offers a different style of networking. First of all, we are a global business network for women of all walks of life and we meet locally but empower each other globally.
As a member, you get to experience networking meetings around the globe, participate in masterminds, conferences etc. and use the marketing and branding platform if you want to.
Our aim is to connect professional and businesswomen around the world in various ways – in person and online. We like to meet up, knowing that many of us may have come from different countries, different backgrounds and even being at different stages of life and our professional career or business life - but we all have something in common: the drive and the passion to succeed in business or our chosen vocation and to collaborate.
History
The club has evolved from the London based Migrant Woman platform and the Global Woman magazine, sharing so many great and inspirational stories and often bringing these women together to connect and share in person. Speak to anyone who has attended a Global Woman event and they will say that it is unique and different to any other networking event they have been to.
Global Woman Club started in an office in central London in March 2016, and has grown to 26 Global Woman Clubs worldwide, including New York, Paris, London, Los Angeles, Amsterdam, Paris, Dubai, Vienna and Frankfurt.
Every club meets once a month, usually for breakfast. We make sure these are on different dates, so members who want to travel and experience a club elsewhere can do so. There are members of the same club who never met at their home destination but always bump into each other abroad. Many clubs are also offering dinner, after work events as well as masterminds.
Today, Global Woman Club is not only a networking opportunity once a month in 26 different countries, but also a branding and marketing powerhouse. Associated with the Club are the Global Woman Magazine (print and online), the Business Woman Today, Global Woman TV Show and Global Woman Talkshow. Big media partners such as Sky, Reuters TV and co-operations with well-known companies such as Success Resources, Academy of Leadership, The Best You and others, help facilitate events, conferences, workshops, masterminds and summits all around the world.
Whatever we do, the mission remains the same: Global Woman Business Club helps women to build their confidence and belief that they can be successful in whatever they do. We help them build their brand and create awareness about their projects through our media platform.
More about Global Woman Club Frankfurt
Global Woman Frankfurt is the first club in Germany, which opened on 14th October 2018, and growing healthily. We are meeting every month on the 14th no matter what day of the week it is, and invite all members and interested women to join. Stories and pictures can be found here .
Why Frankfurt as the first location in Germany?
Frankfurt is not only the financial and transportation hub of Germany with tourism, tradeshows and successful businesses, it is also one of the incubators for start-ups and entrepreneurs and has a strong networking and after work community. The Frankfurt directors are Maike Benner and Lilli Rohde, two successful entrepreneurs coming from the corporate world, and offering different consulting and coaching services for corporates and private people with their company MaLish http://malish.global
The Global Woman Club Frankfurt meets on a monthly basis – always on the 14th of a month – at the Welcome Hotel (Leonardo-Da-Vinci Allee) for our business breakfast networking event. For more information go to https://globalwomanclub.com/frankfurt-germany/
What is this After Work event about?
Are you a corporate businesswoman and looking for a networking opportunity over industry borders, do you want to connect with inspiring and like-minded businesswomen in the heart of Frankfurt? Do you want to share your best practice or learn from others? We are opening our Global Woman platform and sharing the stage for the evening with a round of businesswomen who we will interview live on stage. The highlight will be a workshop session on how to stand out, convince people and own your "stage". You will receive content on how to present yourself (on stage) and how to occupy your space (whether as an entrepreneur in front of clients, as an employee at a meeting or student during a presentation).
Order of events
6.00 pm Registration open. Help yourself to snacks and drinks from the buffet
6:30 pm Welcome and introduction of Global Woman Club Frankfurt from the directors
7.00 pm Panel discussion moderated by the directors Lilli and Maike with an opportunity to ask questions from the audience
8.00 pm After a short break, our keynote speech will start.
9.00 pm End of the official part and time for networking, pictures, and drinks.
We have chosen a very special and different location for this first After Work event in Frankfurt, and we invite you to be the first to experience it. The Moxy at Hanauer Landstraße is our host and partner for the evening. This great boutique Hotel will welcome us on the ground floor. Parking is available on the street and in the hotel own parking garage. The public transportation stop is just outside the entrance.
We are looking forward to meeting you on 29th March 2019.